With shows like Chicago Med, Chicago Fire, and the new show Dark Matter, is the city of Chicago tempting your acting chops? Chicago's landscape is a centerpiece of acclaimed movies and TV. Home to the Steppenwolf and the Goodman, it also boasts a thriving theater scene. So if the Windy City is calling you and you're thinking of becoming a Chicago actor or are already a local, here is some guidance from an actress who is making her mark in the Chicago market.
Casting Networks had the privilege of speaking with one of Chicago's working actresses who has found her hometown pride in Chicago's acting scene and shared with us her insights into what makes Chicago a great community for artists, as well as the importance of making lasting connections and inspiration in Chicago.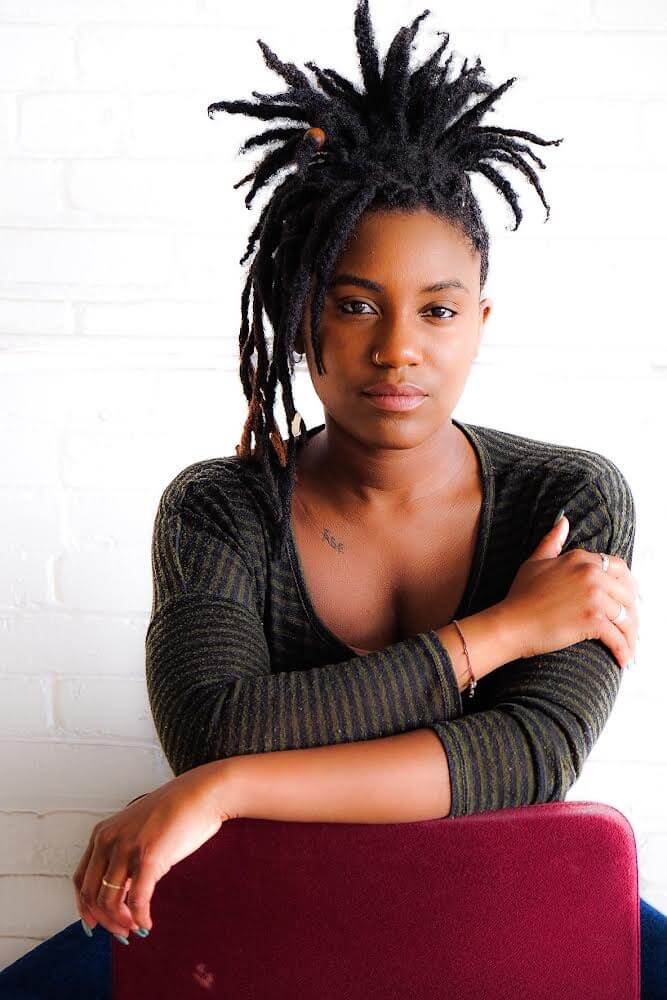 Chicago native Ireon Roach provides advice on how to become an actor in the Windy City. Photo courtesy of Ireon Roach.
Born and raised on the south side of Chicago, Ireon Roach has an infectious passion for acting. She found her acting path through slam poetry, a creative outlet for her as a performer and writer.
She attended college at Boston University and burst onto the scene when casting agency Karge + Ross cast her as Keisha in The 4400 for the CW. Her other credits include Candyman, Chicago P.D., and The Come Up.
Whether you are already an actor in Chicago or thinking of moving there, here are some tips and insights that Roach would like to share.
1. Research the Chicago acting scene.
As well as being an excellent market for TV and film actors, Chicago is a theater town, so an actor choosing Chicago as their home base can always stay busy with stage work. Those theater connections and the ability to create both help strengthen the Chicago community.
That doesn't always happen when on a one- or two-day film shoot on a project. For that reason, Chicago is a great place for actors who love performing in theater, TV and film.
"It has a lot of the same artistic energy as New York or Los Angeles in terms of getting your hands on really great projects," said Roach. "You know there are some really awesome plays at our regional theaters and our storefront theaters. It's a very communal space to create."
Roach suggests this welcoming energy helps Chicago and its performers stand out from other markets.
"We like to support new work and new artists, and I think it's a lot easier to feel like a transplant in other spaces with big markets where you have to fight everyone for your spot and your time to shine."
Knowing that theater and communal performance are interwoven into what makes up the Chicago acting market will be valuable in deciding if this is the place you should call home.
2. Immerse yourself in the Chicago acting community.
Because Chicago has such a community spirit, it is essential to immerse yourself to have full experience in the city. That is where an actor will be able to make connections and find out where they can make their unique contribution to the artistic landscape.
"You will run into a lot of the same folks and see who they're working with, and you can figure out what you're excited about. It's much easier to introduce yourself and get in the loop," said Roach.
Meeting people, attending open mics, and seeing plays in Chicago help to develop this sense of community. This can also help enhance the actor's ability to find classes and workshops to take.
"A lot of actors in Chicago are amazing teaching artists. So not only are you getting really great tips and techniques and time with these actors, but you're also meeting a lot of the folks who you will be onstage with and building a connection with them," she added.
This connection is the crux of becoming an actor in Chicago, and the opportunity to study with your working peers is invaluable in the industry.
3. How to find auditions and acting jobs in Chicago.
Because so much television and theater are made in Chicago, it is a town where it is possible to build a great résumé and work on exciting projects.
In addition to finding resources on sites like Casting Networks, Roach suggests leveling up your social media resources to include local theaters as well as casting directors, and playwrights who work in Chicago.
"Follow those theaters and get in with playwrights. Because Chicago playwrights are some of the smartest people I know, and they are so passionate about the work."
Some specific playwrights she suggests new-to-Chicago actors get their feet wet with are Erica Dickerson-Dispenza, Kristiana Rae Colón and Isaac Gómez. Those are three of her favorites who "bring excitement to Chicago's scene."
Roach finds that true champions for actors can be found in the casting directors in Chicago. "Simon Casting and PR Casting are just great at their jobs. It seems everything I watch they have their hand in, and they create wonderful opportunities for actors."
The opportunity to be yourself and discover what makes you excited as an artist is something that Chicago has to offer its actors and its transplants.
You can also find Chicago casting call information for independent films at Casting Networks and through the Screen Actors Guild at SAGindie.
Of course, you can level up your acting career by searching for a talent agent in Chicago. SAG-AFTRA actors can find reputable franchised agents through the Chicago chapter of the SAG website.
4. Allow yourself to be inspired.
Chicago, Illinois is a city that is meant to be experienced. If you choose to become a full-time actor in Chicago or have booked an out-of-town job, it is a great place to immerse yourself in all that the city has to offer.
Because an actor's life needs to have some balance, we asked Roach what an actor can do to inspire themselves while in Chicago.
"I'm just seeing so many young artists that are creating their own spaces to curate open mics and large nights of celebration, so I think, really follow the youth," she responded.
Finding inspiration isn't hard in a city so densely populated with artistic endeavors, and Roach specifically encourages everyone to "hear the children speak" at Louder than a Bomb, the world's largest youth poetry festival.
That's a wrap on Chicago.
We asked Roach if there were any final thoughts she'd like to share with new actors working and living in Chicago. "Just come and try as hard as you can 'cause it can be hard anywhere to be yourself, and in whatever way you can, be a student, because you will find some teacher that is willing to take your hand and help you understand even more about the industry in Chicago."
If you're looking for a sense of well-rounded artistic community, maybe becoming an actor in Chicago is perfect for you. Check out the latest Chicago auditions and casting calls to get started now.
Chicago film information for actors and creatives.
The Chicago Film Office is a great additional resource for anyone looking to create their own project in TV, film, or music in Chicago. Here are some quick takeaways from their site.
Illinois has the third largest movie and recording workforce in the country and is the number one state for film production in the Midwest.
The Illinois film industry made 20,000 hires across the state in 2019. 51% of crews in accredited productions in the state are made up of women and people of color.
In the early 20th century, Chicago was the center of the independent film movement. It had the highest grossing market for Black audiences, and the industry used its voice to address the city's labor issues. The 1980s brought us iconic cult classics like Ferris Bueller's Day Off, The Untouchables, The Hunter, and The Blues Brothers, beginning the tradition of modern filming in Chicago.
Chicago Cost of Living Statistics for Actors
| | | | |
| --- | --- | --- | --- |
| Chicago versus… | National Average | Los Angeles | New York City |
| Cost of Living | +15.0% | -38.3% | -42.9% |
| Average Rent | +24.6% | -19.3% | -30.9% |
| Gas Prices | +27.4% | -6.9% | +19.4% |
Related articles:
How to Become an Actor in Boston
How To Become an Actor in Houston
How To Become an Actor in Atlanta
---
---