Are you wondering how to become an actor in Boston? From the upcoming blockbuster Black Panther: Wakanda Forever to Greta Gerwig's sprawling period piece Little Women, to the award-winning CODA, Boston's beautiful landscape is the centerpiece of many films.
Casting Networks had the privilege of speaking with one of Boston's working actresses who has found her happy place in acting, and shared her insights into what makes Boston a great proving ground, the importance of building a community and essential takeaways on how to carve out a path to success as an actor in Boston.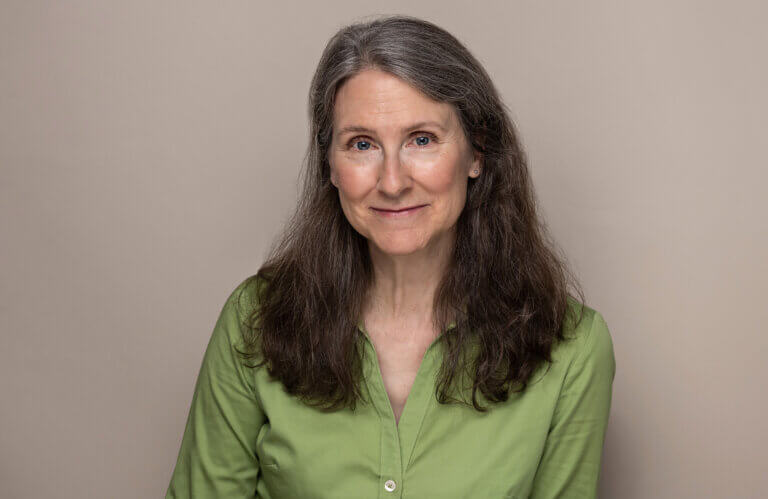 Liz Bishop has been making her bread and butter as a voice-over artist, and recently leaped to on-camera work with credits that include Vindicta, Kevin Can F**k Himself and The Parody News Network.
Acting has always been her aspiration—Liz wanted to attend a performing arts school after high school, but her parents insisted that she take a more traditional route and she went on to become a teacher. Bishop traveled to Europe and then to Boston to start a family. As a self-described "empty-nester," she now has the time, along with the enthusiasm and talent to become as big as her dreams.
Whether you are thinking of becoming a Bostonian actor or are already a local, here is some of the wisdom and tips that Bishop has to share:
1. Embrace the community
Boston is a great place for actors to connect, and when you are new to town, one of the first things you should do is reach out to other actors.
Liz has thrown herself into the community and suggests that new actors to Boston do the same, saying, "Networking is really important. It's the people you know and the relationships you build."
She recommends creating a network on social media. She takes advantage of many groups on Facebook that are unique to Boston, such as the New England Actors Network, New England Film Makers and Women in Film and Video New England.
"I would wholeheartedly say it's such a small and welcoming community for people who want to pursue things like theater arts, as well as commercial and industrial and feature films."
Because Boston has so many colleges and universities, it is also a great place to work on films with the changemakers of tomorrow.
"We're all in this together, so cutting your teeth on student films in the Boston area is great again. That's a wonderful place to network with fellow performers."
Networking and embracing the community will serve you well when choosing classes and finding a new headshot photographer. In addition, this community will be the foundation to help you find Boston casting calls, auditions and acting classes so you can begin your training.
2. Start training in Boston
Prioritizing training is essential in a town like Boston, where heavy-hitting films come to town looking for local hires to cast. Liz emphasizes the excellent training an actor can get from acting schools in Boston and the incredible resources via Zoom.
"Everyone is constantly taking classes in Boston, and that's a really good place to start because when you're working with professionals that want to teach you Method or Meisner in the local area, that's worth its weight in gold."
Liz also emphasizes the incredible resources via Zoom: "You can be taking classes from a teacher like Tim Phillips in New York on Zoom and learning wonderful things like how he breaks down scenes and how to approach a script for an audition as well as your final performance."
With all of the in-person and Zoom training you can receive in Boston, you can level up your career by searching for a Boston agent. SAG-AFTRA actors can find reputable franchised agents through the New England chapter of the SAG-AFTRA website.
3. Where to find acting jobs
Because so many big films shoot in Boston, it is a town where it is possible to build a great resume and work with top-tier talent.
"I mean, you know it's cliché when they say there are no small roles, but it's so true," says Liz, "I think in Boston … what's great to keep in perspective is that if you've got big dreams, you're only limited by your imagination."
To help fulfill the promise of those big dreams, Liz uses Casting Networks to find casting calls and auditions in Boston. "I'm constantly submitting. It's a constant cycle of submitting, getting a self-tape audition, doing a callback, booking, learning lines for classes and learning lines for auditions. I guess I just thrive on that energy of constantly being in motion," she says.
Actors can also find out what is casting in Boston through the Massachusetts Film Office, which updates all current filming in Massachusetts.
There are always extras needed in film in Boston, and Boston Casting is a great place to discover those castings. Liz values the time she spent on-set as a background actor and encourages new actors in Boston to do the same.
"You have to pay your dues. You have to do that background work, you have to get familiarized with what goes on in big-time professional sets," she advises, "and it's through that background work that you get a reputation for someone they can rely on, someone that hits their marks."
Whether you decide to do background work or not, her advice is sage in that your reputation is what matters and will serve you well in Boston and other markets.
4. Two must-haves for Boston actors
When asked for her must-haves for actors in Boston, two things immediately came to mind for Liz—the need for a car, and the importance of a great self-tape setup.
Despite what is depicted on film and TV, she wants to remind actors that getting around Boston isn't as easy as it looks in the movies.
"I feel like you need a car. Our public transportation is only limited to Boston. We can't get to the burbs, and so you limit yourself when you don't have reliable transportation."
Liz is sitting in front of a freshly painted wall with crystal clear lighting, and she recommends constantly assessing your self-tape setup. "Because we are in a virtual world, you know, leveling up your lighting or sound or painting a wall or physical space for your submissions and your callback is a must."
Preparing your space and preparing for success can help you become a confident actor in the Boston market.
That's a wrap on Boston
Because an actor's life has to have some balance, we asked Liz what an actor can do to feed their soul while in Boston.
"We have beautiful beaches, and they're accessible from the city of Boston. You hit a harbor ferry, and you can go over to the islands for a day," she said, "Also, we have beautiful wooded areas in national parks that are fairly accessible by public transportation."
So, definitely take a break from the hustle and take in some of Boston's beautiful nature!
We asked Liz if there were any final thoughts, she'd like to share about working in Boston and it was this: "Ultimately, what you do you need is a game-on attitude. That's it. If you're willing to show up and do what's required of you, you'll find great success no matter where you go because those are the people that make things happen for themselves."
With these encouraging words, are you ready to start working in Boston? Check out these Boston casting calls, and here's some stats on Boston's film industry for actors and creatives:
Boston film information for actors and creatives
The Massachusetts Film Office is a great additional resource for anyone looking to work in Boston.
"The Massachusetts Film Office supports diversity, equity and inclusion in the film, television and creative production industry. They have events, resources and information in support of ongoing efforts to amplify underrepresented voices and level the playing field for work in all areas and at all levels of the industry."
Iconic film festivals take place in Boston, such as the Boston Film Festival, Roxbury International and Boston International Film Festival.
Creating your own project can be financially feasible in Boston. According to the MFO, "Massachusetts provides filmmakers with a highly competitive package of tax incentives: a 25% production credit, a 25% payroll credit and a sales tax exemption." So, go make your independent film in Boston!
Boston Cost of Living Statistics for Actors
| | | | |
| --- | --- | --- | --- |
| Boston versus… | National Average | Los Angeles | New York City |
| Cost of Living | +51.0% | -6.3% | -13.2% |
| Average Rent | +184.5% | +38.0% | -15.3% |
| Gas Prices | +9.5% | -19.4% | -0.1% |
(Sources: Bestplaces, Salary.com, RentCafe, AAA)
Related articles:
How To Become an Actor in Houston
How To Become an Actor in Atlanta
How to Become An Actor in Chicago
---
---