You may have noticed a small change to the way Submission Notes work. Talent representatives now have a Submission Notes icon on their baseball card throughout the platform. This change will make it faster and easier for you to access your Submission Notes so you can work more efficiently. Here's a little more on why we decided to make this change, and how you can use it to your advantage.
Why did we make this change?
In the past, talent reps could only access their Submission Notes from the "Edit Profile" page. By adding the icon to their baseball card, we've made it easier for you to access Submission Notes throughout the platform. Now that the icon is available on the baseball card, talent reps such as yourself no longer have to select talent first to preview a performer's default Submission Notes, or click to quickly edit them. Best of all, after selecting a performer, you can still use this icon to customize these notes per submission if you like!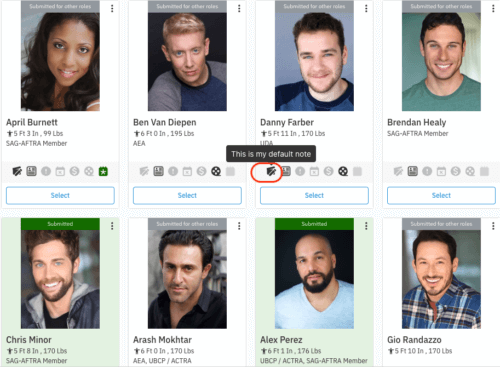 How does the Submission Notes icon work?
When looking at your talent baseball card, the Submission Notes icon allows you to quickly see if talent on your roster have any default Submission Notes. If the icon is highlighted, that means a note is present. In that case, simply hover over the icon to preview the note, and click to edit it. It's that easy.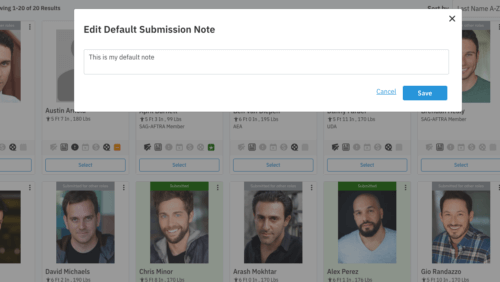 Although it's a small change, sometimes it's the little things that have a big impact on how you get things done. By just hovering over the highlighted icon on your baseball card, you'll be able to preview and edit your Submission Notes faster than ever.
Give it a try and see for yourself! Log in to Casting Networks and start checking your new Submission Notes today!