Casting Director Rose Rosen emphasizes that if you do anything interesting or strange, you should put it on your resume in your profile. "You can put in that you're a surfer, that you're a scratch golfer and the level of ability. If I'm in Wisconsin looking for a person who can rollerblade and do flips, I need it. And you would be so shocked at how many different calls [are] like that," she told Casting Networks in an interview on how she uses social media to help cast her projects.
When the performers on your roster list every skill they have, no matter how strange or mundane, Casting Networks can filter those interesting abilities and help surface your clients for a broader array of opportunities.
How can my talent roster add special skills and attributes to their resumes?
When filling out their profiles, performers can go through the list of skills and mark which ones they have. If they do not see a skill(s) among those listed, they should include it in the "Other Experience" section.

A unique skill or attribute in the "Other Experience" section is still keyword searchable, and will appear in a casting director's search (eg. If you're a baker, let the world know in your other experience section that you're a world-class baker. If a casting director searches for a baker, profiles that include "bake" will turn up in their search for talent with those skills.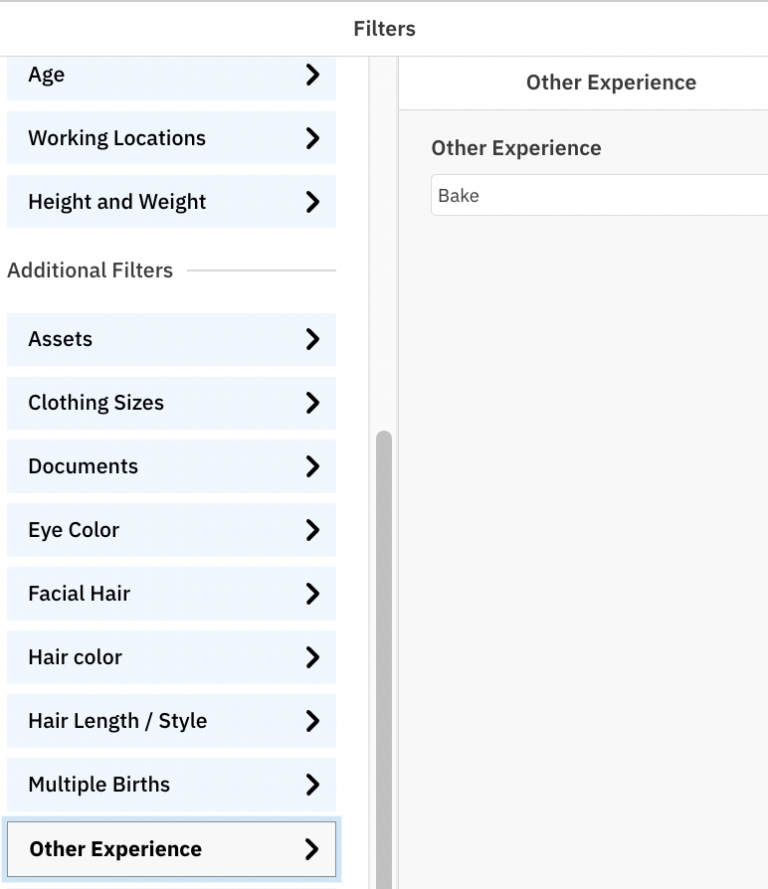 One more tip – When including special skills in "Other Experience," think about how someone is likely to search for it, and then be sure to include that word or phrasing verbatim. Using our baking example from above, try including variations such as "bake," "baking," and "baker" to cover your bases.
The bottom line? You never know what a casting director may be looking for, so encourage your roster to include all of the special skills they can think of in their profiles, even if they're not available in the preset list. Thinking outside of the (check)box will help boost their visibility!
Have you uploaded your roster to Casting Networks yet? Get started now to put your talent in front of the casting directors who are hiring today.