From theater to modeling to the upcoming When Wendy Grew Up, Hristiana Soula has found her favorite place to be is on camera. She has taken her adventurous spirit into filmmaking, participating in the 48-Hour Film Project in both Austin and San Antonio. Her willingness to step out of her comfort zone recently landed her a leading role in a national "Jake from State Farm" commercial. She took a moment to chat with us about her experience and what is coming up for her in the future.
It's great to meet with you virtually. Congratulations on your booking with State Farm. Tell me about how that happened.
Everything slowed down because of the pandemic, but I was still auditioning because everything was remote. In 2020 I saw this audition for State Farm on Casting Networks. They needed Zumba dancers for a commercial, and I was like, well, I'm not going to try for this one because I'm not much of a dancer. But then, through my profile, casting specifically requested me through my agency, Acclaim Talent, so I thought, OK, I better try it.
So what did you do?
I went onto YouTube and watched Zumba dancing routines, and I gave it my best effort, and then I got a callback.
That's so cool. What did you have to do in the callback?
They had me do some silly little moves that were not as complicated as the ones I did in my initial audition, but you know, I guess it's because I exerted enough effort that they saw my passion, and I made them laugh. I made the director laugh.
How long did it take to find out if you booked it?
Eventually, like a week or two later, I got the news that I booked it, which was crazy because I was like, wow, this non-dancer actually booked a State Farm commercial with Jake. And so before we shot it, we got sent the choreography which thankfully wasn't that difficult, and when we got there, we practiced in the morning so you know we pretty much had the moves down and we were dancing all day.
Tell me about the shoot.
We filmed in English and Spanish, so it was a pretty full day. I was in the front with "Jake" (his name is Kevin, by the way), and it was cool to interact with him because you see him all the time in these State Farm commercials.
I ended up doing my close-up later in the day, and I know that I probably got three or four hours of sleep because I was just so anxious the night prior, but I relaxed and calmed down, and they got what they needed. We filmed at the place where the Dixie Chicks, now known as The Chicks, used to record their music, so that was a nifty little thing that I found out.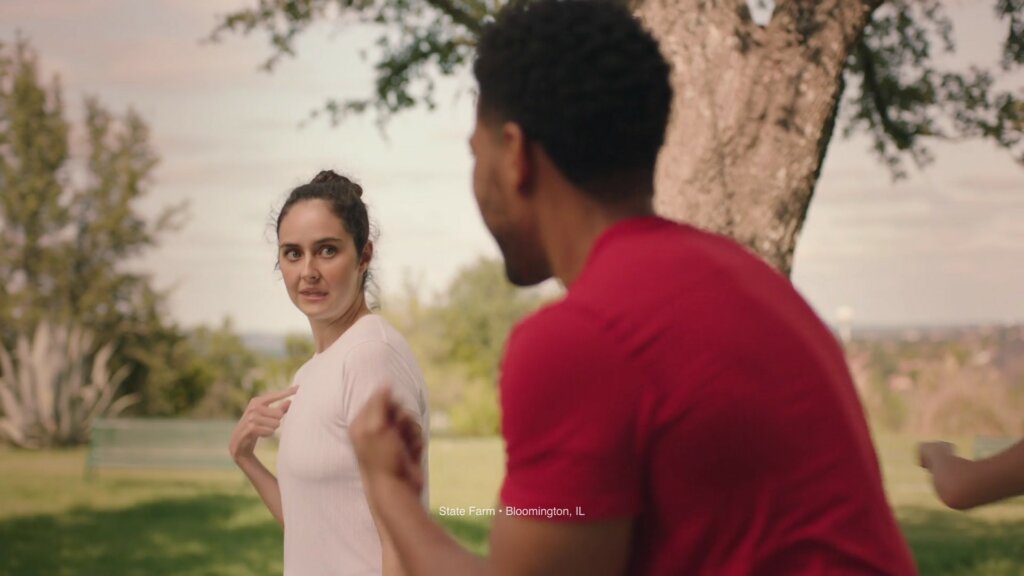 Photo provided by Hristiana Soula
Do you have any advice for people who are joining Casting Networks?
I'm very grateful to be on Casting Networks, because booking State Farm for me was an affirmation that this is what I am meant to do. I mean, even before that, I was still gung-ho about continuing acting, but State Farm was another milestone for me, and I'll always remember it as a highlight.
I would say for the platform, the more media that you upload is probably better because casting can see the different sides of you. Have different headshots and build up your reel because casting will have an idea of what things they can put you in and be able to see the real you.
What's coming up next for you?
I am currently promoting the indie Peter Pan film When Wendy Grew Up —you can look for it on Amazon Prime next year. I started a podcast called MASQU7 with fellow actor Evan Glover and filmed a sci-fi film using Unreal Engine 5, a really exciting new technology. It's called Pod and is in post-production. I've also started to delve more into stunt training because action and sci-fi would be good avenues to explore.
Thank you so much for chatting with me!
Absolutely, thank you so much!
Casting directors use Casting Networks every day to discover talent like you. Join today to get one step closer to your next role. 
Did you book a role through Casting Networks? Tell us about it for a chance to be featured in an upcoming article.
—
This interview has been edited and condensed.
You may also like:
My Casting Story: Danielle Deadwyler on 'Till'
Success Story: Ktborderline on Power Book III: Raising Kanan
My Casting Story: Sol Romo on 'Law & Order: SVU'
---
---