A Jersey native, Ktborderline originally made his career as a hip-hop artist and then teamed up with a friend to create a rap duo whose work has garnered over 2 million views on YouTube. When his partner decided to stop making music, he pivoted to acting. A natural networker, he discovered Casting Networks while talking with a fellow actor. He booked a career-changing job within three days of signing up on the platform. We zoomed in with Ktborderline to discuss his career pivot, life on set, and future plans.
It's great to meet you virtually. Before we talk about how you booked the role, I'd love to hear why you decided to pivot to acting from music.
I originally wanted to get into acting because film, TV and video games are a big market for musicians. I want to say 90 percent of the music you hear on film and TV, and video games are independent artists like myself, so the music is much easier to clear for us. I thought if I could be an actor, I could build some relationships to get my music into film and TV.
That's smart. How did you book the role in Power Book III: Raising Kanan?
I'm big on networking, so I talked to an actor, and he told me about Casting Networks. So I signed up and paid monthly, the best $25 a month I've ever spent. I uploaded my full-body shots and my close-up pictures. I put a little bit of information about me. I put up all my sizes. Then I went onto the filter on Casting Billboard, where the notices are posted, to navigate through the site, and I typed my search and saw casting for Raising Kanan. It was my first day on the site. It was my goal to be on that show. I submitted and three days later, somebody got back to me and said, we love your profile and you'd be a great fit for this role. Would you be OK with cutting off your beard? I said yes, and a couple of days later, the director selected me. I started COVID testing and then went to New York to shoot.
Wow. It all happened so fast. How was your time on set?
It was great. My shoot was maybe about five hours. I want to say roughly five hours. It was great because it was just me and the main character Raquel who Patina Miller plays and I'm her bodyguard. I'm in two scenes, so I got a lot of screen time, so it was just, you know, amazing and I don't think I ever would have gotten this job without Casting Networks.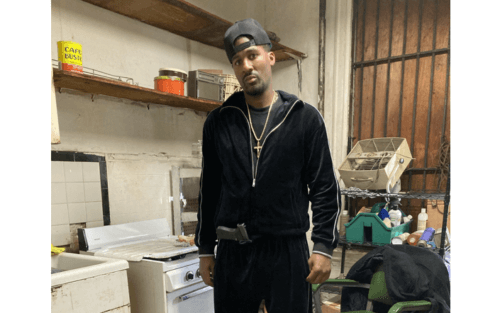 Photo provided by ktborderline from the set of Power Book III: Raising Kanan.
That's quite the endorsement. Do you have any advice for people newly signing up or already on the site?
I'm 37 years old and I almost gave up. I don't like using words like giving up, because I tell people that when you give up, that is the time you could have made it. I'm 37 and finally got my first TV show, so I don't care how old a person is. Getting with a legitimate company like Casting Networks can take a person's career to the next level. But people have to be patient because casting is all about timing. You must always submit because, for the most part, casting directors know what they're looking for. They see your height and weight, so it's very important to upload as many pictures as possible for different types. Casual or urban, corporate or gangster. I've got friends that are awesome signing up, and they don't put up all the information or the right information, they don't put the right sizes and stuff like that or the right pictures, and they just leave everything blank, so it's very important to upload as much as possible.
Why do you think that's so important?
It makes it easier for casting to reach out to you. My goal now is to get an agent because I think having an agent would be much easier for my career, and I think it'll make it easier for my agent to reach out to the casting directors. I know Casting Networks has an agent search too. I want to start taking acting classes, get my dialogue on point, and become more familiar with the camera. I'm serious about this.
So what's next for you?
Well, I'm going to continue working with you guys for the rest of my life! On my Instagram reels and stories, I always mention you. Seriously, I feel like I have to point out that there are a lot of scams out there. You know, people want to take your money, and they want you to pay this and that, this and that. You only charge for the subscription and you pay it monthly or yearly. It's changed my life. Also, once I did raise Raising Kanan, directors and casting directors reached out to me. As a result of booking the job on Raising Kanan through Casting Networks, I will be shooting a project in the spring in California, working with Manny Pacquiao. Casting Networks is the real deal.
This interview has been edited and condensed.
Got a success story of your own to share? Tell us how you booked a gig on Casting Networks and your story might be a future feature!
Related articles:
My Casting Story: Sol Romo on 'Law & Order: SVU'
My Casting Story: Al-Teron on 'On the Come Up'
My Casting Story: Danielle Deadwyler on 'Till'
---
---