Lisa Foiles is honest recalling her response when her husband suggested they move from Los Angeles to Las Vegas. "Vegas? I ain't moving to Vegas! That's all slot machines and strippers and gambling," she says with a laugh. But fast forward about eight years and the actor, who was a series regular on All That as a teen and has worked consistently since, is not just happier than she was in L.A.; she's working more—a lot more, just perhaps not in the "traditional" acting sense.
Foiles recently hopped on the phone to discuss how to get cast as an actor in Las Vegas, how to find an acting agent in Las Vegas, and the one skill set you absolutely need to hone to work—and work often—in Sin City.
The cost of living in Las Vegas is cheaper—way cheaper.
I didn't love L.A. It was just so stressful and the rent was so high. My husband was working [in post-production] on The Big Bang Theory—the biggest show on television at the time—and we could barely pay our rent. He had this great opportunity in Las Vegas and he said, "It's not what you think. The crazy is really quarantined to that one strip. Outside of the strip, it feels like a small town". We went out there and he was right. It's this perfect marriage of worlds: I can live in this big house for an eighth of the price of Los Angeles, have a great friend group full of genuine people, and then if I want to go to the entertainment capital of the world, it's 15 minutes away. Cost of living is so much lower than L.A., plus you are only four hours from L.A. I do go back and forth when I need to.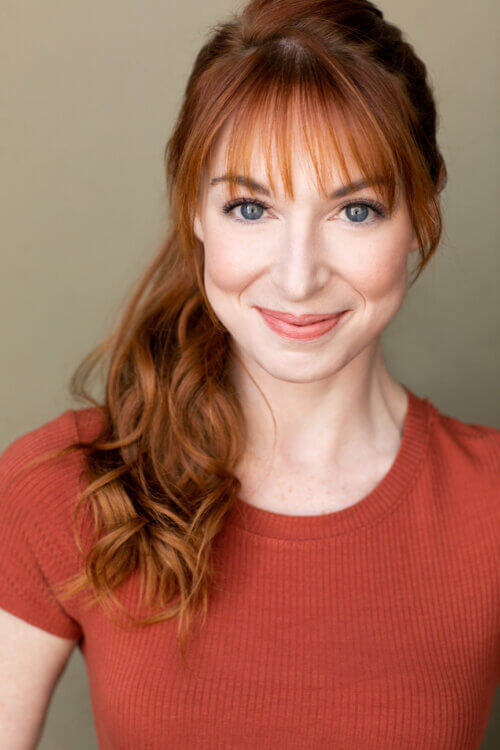 Lisa Foiles shows us what it's like to be an actor in Las Vegas. Photo courtesy of Lisa Foiles.
Want to land an agent in Las Vegas? It's easier than in L.A., but very different.
In L.A., you have one agent and one manager, and that's it. I started asking around about agencies and talking to actors out here, and they were like, "Oh yeah, it doesn't work like that in Vegas." You can have multiple agents and they all represent you. And the one who books you is the one who gets paid. I emailed this one agency and said, "I'm new in town, here's my résumé," and they basically wrote back and said, "Cool, we'll start sending you out." And they did!
I booked one or two tiny things with them before I was introduced to TNG, which is the biggest agency out here. At the time, this was around 2015, they had really only been representing models and I said, "I am not a model, I am an actor." And they wanted to sign me because so many actors had been making their way to Vegas at that point and they had wanted to start signing actors. Ever since signing with TNG, the jobs that I have booked have been so eclectic and diverse and they are all so fun.
In Las Vegas, you can be a big fish in a small pond.
TNG has now opened up a full acting division and they are the biggest agency in Vegas—but their acting roster is not huge. Every acting opportunity that comes through, I am sent out for, even if I am not quite perfect for it. It's just, "You're an actor and a good actor, you're going out for it." What an opportunity for someone with talent to get their foot in the door! L.A. is so saturated and I'm not sure that's a place people should start, especially now that there are production hotspots all over the U.S.
Actors do need to remember: Vegas is not L.A. And that's OK.
There are so many whispers all the time about how this big production or this major network is building soundstages out here—I have heard this for five years. The truth of the matter is, we're not going to get a lot of huge feature films all the time, we're not going to get a lot of sitcoms or TV shows. But you will work constantly. If you are set on being a movie star or sitcom actor, this is not the place for you. But if you're an actor who is passionate about the craft, and you want to work, come out here. You will be actually working a lot more often than you are in L.A.
This is the one skill set you need to hone in order to succeed as an actor in Vegas:
When I was in L.A., before I moved out here, I was doing a lot of hosting from home. Turns out, that became a huge selling point for me. Hosting is not my dream, but I'm good at it and they pay really well. As far as getting hosting gigs, it's all about who you know. Obviously it helps to have an agent but if you don't have representation, make a stellar demo tape—even if you just make it yourself at home. Get a white background and put down a monologue as if you're hosting a tourist in Las Vegas. Make an audition tape specifically for hosting, and that's also how you'll hone those skills. Watch the tape back and you'll see, Oh, I am not natural, I'm stiff. I love my fellow actors, but there are not a ton of really experienced hosts and actors in this town. I've been on a lot of auditions and have heard the models auditioning through the walls and could tell that hosting is not something they normally do. Watch yourself back and hone those skills, because this town needs it! Every hotel is going to have an opportunity for a host.
Being a working actor in Las Vegas is what you make it.
This can either be your acting home or it can be a stepping stone to L.A. You're not going to book a Marvel movie out here, but you will work constantly and all of those little jobs will be the best education you could ever ask for. You gotta learn somehow, and in L.A., you're just waiting for that phone to ring. Sure, L.A. has lots of little jobs too, but there's so much more competition and it's so much harder to book. And here, even if they're not the jobs of your dreams, they are the jobs that will give you the experience to book that movie down the line. You can use Vegas as a training ground—while you're also making money.
And at the end of the day, there is serenity among the noise. You just have to know where to look for it.
I love finding beauty among the chaos here. It's finding things like the Bellagio Conservatory, which is this beautiful space inside the Bellagio. One minute you're hearing "ding ding ding" from the slot machines and then you step into this beautiful garden, which they switch out four times a year for every different season. It's my favorite place to have a moment of mindfulness among the yard-long margaritas.
| | | | |
| --- | --- | --- | --- |
| Las Vegas versus… | National Average | Los Angeles | New York City |
| Cost of Living | -1.9% | -0.37 | -34.2% |
| Average Rent | -17.8% | -47.5% | -53.1% |
| Gas Prices | +18.9% | -12.9% | +13.6% |

Sources: BestPlaces.net, Salary.com, Zillow, AAA, Rent.com
Want to see if you can win big in Sin City? Sign up or log in to check out our Las Vegas Auditions and Casting Calls today!
Related articles:
How to Become an Actor in Austin
How to Become an Actor in Philadelphia
How to Become an Actor in Miami
---
---