Are you ready to soak up the sun? Do you love the sandy beaches of Miami? Are you already a local looking for some career guidance? Many companies from Europe and Latin America travel to film on its oceanfront and beaches because of the sunny weather and local bilingual actors. From Telemundo to American Crime Story: The Assassination of Gianni Versace to the Bad Boys franchise, the landscape of Miami has provided some of the best backdrops in TV and film. If you're interested in taking advantage of opportunities like these, here is some insight from an actor who knows his way around Miami.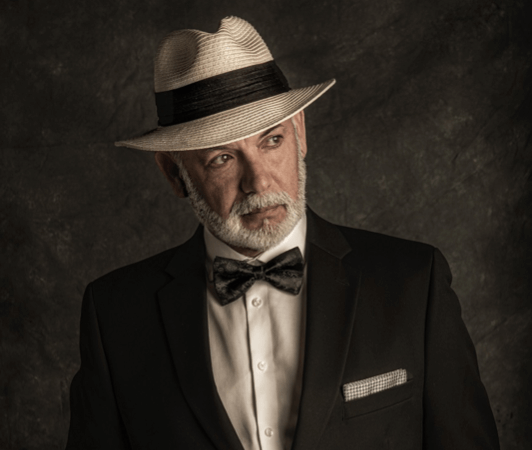 Photo courtesy of Ricardo Burgos.
Ricardo "Beard and Hat Actor" Burgos
came to acting from real estate. A friend's wife told him he should be an actor, and he ignored the advice repeatedly until the real estate crisis hit Miami. When that happened, he decided to make a career change. He threw himself headfirst into what would soon become his passion, acting.
Burgos has since been seen in a recurring role on Betty en NY and the feature film Father of the Bride starring Andy Garcia. He took a moment out of his day to zoom in with us and take us on a virtual tour to discuss how to become an actor in Miami.
1. Gather your resources
The first thing to do as an actor in Miami is to gather your resources. Ring light, headshots, and a proper self-tape setup are imperative as auditions are virtual in 2023. Burgos includes taking an acting class as part of these resources.
"If you want an award-winning pie at the County Fair, you have to have the absolute best ingredients. An actor is an ingredient in this apple pie, so you have to prepare yourself, take classes, and practice as much as you can," he suggests.
He stresses the importance of getting the acting muscle and the body and mind in shape as a resource in becoming an actor in Miami.
His mindset is, "You are a product that can be sold, so make sure you look good; you have groomed your hair, your nails, your facial hair."
The Miami market, home of Telemundo telenovelas, holds auditions for their series once a year, so it is important that if that is your niche, you are prepared for that once-a-year audition opportunity. Because Miami is a smaller market with specific roles that often call for bilingual actors, Burgos stresses the importance of finding your niche in the market.
"If you find your niche, you become the solution to their problem," he said.
Make connections
Making connections is important, and from acting classes in Miami to a large theater and improv scene, there are many ways to connect with fellow actors and decision-makers.
"There is a big improv scene in Miami in Spanish and English," Burgos shared. "There is also a lot of comedy and dramatic theater."
Going to plays and working in improv not only helps you connect with fellow actors, but also helps you develop the skills it takes to be on set and connect with your fellow actors. Connecting in Miami isn't just about the offscreen relationships, but working on-screen too.
Making those connections is especially important when starting out and gathering tools such as a demo reel, which is necessary for becoming an actor in Miami.
Burgos said, "What I tell a lot of the beginner actors here is that if you do not have a demo reel because you haven't worked, go and research every single film school in your area. There are, like, seven film schools in Miami, so I made connections, and I was able to do some great short films from students, so that helped me build my first demo reel."
Making these connections can help enhance your career as a Miami actor. Using social media to make connections is also a major tool in the Miami market.
"People are very eager to give you their Instagram account, and that's the first time to make the connection. It's all about making the connections. Ask the questions and make the connections, and that will give you a path to finding an agent."
Be prepared, patient, and professional.
To become a successful actor in Miami, you have to walk on set and be prepared, patient, and professional.
Post-covid budgets have changed, and actors are asked to be more flexible. Burgos says, "it seems like nowadays, they're asking the actors to bring their own wardrobe to productions."
So he has become accustomed to preparing and bringing his own items. "It makes it easy for wardrobe departments," he said.
That kind of positive attitude and professionalism gets him hired, re-hired, and has casting directors remember him. Patience doesn't mean laziness, and Burgos isn't sitting back and waiting for the work to come in.
"I get on Casting Networks at least two to three hours a day, and I don't only look in my market. I look in New York, Los Angeles, all the Florida markets, and Atlanta. If you sit down and wait for the opportunities, the train is gonna pass you by."
That's a wrap on Miami
Part of becoming an actor in Miami is enjoying the experience. Ricardo "Beard and Hat Actor" Burgos is the embodiment of that. His personal brand as the Beard and Hat Actor (he does have a beard and hat) makes him instantly unforgettable to casting and fellow actors.
His love of the craft makes Miami's film scene seem like a dynamic place to work. From features to student films (he once had cinder blocks tied to his legs and was tossed into the open ocean), Miami is a hub of excitement.
We asked him what a visiting actor should do should they be in Miami for a day or two.
He said, "There is a lot to do in Miami. If you're a foodie, Miami has a wide variety of worldwide cuisine. If you like the beach, you have the beach. If you like to see alligators in their natural habitat, that's in Florida." Ultimately, though, his suggestion is to "just walk through Miami to get a taste of the culture and the sights."
Finally, we asked Burgos if there was anything else he would like to share with other actors. "I would say the most important thing is how you differentiate yourself from the rest." He said.
If you are an unforgettable actor, maybe becoming an actor in Miami is right for you. Check out the latest Miami casting calls and auditions to get started now.
Miami film resources for actors and creatives
Filmiami is a great resource for anyone looking to work or create content in Miami additionally Miami hosts many notable film festivals throughout the year.
Notable Film Festivals in Miami 2023
American Black Film Festival
Miami Film Festival
Outshine Film Festival
Cinema Italy
SciFi Miami
Miami Cost of Living Statistics for Actors
| | | | |
| --- | --- | --- | --- |
| Miami versus… | National Average | Los Angeles | New York City |
| Cost of Living | +11.6% | -30.5% | -27.4% |
| Average Rent (1 bed) | +50.1% | +10.5% | -32.3% |
| Gas Prices | +1.1% | -25.3% | -3.7% |

Sources: Bestplaces.net, Salary.com, Zillow, Rent.com, and AAA
Related articles:
How to Become an Actor in Toronto
How to Become an Actor in Atlanta
How to Become an Actor in New York
---
---