Amber Ashley's parents didn't believe in film or television. However, when she was growing up, she and her sister were allowed to go to Blockbuster on the weekends and pick out a single movie. As a result, one Saturday night, she found herself crying watching Tombstone. She didn't quite understand why she had been moved to tears, but she did understand she wanted to do that to people. "I can change lives by evoking emotion," she said on a recent call with Casting Networks.
Now, many years later, the Denver native is doing just that—and she's doing it from her hometown. Here, Ashley talks about the ins and outs of working as an actor in Denver: From booking jobs to landing an agent, here's everything you need to know about being a working actor in Denver.
Denver offers a personal touch for actors.
Denver is so organized and clean and accessible, which makes it really great for actors. It's easy to get around. There are tons of acting coaches; there are a lot of agencies here. My acting class also offers a lot of services as well, like self tape help. My acting coach, for example, if you have an audition, he will get you in and help you edit it and he'll submit the tape for you. He gets so personal with his care for us, which, I don't know if that is true of acting coaches in bigger markets. He acts as a mentor, he acts almost as a manager for us sometimes, in the way he helps my peers and I in our careers.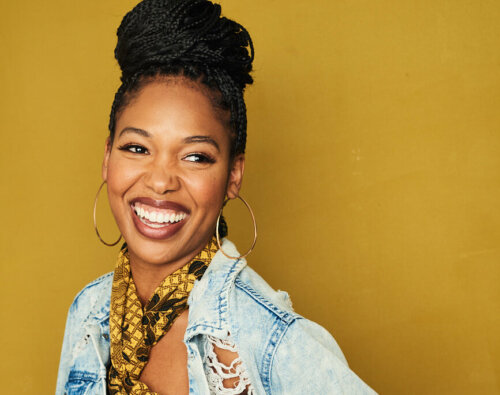 Photo credit: Stephanie Girard
There are many agencies in Denver—there are many paths to an agency, too.
I am with the only SAG agency in Denver, but there are many agencies in general. Most actors that I know in Denver, they have agents. If you don't yet have an agent, you can get into a lot of background work here. But in a smaller market like this, if you want to be working at the professional level, it is so much easier to get in with an agency.
I got my agent in a uniquely Denver way: My acting class had an agent in the class, because she's also an actor. We met in class, she told me to come over to her agency and it just went from there. That was a unique situation, but also an example of what's possible here with networking. For anyone in Denver looking for an agent, I would just advise getting different types of looks for your headshots so you can have a range of types at the ready. And then of course, for your reel, just make sure it is high quality footage—even if it's just one or two clips! That will go so far. And then just contact the agency and say, "Hey, I think I have a distinct look and can fill a hole in this agency."
Same thing goes for acting classes here: Do your research. It's so easy to do research on the acting scene in a smaller market like this. There are also tons of opportunities in Boulder and Colorado Springs—so do your research on those, too.
Denver is not prime for film and TV—but it is prime for this kind of work:
Denver has a lot more commercial opportunities and not necessarily many film opportunities. For me, because I'm a minority, I get booked a lot—but that's just for commercials. When it comes to film, I have to go to other markets if I want to work professionally. And I do have agents in other markets—all of whom my acting coach also helped me find. Denver is mostly commercial and modeling-focused, though. I am definitely not a runway model, but I do work as a print model quite a bit! There are tons of opportunities for that here, which is a great way to make extra money and to meet people.
To work at a high level, you should also plan to work outside of Denver.
I have an agent in Atlanta, Utah, New Mexico and Los Angeles. They are all separate agencies. Before COVID, it was so much more difficult because I had to travel all the way out to those markets for the auditions. Of course, auditions are like five minutes long! My first outside-of-Denver market was New Mexico, which is a seven hour drive from here. And I was getting, like, one audition a week, so I had to drive down there every time. Now, it's so cool that I don't have to travel for the audition, but I booked a ton of work during that time, which has been really helpful for me to book more here, too. One thing really leads to another.
You can easily find your acting tribe in Denver.
Denver, compared to most places, the acting community feels really friendly. You can go to any acting class that works for you and meet great people who will help you meet your goals. Shop around for the class that is best for you, but it's easy to fall in with a crowd. And, further, because it is a smaller market, everyone is so resourceful and so quick to tell you the resources they have picked up. I give a lot of advice to a lot of people, and get a lot of advice from a lot of people, but in a small market especially, it is ultimately up to you to take initiative.
This is where actors should live in Denver (and where they shouldn't):
There are a lot of great neighborhoods for actors to live in Denver. Downtown is great, LoHi is also a place where a lot of actors live, Five Points is great. Denver is really expensive, it's right behind Los Angeles as far as cost, so it's hard to tell an actor where they should live. Wherever you can get a deal! You may have to choose Boulder, which means you'll have to travel to your classes but it's not too far and it's considerably more affordable. There aren't really any neighborhoods you should avoid—except the expensive ones!
Actors, especially, need cars in Denver. Here's why.
You do need a car in Denver. There is some public transportation, there's a bus, there's a train, but it's not like New York where you can walk a block and find a train. I do recommend getting a car. People also ride their bikes a lot here, but I don't necessarily recommend that for actors, especially for auditions when the weather is warm. You'll show up all flustered! Before COVID, all auditions here in Denver were in-person. Now, it's pretty much all self tape, but the callbacks are in-person. That's also why you need a car.
Even for a lifelong Denver resident, this never gets old:
I was born and raised here so I am so numb to it, but I have to say: the mountains never get old.
If you're looking to get work as Denver actor look no further than Casting Networks! Sign up or log in to check out our Denver Auditions and Casting Calls today!
Denver Cost of Living Statistics for Actors
| | | | |
| --- | --- | --- | --- |
| Denver versus… | National Average | Los Angeles | New York City |
| Cost of Living | +19.6% | -27.5% | -24.2% |
| Average Rent | +11.8% | -26.4% | -38.9% |
| Gas Prices | -6.8% | -32.2% | -9.9% |

Sources: BestPlaces.net, Salary.com, Zillow, AAA, Rent.com
You may also like:
---
---