When the HollyShorts Film Festival was held in Los Angeles last month, one of the short films in competition, Suppression, arrived with plenty of buzz. Directed by first-time filmmaker Julia Varvara, the film stars Adam Morse as a detained serial killer. He gets under the skin of a damaged psychoanalyst and upends the man's world. Viewers were stunned to learn that Morse, a legally blind actor, was playing the role of a fully sighted character.
Morse spoke to Casting Networks about Suppression, his acting journey, and the barriers he is breaking for others like himself.
You and Julia are partners both personally and professionally and have worked together on Lucid, a full-length feature film you wrote, directed, and produced. You have a production company together, Hollyfield Productions. How did you and Julia come to make Suppression?
It started by me asking Julia one day, 'what do you think my casting type is?' She goes, 'I think you'd play a good convict.' I replied, 'funny, because I have a prison drama script I wrote a few years ago.' We dug out the screenplay and realized it is more relevant today than when it was written. The film is about feeling mentally isolated, suppressing your emotions, and how dangerous it is not to communicate what's on your mind.
Julia is an actor in her own right. How did this become her directorial debut?
My ambition was always to be an actor, but over the years, I found myself behind the camera, directing and producing. Julia was the opposite. She's wanted to be a director since she was 12 years old. When she read the script, she had a vision for it. I had just come off shooting the Apple TV+ series See and wanted to do more acting. She said, let's make this a showcase for you. In the process, it also became a brilliant showcase for her.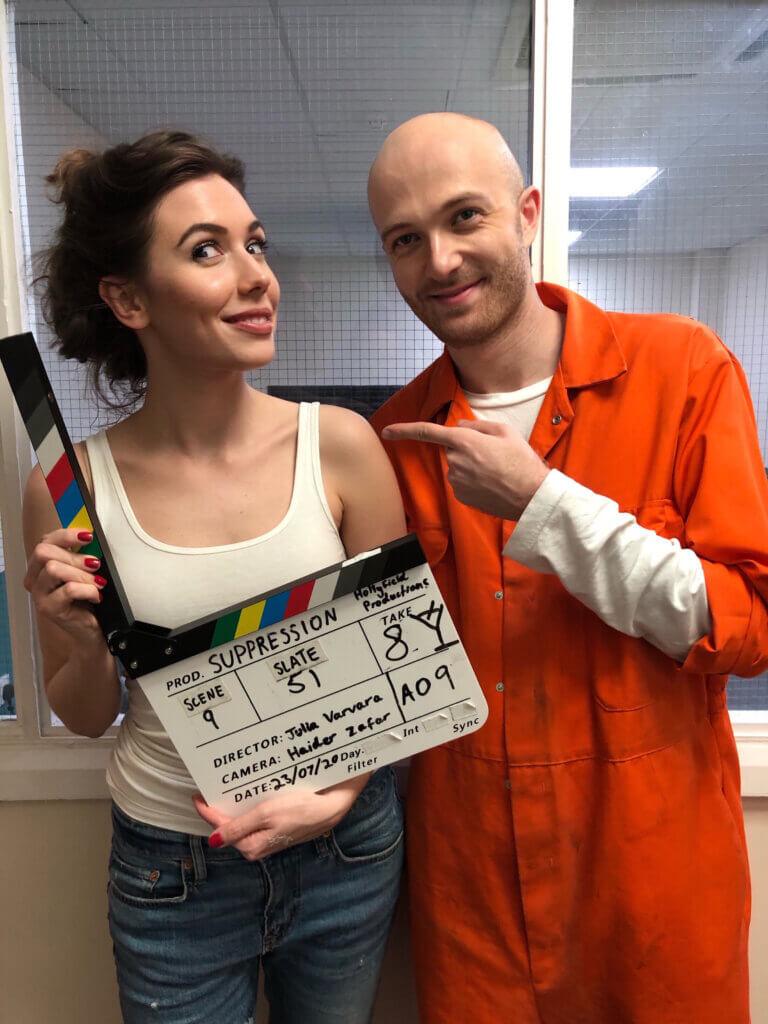 (left to right) Julia Varvara and Adam Morse. Photo courtesy Adam Morse.
What struck me most about your performance is that your character always had a sightline. Your eyes were always focused on something or someone tangible. There was no indication you are blind. There was nothing disabled about you in that role. You were, in fact, very abled.
As an artist who is legally blind, I have a different process. But I've proven I can deliver as an actor, director, or filmmaker. I first "came out" of the "blind closet," so to speak, a week before the premiere of Lucid, and I was one of the first people to coin the phrase "differently abled." Since then, the phrase seems to have taken off and is being used more and more in Hollywood, which I'm grateful for. When people think blind characters should be played only by blind actors, I say why? It's called acting. The whole point is that you are someone else and you are telling a story to audiences for them to see the actor as somebody else. Blind actors only playing blind roles makes us feel like a prop.
Is this a common sentiment in your community?
Everybody I know in the blind community feels the same, and in the differently abled community in the industry, too. We want to have opportunities to exceed others' expectations. We want to surprise people and show the world that we're capable of much more than we've been given credit for. I feel a responsibility to break these boundaries and to blaze a trail for other differently abled actors. The more I lead by example, by showing that I can play sighted characters authentically and believably, the more I can inspire a movement to grow and usher in a new wave of artists and a whole new tolerance from people in the industry, as well as in audiences.
This likely means you will have to create those projects for yourself as you did with Suppression.
One hundred percent. I can't wait around for other people to gift it to me on my lap. I'm proactive now, producing several projects for myself as an actor. It's not to say I'm against playing blind characters. I played one on See, and I'm attached to another project I'm developing as a producer where I'll play a blind character. But I've got other plans to create a paradigm shift that flips the expectations and changes the opportunities presented to people like myself.
Can you talk about any of them?
One of the projects I'm working on is something that's never been done before: a blind person playing a blind action hero. I will do the stunts on the screen myself—jumping off buildings, riding jet skis, chasing people in extreme situations that are carefully choreographed and performed by a registered blind actor.
Why is it important for you to do this?
It's on me to keep showing audiences and industry decision-makers, and other actors, that it's possible. Then hopefully, it changes the broader mindset.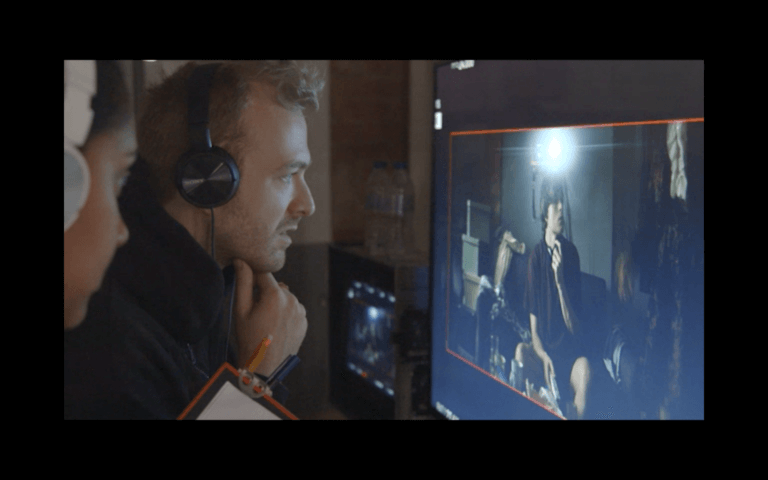 Directing 'Lucid' behind the scenes. Photo courtesy of Adam Morse.
You lost your sight at age 19 from LHON—Leber's Hereditary Optic Neuropathy—leaving you only with partial peripheral sight. For a blind actor, is there a difference in the craft if you were born blind instead of becoming blind later?
Yes. After I lost my sight in 2009, I had about two years of having to readjust to not having central sight. But now it's like having a superpower. It allows me to tap into somebody else's spiritual frequencies much faster. I'm not distracted by faces that may not represent how that person is feeling or by my insecurities about how the other person is looking at me. Now it's more about vibrations. It's an advantage for an actor because the main thing is to be present and open to whatever unfolds. You feel the person you're communicating with in the scene.
How does it affect you as a director?
On projects I direct, like Lucid, it was a case of me standing with my face inside a 60-inch monitor and using my partial peripheral sight to frame camera angles. When I direct, I use the remaining partial sight to appreciate what the actors are doing performance-wise and then direct that as well. Despite being registered blind, I have that partial peripheral sight that allows me to make informed decisions on visual storytelling. I'm very fortunate in that regard.
Were you pursuing acting when you lost your sight?
I had my sights set on being a screen actor. I was doing whatever on-screen gigs I could get—an extra, a day player. When I started noticing the deterioration in my sight, and after I was diagnosed, I retired the dream, thinking it wasn't possible because of how I had been programmed by society.
How's that?
I had nobody to look to that could give me encouragement or confidence that I should continue acting. I had to wait for my spiritual awakening to happen, which it did. It was a gradual thing, not an overnight lightbulb moment. By losing my sight, I also developed a superhuman memory ability, which I still have. My recall is better than anyone I know. I decided that I can do this. I can be an actor. Let me make a film for myself and play a sighted character, take matters into my own hands, and produce something. Then I stayed behind the camera, focusing on directing my first short film, The Window. Then likewise with my first feature, Lucid.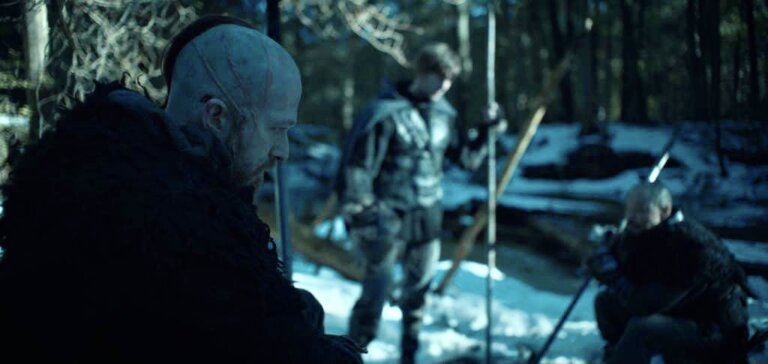 Adam Morse in the Apple TV+ series 'See.' Photo courtesy of Adam Morse.
How did See come about?
Apple saw Lucid, which they liked. They wanted to get me on board to potentially direct an episode of See, but unfortunately, the show already had all its directors lined up for the season. I was disappointed, but I told them, "I'm an actor too, too, so if you're still casting, I'd be happy to read for a role." I ended up going through a series of auditions and sending in some tapes, and they offered me the role of Frye. I learned how to ride a horse for the first time, and I did some sword fighting. I had my first taste of performing stunts and doing action sequences.
How do you audition? Can you read the lines?
No, I'm too blind to read. Usually, I have Julia help me. She will read the lines or record a voice note of the lines. I'll listen to it a couple of times, and then it'll be in my head, and I'll know it.
Where do you go from here?
I'm always dreaming bigger. I want to make history and do what's never been done before. I want to break boundaries. I battle stigma daily and show people my talent is not a fluke. I've got a lot to offer and much more to give in the future.
Looking to get your big break? Sign up or login to Casting Networks and land your next acting role today!
Related articles:
Acting Up: B.J. Novak
My Casting Story: Grant Hall on 'Grown-ish'
My Casting Story: Al-Teron on 'On the Come Up'
---
---