The Snapshot: B.J. Novak plays a NY-based writer who heads to small-town Texas to help solve the murder of a girl he randomly hooked up with in the smart dark-comedy, Vengeance.
(The film premiered on July 29th and is now available via VOD.)
The Performance:
It should be said that the best films mirror the times in which we live in – and to that point, Vengeance (from writer/director/star B.J. Novak) more than meets the moment of 2022.
It's a film that speaks loudly to the red-state/blue-state divide and provides a potential future roadmap for how we might all navigate around Civil War 2.0. At its core, Vengeance is about people, not politics, and how we're all maybe more alike than anyone would like to admit.
In it, B.J. Novak plays Ben Manalowitz, a version of the real-life Novak that he openly cops to. He's a writer for The New Yorker, a superficial serial dater and the type of guy who puts girls into his phone with telling keywords like: "Texas." When Ben gets a random call from Ty Shaw (Boyd Holbrook) about the death of his sister – the girl named "Texas" in Ben's phone (real name Abilene) – he is shocked to find out that she claims to have been Ben's girlfriend.
Instead of grief, Ben is more confused by the fact that they were apparently way tighter than he ever imagined. Yet, he's also intrigued – so he begrudgingly heads to Texas after Boyd's tearful plea.
Once he gets out there and appears at her funeral, he's asked to make a speech about a woman he barely remembers. Soon enough, Ty tells Ben his theory: that his sister was murdered and didn't overdose on drugs, which has been more or less ruled the cause of death. Selfishly, and thanks to a career that has stagnated a bit, Ben decides to produce a "Dead White Girl" podcast with the help of his NPR-like producer (an ever-talented, Issa Rae) who wants to help tell the sad and tragic story about a guy who'd fly to Texas to attend the funeral of a random hookup.
This is where the film, Novak's concept for the script and his character begin to shine. As Ben starts meeting her family and the local townspeople, he begins to realize how different this part of America is than the much bluer state from which he comes. From how devout they are to Whataburger to how clearly different Texas Tech and UT are in the eyes of the locals at a rodeo, Ben realizes he's not in New York anymore. Or even Austin, Dallas or Houston.
This is West Texas, where you see land for days and where no less than six energy companies sponsor that very same rodeo. Red solo cup culture, where simple life can become complicated.
Ben has to tune out the elitist in him as he uncovers layer after layer behind Abilene's murder – and as he does, his pursuit of the truth becomes ever more earnest, entertaining and exciting.
The city-slicker-heading-into-Podunk-middle-America-thing has been done before, but not at a time when America needed a story like this more than ever. The message: If we can all just get over ourselves a little bit and see the other side of things, we might just all be better off.
How many people are listening? That's the question.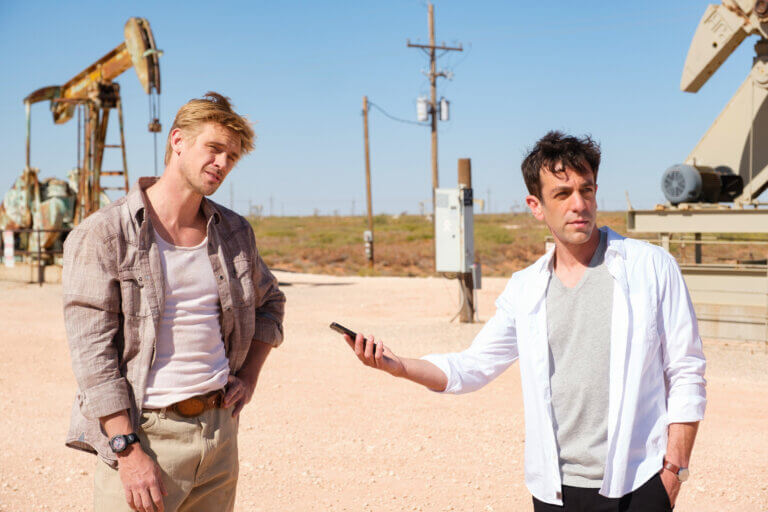 (L to R) Boyd Holbrook as Ty Shaw and B.J. Novak as Ben Manalowitz in Vengeance, written and directed by B.J. Novak and released by Focus Features. Credit: Patti Perret / Focus Features.
The Career:
If you spent the better part of the early aughts dealing with Ryan and Kelly's twisted on-again-off-again relationship on The Office, you're probably already familiar with Novak's work.
But as slick and serviceable as he was in The Office as Kelly's – and Michael's – man crush, Vengeance has to be the most important and best thing Novak has ever put his stamp on. Not just because he acts quite well in it, but because he wrote and directed the film based on his own personal experiences. Now, the 43-year-old actor from Newton, Massachusetts, hopes to see his thought-provoking, maiden-effort-of-a-film do well, much like Emerald Fennell did with her Promising Young Woman film, which won her an Academy Award for Best Original Screenplay.
Outside of The Office and the five Emmy nominations he received as part of that talented cast, Novak has had a solid run as a creative and comedic force. There's been an eclectic blend of TV and film roles, ranging from The Mindy Project (2013-2016) to Quentin Tarantino's Inglorious Basterds (2009), where he played a Jewish-American soldier hunting Nazis. Yet he's also written for TV quite a bit, putting his Ivy League degree to work in artistic ways at The Office.
After graduating from Harvard in 2001 and working as a member of the Harvard Lampoon, Novak moved to Los Angeles in the early 2000s and started working as a standup comedian at clubs. Once Greg Daniels reportedly saw one of his sets, he earned a role as temp employee at Dunder Mifflin. Before that, Novak broke in as a top prankster for Ashton Kutcher on Punk'd (2003), a "Field Agent" for Kutcher's highly popular MTV series at the time. Worth mentioning because Novak repaid the favor by casting Kutcher in a pivotal role in Vengeance, where the Iowa-born actor plays a music producer who struts his stuff in a ten-gallon cowboy hat.
What's next for Novak, other than possible critical acclaim? Well, the one question he keeps getting asked is: Can we expect a reboot of The Office? And to that, his answer in a recent Deadline interview was the following: "I think it needs to be approached as an artistic decision, not as a financial decision. I worry that there's so much financial pressure, understandably, to mine this precious metal in the ground called The Office reboot, spinoff or whatever."
Not sure that clears things up, but you're telling me there's a chance…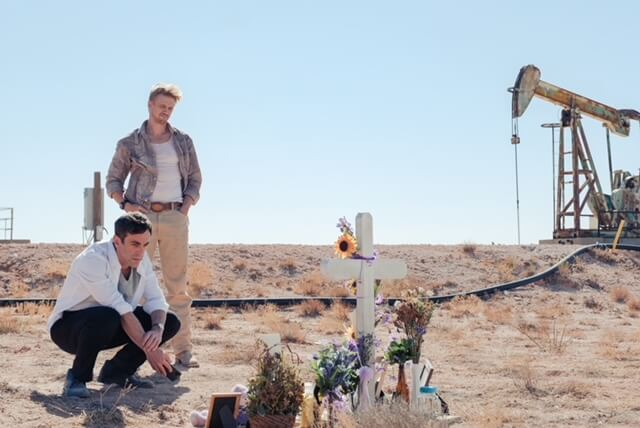 (L to R) B.J. Novak as Ben Manalowitz and Boyd Holbrook as Ty Shaw in VENGEANCE, written and directed by B.J. Novak and released by Focus Features. Credit: Patti Perret / Focus Features.
Looking to get your big break? Sign up or login to Casting Networks and land your next acting role today!
Related articles:
Acting Up: Ayo Edebiri
Acting Up: Joel Kim Booster
Acting Up: Ben Whishaw
---
Gregg Rosenzweig has been a writer, creative director and managing editor for various entertainment clients, ad agencies and digital media companies over the past 20 years. He is also a partner in the talent management/production company, The Rosenzweig Group.


---
---