Now that you've submitted your roles and your project has been posted to the Casting Billboard, the real fun starts. Your submissions will begin rolling in, and you can start going through your first round of auditions.
Once you've found the actors, or selects, that you think might be the best fit for your project, you can start narrowing things down. If you are wanting to share your selects with your clients or other people working on your project, such as producers or the director, you should make a Share Selects link before you move forward with scheduling your selects for a media request or an audition.
How do I create a "Share Selects" link?
In your project's dashboard, you will find the actors that have submitted for your project in the "Submissions" folder. After you have marked your selects with a number, in the "Selects" folder, in the lower right corner. click the "Share Selects" button and it will open up a window to create your link. You can then choose which selects you want to include in the link to share with your collaborators.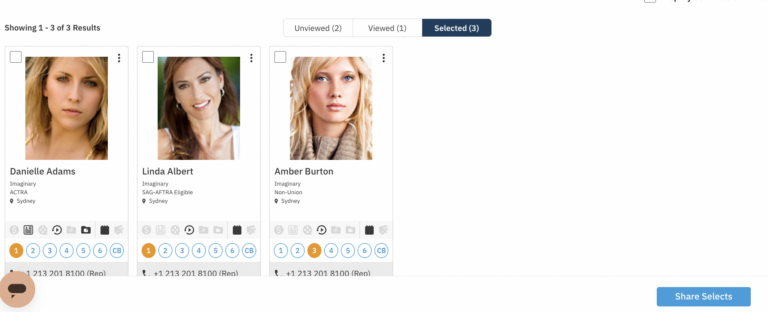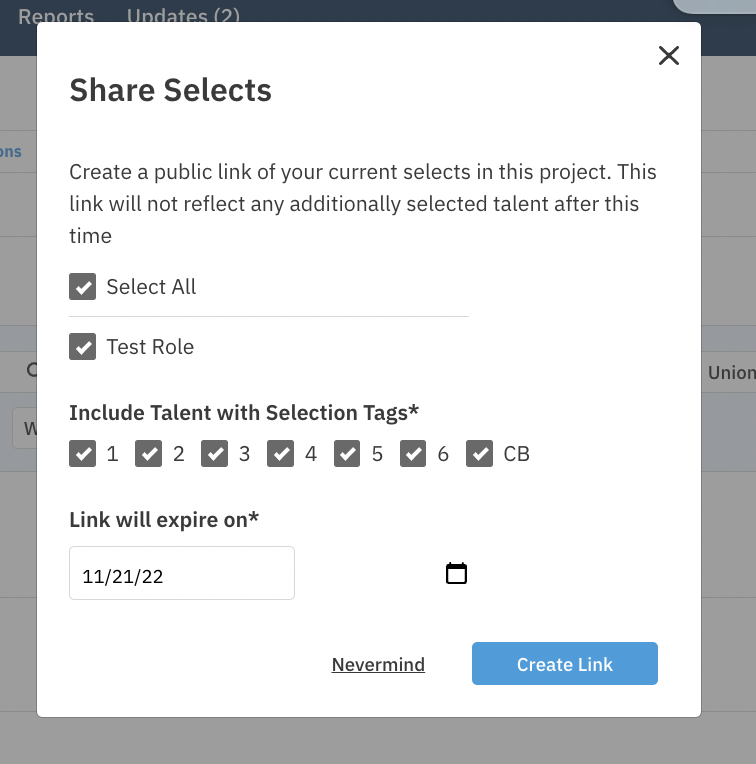 Keep in mind your "Share Selects" link must have an expiration date. And although you can go as far into the future as you like, we recommend you set it to the date your project begins shooting. The link is available as long as you want it to be active and your clients and collaborators will have access to it until it expires.
Once you select all the details, click the "Create Link"" button at the bottom and copy the URL. Then, anyone who has the link will have the ability to open and view all of the selects you have included.
When you click it it shows your selects. You can click into the details of your selects to see their resume, location, highlighted credits, photos, videos and other information. You can even view and download their reel if the actor has uploaded it (other selects that you can toggle between will appear on the side). For privacy purposes no one will be able to see contact information from the Share Selects link.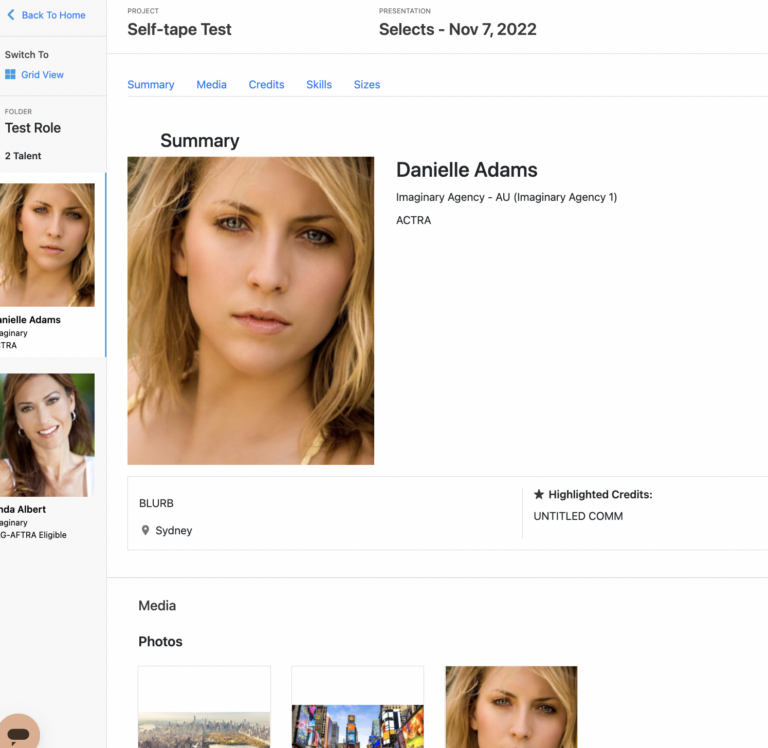 When can I share selects?
The time to create a share selects link is at the early stages of the casting process. As soon as you make your selects and they have been moved over to the "Selected" folder, you will want to create a "Share Selects." Be sure to copy the URL once you've created that link – even if you're not going to send it out right away. You will be able to share the link with your collaborators whenever you want.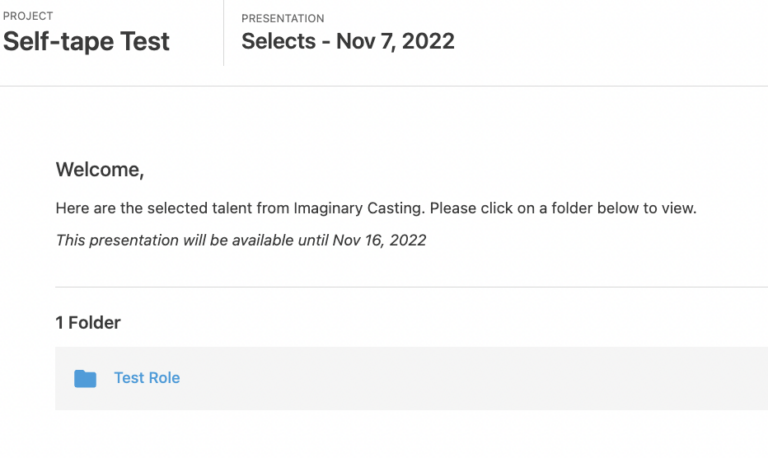 Is there any point where I won't be able to create a Share Selects link?
Once you have either scheduled your actors for an audition, sent a media request or a question request, you won't be able to add those talent in a share selects link anymore. Once an actor has received one of those items they are no longer listed as the selects. They will instead be moved to the "Under Consideration" folder and can't be included in a share selects link.

When it comes to sharing your selects and moving to the next stage to bringing your project to life, here's some quick notes on when you can, when you can't and a few tips to recap.
Add your selects from the "Review" section to the "Selects" folder.
Click the "Share Selects" button in the "Selects" folder to create your link.
When creating your link, choose which selects you want to include in the link by checking the numbered boxes that match the rankings of the selects you've picked.
When filling out your link's mandatory expiration date, it's best to choose the date that your project will begin filming.
Make sure you copy the URL once you have created your link.
Share your selects BEFORE you send actors media requests, question requests or schedule an audition.
Now that you know the best practices for sharing selects, it's time to give it a try. Sign up or log in to Casting Networks to start sharing your selects for your projects today!
Learn More:
Project Creator Support
PROJECT CREATORS: How can I contact talent?
How Adding Special Skills and Attributes Helps You to Cast and Be Cast
Project Creators: Here's Who to Release Your Projects to
---
---