Casting Director Rose Rosen emphasizes that if you do anything interesting or strange, you should put it on your resume in your profile. "You can put in that you're a surfer, that you're a scratch golfer and the level of ability. If I'm in Wisconsin looking for a person who can roller blade and do flips, I need it. And you would be so shocked at how many different calls [are] like that," she told Casting Networks in an interview on how she uses social media to help cast her projects.
When you list every skill that you have, no matter how strange, Casting Networks will be able to filter your interesting abilities and help open your profile up to more roles.
And if you're a project creator looking for actors with interesting skills and abilities for your projects, you no longer have to choose your selects, send a question request asking if they can do whatever unique skill you're looking for and hope for the best. In fact, you can save time by setting up your Role Descriptions in a way that brings those selects to you.
Actors: How do I add my special skills and attributes to my resume?
When filling out your profile, go through the list of skills and mark which ones you have. If you do not see your special skills among those listed, please make note of what you can do in the "Other Experience" section.

A unique skill or attribute in the "Other Experience" section is still keyword searchable, and will appear in a casting director's search (e.g., If you're a baker, let the world know in your other experience section that you're a world-class baker. If a casting director searches for a baker, your profile would get pulled into their search because of the word "bake.").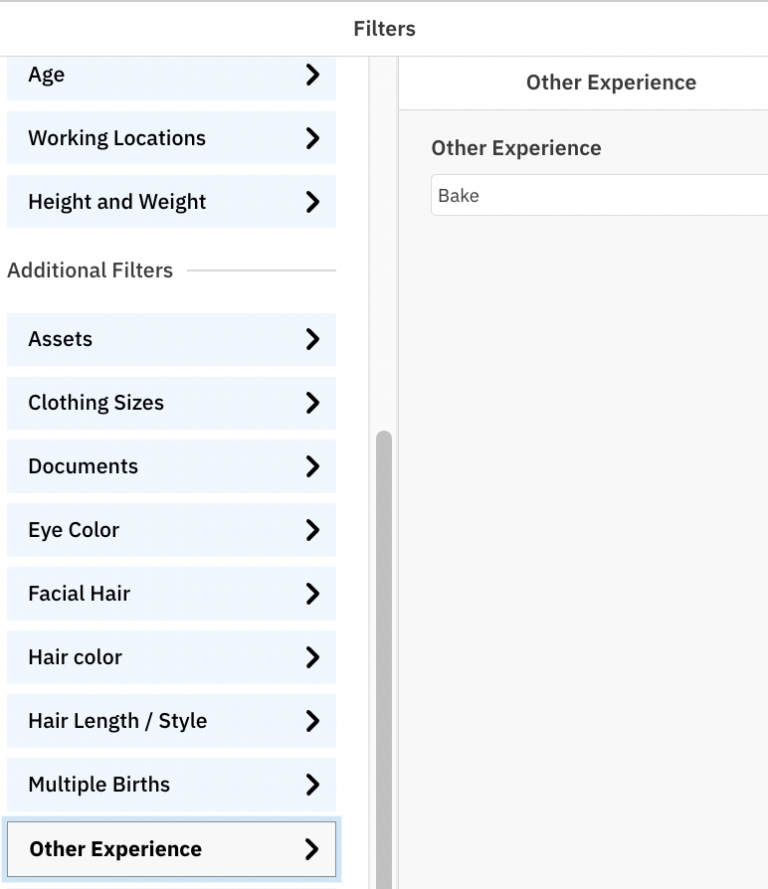 Please note, "Other Experience" is only keyword-searchable for casting directors. Project creators don't have a talent search functionality per se, but they can search by skills by clicking on "Go to Advanced Filters" in their filters and can checking on the "Other Experience" button. Project creators will then be able to enter the keyword they are looking for. Casting Networks will then pull any actors submitted to the role with the specific keyword in their "Other Experience" section and it will filter that role to them.
Project Creators: How do I search for actors with unique skills and attributes?
If you are looking for an actor that is a tap dancing novice or can play the violin or piccolo, or can do all of those things, you can find them in the "Role Description" section of your project.
In the role description section, fill out any unique skills and attributes you're looking for in the box below the role description to search for special skills (skills recommended for this role). You will find a wide variety of special skills and attributes from acting styles to musical skills, circus skills, combat/martial arts, dance and more. Click the closest skills and attributes to what you're looking for.
If there is a frequently-needed skill you find is not listed, feel free to reach out to request it at support@castingnetworks.com. We are always taking considerations for skills to be added.
When you're ready, fill out the rest of the Role Creation form and click the "Submit" button to begin receiving submissions.
Once you start receiving submissions, you can narrow down the right talent by clicking the "Autofill by Role Criteria" button. This will pull actors in your submissions that match anything that you have included in your role description – including those special skills and attributes you're looking for. This will save you time when it comes to narrowing down your options and making selects.

If you're a project creator looking for niche actors with special skills and attributes for your project, you now know how to find them. And if you're an actor with a unique trait or cool talent, you now know how it can help your acting career and how to add it to your profile.
Regardless of which side of the coin you're on, it's time to give it a try. Sign up or log in to Casting Networks and start adding your special skills or searching for actors that have them listed today!
Learn more:
TALENT: How do I edit my talent profile?
TALENT: I'm brand new to Casting Networks. What information can I put on my profile?
Project Creator Support
---
---