As a professional dancer for Missy Elliott and Mariah Carey's team and choreographer for the NBA All-Star game for two years, Bella Cruz always knew there was more creativity inside her. What she really wanted to do was act.
She began pursuing her craft and, tired of not getting the types of roles she wanted, multi-hyphenate artist and project creator Cruz began to forge her own path. She began writing and wrote a musical episodic that landed her literary representation and the ability to shop her own shows. She began building relationships with people onset and, using Casting Networks, is creating her own projects. Her short, 180, is now making its way through the festival circuit.
It's nice to meet you! Tell me about your project on Casting Networks.
Well… I wanted to produce my own short films and have really thoughtful high production values.
What does that mean to you?
I've worked on a lot of sets in a lot of capacities. And on these sets, I've seen really amazing professionals with the drive to create high-quality work. I've been able to build relationships with people who might want to jump departments. For example, I met my Steadicam operator on American Crime Story, where I was doing stand-in work, and he was working as the First Assistant Camera Operator. The director in training from Family Reunion and iCarly was my DP, and what's really great about that is that we've all been able to jump our departments while making my short film, 180. We've won a few awards already, and everyone has been able to do the job that they wanted using my project as an example, and that project was cast on Casting Networks.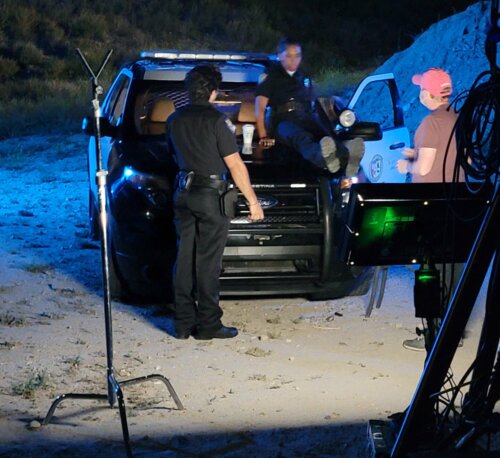 Photo courtesy of Bella Cruz.
Can you tell us about your experience as a project creator on Casting Networks?
It's a legitimate site, so going in, an actor knows the project will be worth their time. As a creator, you want to attract the best talent possible, so I try to be really thoughtful and intentional about character breakdowns because I think that's the first entry point to where an actor sees who you are as a creator. Actors want to know that the project is worth their time. In Hollywood, you sometimes have a hard time filtering through what's real and what isn't.
Is that where Casting Networks comes into play?
Yes. It's especially important to have that legitimate backing if you're using the SAG New Media rates or if it's something that's deferred. I always include the other people who are part of the team so an actor can go to all of our IMDb pages to check out our work.
Has working with Casting Networks changed your perspective as an actor?
The last project I had, had 1,200 submissions, and I saw from an actor's perspective how casting looks through all of these photos. You need to be thoughtful as an actor in terms of what your thumbnails are because you know it's tiny, and you need something that's going to attract people's eyes. I've noticed that what attracts me is also sometimes a little thoughtful note. Not a page! Just something smart.
Can you talk about your audition process?
If I am interested in an actor, I have them submit something immediately, and if I like them or take them a bit further in the process, I normally direct-book. I don't bring people in. I think it's a waste of time. I've been really lucky because the actors I've booked from Casting Networks show up and do the work, and they've been really good.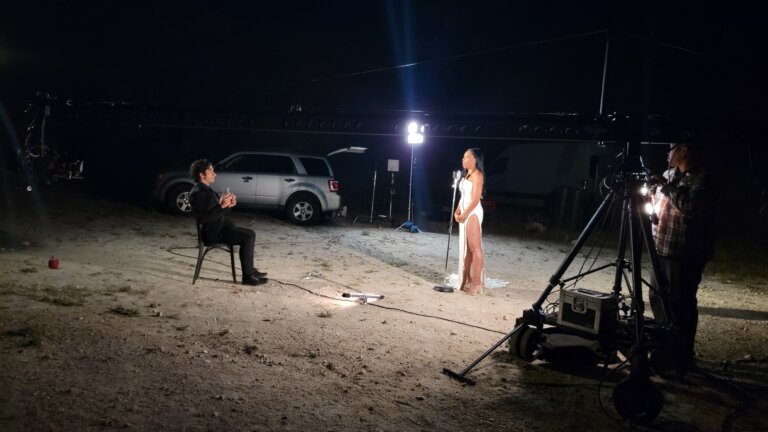 Photo courtesy of Bella Cruz.
So what's next for you?
I just signed with new representation. I got a new manager that I'm really excited about, and I'm excited to see what better opportunities she can bring my way since I've done all of this work. I also host a Podcast called Pageing Creatives, where I bring different people onto the show so you can listen to their journey; you can listen to what they do when they get discouraged. You can see all the different ways they are being creative are ways that they've taken other avenues toward their art, and I think it is encouraging and inspiring.
To hear you speak about it, it's very inspirational.
There are just so many ways that you can share your art. You can set up and cast your whole project right here. There are a lot of different mediums now, and you can even put your own projects on Amazon Prime. Just create a community and get it out there. Even if, at this point, it's just you, post your project on Casting Networks. You can create your art on your phone and put it up anywhere that you want to so that people can see it.
This interview has been edited and condensed.
Are you interested in using Casting Networks for your next short film, student film, or independent film? Sign up or log in today!
You may also like:
---
---