Casting Networks has a brand new feature to help you find the right roles for you faster so you can keep doing what you do best. Introducing "Saved Searches."
What are saved searches?
This feature allows performers such as yourself to create saved searches based on the filter(s) you apply when browsing through the various projects you see on your Casting Billboard, helping you quickly find the roles you're looking for. This is especially helpful if you're looking for work in specific regions or for specific project types, such as voiceover or commercials.
How do saved searches work?
While on Casting Billboard, go to your filters and select which type of projects you want to see in each area (location, project type, role type, union, role types, appearances, ages, gender, etc.). Once you're happy with your selection, click on the "Filter" button so that you can see the changes take effect. Once you apply any new search criteria on Casting Billboard, a "Save This Search" button will appear. Click this button to open the "Save This Search" modal and turn your applied filter into a saved search.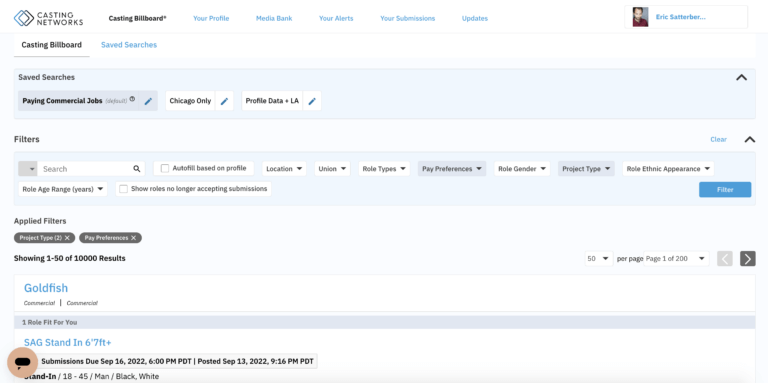 When saving a search you must enter a name and can determine if you'd like this search to be your Casting Billboard default. Once saved, the search will appear in your "Saved Searches" section on Casting Billboard and can be easily applied with just one click.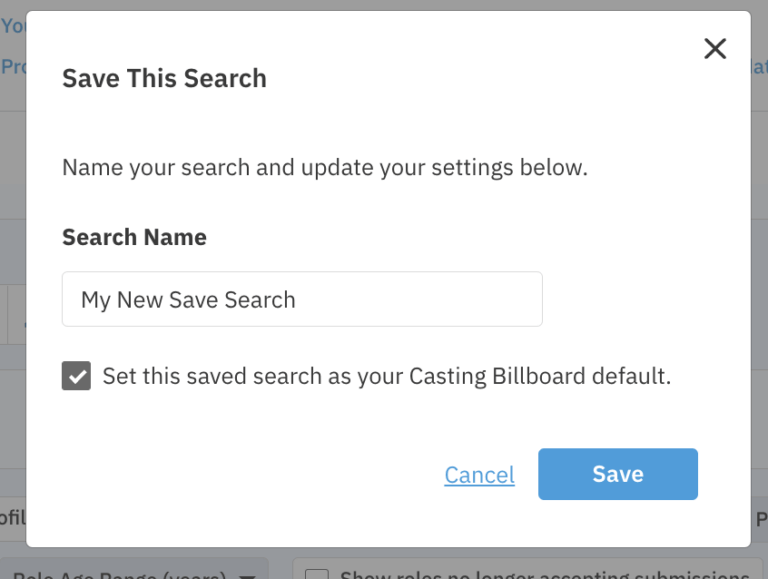 If a saved search was designated as your Casting Billboard default, this search will be automatically applied to Casting Billboard upon visiting the page. Your default can be changed at any time when creating a new saved search or editing an existing saved search.
Remember, you have to hit the "Filter" button for your changes to take. Filters that have been selected but not yet applied will appear grayed out under the "Not Yet Applied" section.

Can I have more than one saved search?
Yes, you can have multiple saved searches to help you find your roles. If you want to have multiple searches to separate the types of roles or projects you'd like to audition for, it's very easy to do so. To create a new saved search, add, remove or clear the current filters, click on "Filter" again, then save and name your new search. If you like this search better, hit the button to make it a new default.
How do I switch back and forth between multiple saved searches?
While on Casting Billboard, simply click on the saved search you'd like to apply.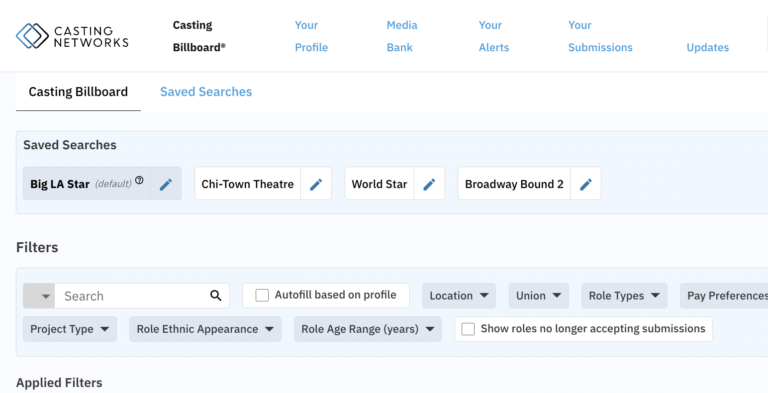 You can also choose which search you'd like to make your default here, or rename your search by clicking the pencil icon, which will take you to the "Edit This Search" modal.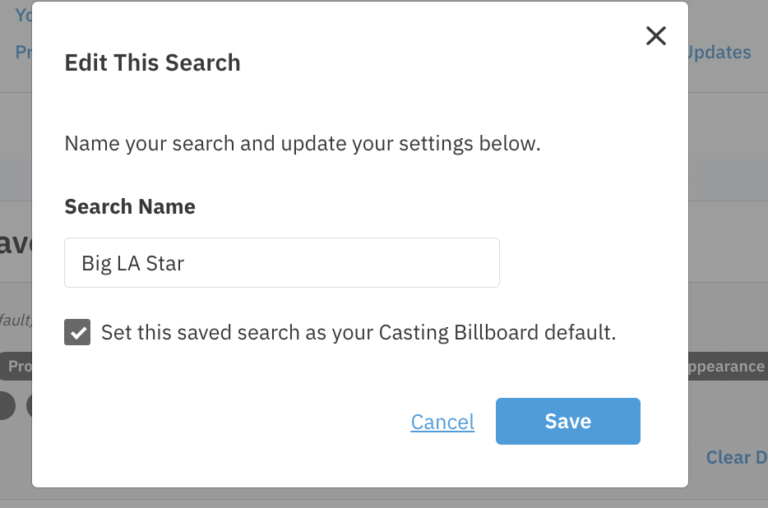 What if I don't like my saved search?
To edit the name of a saved search, simply click the pencil icon next to the search in the "Saved Searches" section of Casting Billboard or on the "Saved Searches page. A saved search's Casting Billboard default setting can be updated by clicking this same icon or by clicking the "Clear Default" button on the "Saved Searches" page.
To delete a saved search entirely click the trash can icon next to the search on the "Saved Searches" page.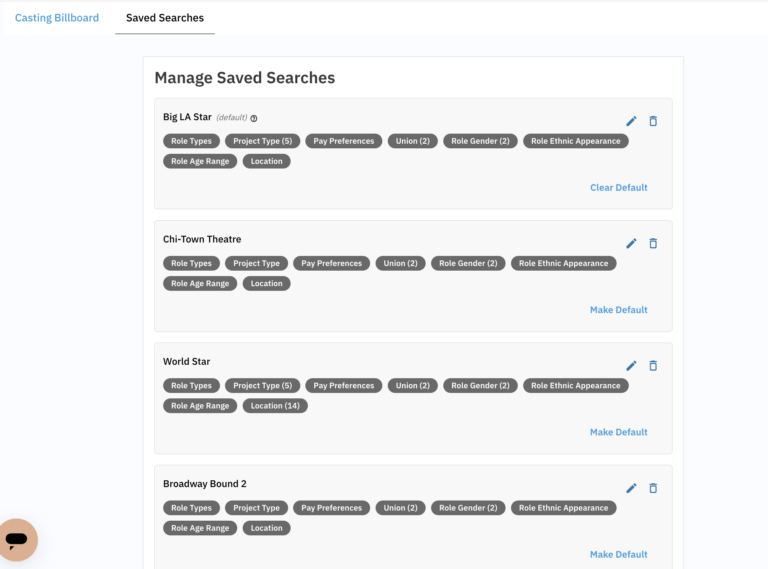 While you cannot currently edit the filter criteria within a saved search, you can apply a saved search, add additional filter criteria, and create a new saved search based on this criteria to add the saved search you need.
Casting Networks has made sure to simplify your search process with our new "Saved Searches" feature to help you and your fellow actors find the roles you want right away, every time you log in and view your Casting Billboard. Here's some quick tips of what to do so you can get the ball rolling:
Select the right filters for you.
Make sure you save them!
Name your saved search and set your favorite search as your default.
Apply a saved search with one click to easily find roles that interest you.
Now it's time to give saved searches a try. Sign up or log in to Casting Networks and start saving your favorite searches today so you can search for your acting roles with confidence!
Related articles
How to Archive Your Talent Alerts
Just Launched: The New Casting Networks Mobile App is Available Now
What Happens After I Hold an Audition for My Project?
---
---