Is your passport up-to-date? Are you already in Vancouver? The Canadian hotspot is a mecca for work. From the smash hit Virgin River on Netflix to CBS's So Help Me Todd, to the CW's Superman and Lois, the Alaska Daily starring Hilary Swank, and The Good Doctor on ABC, mainstream TV shows are being filmed in Vancouver. There are roles for both comedic and dramatic actors, so whether you are already an actor in Vancouver or considering moving there, here are some thoughts from an actress working across all genres.
Gelsea Mae grew up in Victoria, B.C. and always knew she would be a performer. She moved to Vancouver after receiving a full-ride scholarship to an acting program, and there, she was scouted by her agent. She got signed, and the rest was history. Since then, she has been steadily growing her résumé. Her work includes several Hallmark movies to drama series cast in Vancouver, including a recurring role in Hallmark's Darrow and Darrow, An Unexpected Christmas and a large guest starring role in Kevin Costner's drama National Parks.
This well-rounded artist is not only an actress but also a writer, producer, and influencer promoting different brands worldwide. As she dips her toes in all mediums, she paused to take us on a virtual journey and discuss some takeaways on how to become an actor in Vancouver.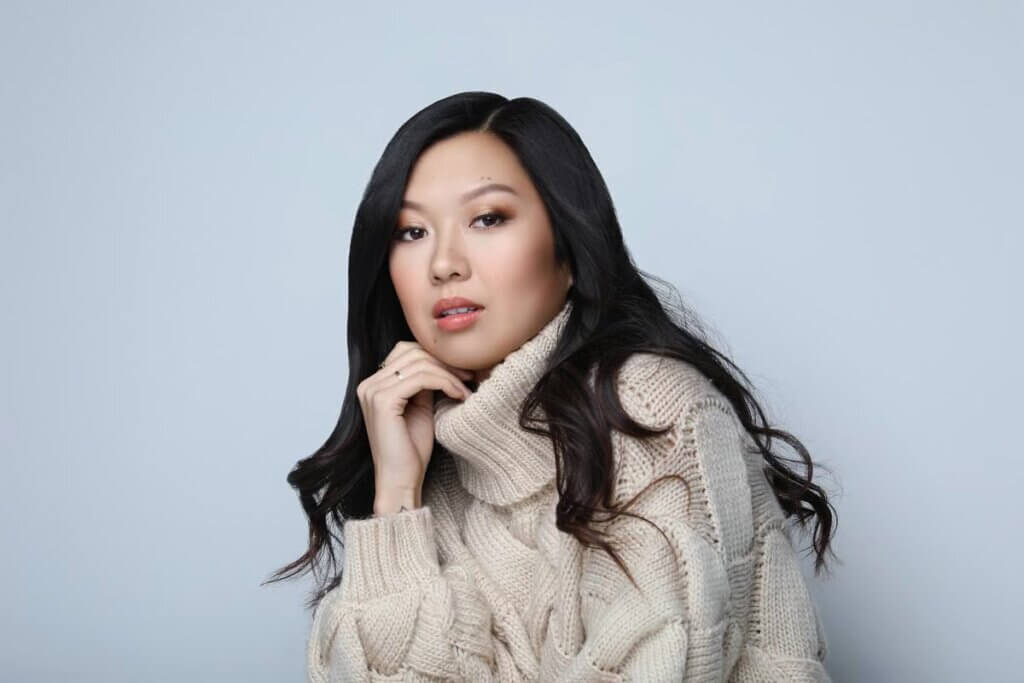 Photo courtesy of Gelsea Mae.
1. Present Yourself Professionally
In Vancouver, you must bring the proper tools to develop yourself as an actor. This includes having a proper self-tape setup with proper lighting and professional headshots and representation.
"Find a good photographer that specializes in acting headshots. I can't stress that enough because I know so many people who start out who just find a photographer that shoots any type of photo," Mae says.
Because Vancouver is a smaller market than L.A., it is sometimes harder to find photographers specializing in headshots. However, there are many local Facebook groups for dedicated headshot photographers.
Another way to present yourself professionally in Vancouver is to get representation. She was scouted the first time she had an agent, but when she searched for additional representation, this was the best way to find an agent in Vancouver: "I would look up, you know, top ten agencies in Vancouver and then I would look on the roster to see if they had like a bunch of people who looked like me," she said. "Also, I would look up working actors, and that's how I aligned or lined up my interviews with agents."
Presenting yourself in the best possible light and getting those reps behind you can help get you seen and in front of casting.
2. Build Relationships in the Vancouver Acting Community
While many shows are filmed in Vancouver, the acting community is relatively small. If you connect with others in the film scene, from big-budget to indie, this can expand your pool of actor friends to foster a deeper connection.
Mae expanded on this, saying, "I would definitely say in the community, everybody's willing to help each other because it's so small, whereas in L.A., there's thousands of people, so I feel like you kind of get lost."
This feeling of community is so important, especially since acting has become such a solitary job, with self-taping at home and the difficulty in finding readers for last-minute auditions.
"I would say it's easy for me if I need a reader for an audition. I can just call up any of my friends. I don't have to scrounge around, or I have my acting coaches that I go to if I need help or advice on anything. I have mentors I could reach out to, and I've met all these people in Vancouver."
There is also camaraderie in the many film festivals in Vancouver, such as the Crazy Eights Film Festival, the Asian Film Festival, and the Vancouver International Film Festival, which are good places to connect with fellow actors.
As Mae points out, "the community is small here, so everybody gets together and goes and watches all the local films made here."
Speaking with Mae, the conventional wisdom of Canadians being notoriously nice certainly seems to be true enough. So when you book a job in Vancouver, don't be afraid to engage and join their community of actors.
3. Pay Attention to your Finances
While Vancouver has often been ranked as one of the best cities to live in by magazines from Forbes to Condé Nast, it is also one of the most expensive. As an actor in Vancouver, you may have to prepare for some sacrifices.
Mae says, "I know so many actors in Vancouver who live in living rooms or in dens, or they share one tiny space with like six people. It's extremely expensive."
This closeness does allow an actor to create a support system in Vancouver, but depending on your situation, the expense of Vancouver is something an actor should consider.
There are several options for transportation. There are buses and rideshares, but like in Los Angeles, a car is practically a necessity. Vancouver does not have the subway system of New York City.
With regard to income, if you are a union commercial actor, Mae also wanted to share that most of the commercial acting in Vancouver is non-union. Commercial actors may want to think about this when considering becoming an actor in Vancouver.
On the plus side, there is a large non-union commercial market. Mae shared, "A lot of my friends who are successful actors who do hundreds of commercials stay non-union."
If you plan to move to Vancouver to become an actor, weigh the decision carefully. Yes, it is expensive, but you'll have a variety of amazing shows to build your résumé and live in one of the cleanest, most beautiful cities in the world.
That's a Wrap on Vancouver
If Mae had any final advice for the actor, it would be to embrace becoming well-rounded. While speaking with her, it was obvious that her passion for the arts was not limited to just performing, but that she is also determined to be a multi-disciplined creative who will impact the future of the Vancouver arts scene.
She encourages other artists to become well-rounded and experience all that Vancouver can bring to an actor.
Are you ready to become an actor in Vancouver? Casting Networks posts new Vancouver casting calls and auditions every day.
Vancouver Film Initiatives for Actors and Creatives Facts
The Vancouver economic commission hosts many initiatives for those wanting to film in Vancouver.
Vancouver is the third largest Film & TV production center in North America.
Vancouver is a global destination to grow visual effects and animation careers.
On average, the city is home to approximately 65+ movies and 55+ TV series annually, as well as hundreds of other filming days for commercials, TV pilots, and other features.
Related articles:
How to Become an Actor in Toronto
How to Become an Actor in San Francisco
How to Become an Actor in Los Angeles
---
---