Few casting directors can claim to have been a child star with a cult following. Mathew Waters can.
Mathew started his career as an actor at age eight—chosen from a group of over 1,000 boys for the role of young Peter Allen in the original production of The Boy from Oz. But it was the role of Bronson Twist in Round the Twist Seasons 3 & 4 that planted the young performer firmly on the map. The quirky comedy series was ubiquitous in Australian households, its theme song soundtracking a generation's after-school routine.
Since 2011, Mathew has primarily worked as a casting director with occasional returns to the stage or screen when the right opportunity has come his way.
Here, we speak to Mathew about his journey to casting, and his love of all things Vikings.
First of all, congratulations on your win at the Casting Guild of Australia Awards last year for Best TVC. What was that night like for you?
It was the first experience I'd had as a casting director to be amongst everybody in the industry all at once. It was awesome to see all the casting directors together. It can be quite a lonely job—especially since COVID—so it was awesome to be in a big room and feel like we were all part of the same community.
Then winning the award just felt really validating, you know? That loads of people saw [the TVC] and were unprompted to say that they liked it. It makes it all worth it.
Like many Aussies, I grew up watching you in "Round the Twist." You obviously still work as an actor, but how did you end up in casting?
I moved to London in 2010, and like every other actor, was working in bars to make a living between acting gigs. But after a few years of swapping between bar work and acting, I got tired of stepping out of the industry and having to focus on something that wasn't involved in the business that I felt at home in. Bar work was fun and great, and loads of skills would cross over—talking to people, analyzing people—but I wanted to focus on the business and the industry. A very long-time friend calculated I had accumulated 5,000+ hours on-set at that point and suggested that I look into casting as my second path.
So I sent an email to every casting director in London in 2012 or 2011 and just introduced myself and what I was aiming to do. A couple of days later, Brendan McNamara [at Beach Casting] emailed me like, "Hey, I've got a job on. Do you want to come in?" And it literally started that day. After 12 months, I'd hopped around to every independent casting house in London.
I [then] went to the BBC. I was only supposed to be there as a cover, but after eight weeks of assisting Derek Barnes (Father Brown, Casualty), they asked me to stay on. Those eight weeks turned into almost a year.
Then I came back to Sydney and thought I should keep trying to do this. So I started again—I shot an email around to everyone. Toni Higginbotham emailed me saying she had a permanent part-time job, and I [ended up] there full-time for two and a half years. Then I left and started my business, and that's been going on for nearly three years now.
Wow. Has your acting background shaped how you run auditions?
A hundred percent. I feel the casting director's first and most important job—once you've got the audition process going—is to make the actors as comfortable as possible and help them relax. I understand how stressful it is and how that will impact your performance in the room. So, I really do try and make the whole process stress-free because then [the actors] can focus on the job, and I will get the best performance, and my job is to find the best person for the role.
I [also] give myself more time than I need to present to clients. If clients want to see tapes on Wednesday, I'll always have all of my tapes back by Monday because I know with every single job—especially now since self tapes—I'm getting tapes even a whole day after the deadline. And it's not fair that those tapes don't get seen. I know that things come up.
Auditioning for TVCs is quite distinct from auditioning for film or TV drama. What advice would you offer an actor ahead of their first commercial audition?
It's super script based. Some TVCs can feel like a short film—there's a cinematic quality, there's character, there's dialogue—but the majority of TVCs are product selling.
You have to think about what the job is. Like, think about what the brand is. Look at how they portray themselves and what their values are. And then you have to mold yourself into a human representative of that brand, as opposed to playing a really good character and delivering a really good performance.
The client is the person who's going to give you the job. Everyone else might have a bit of input, but at the end of the day, the client is the person—or people—who book you.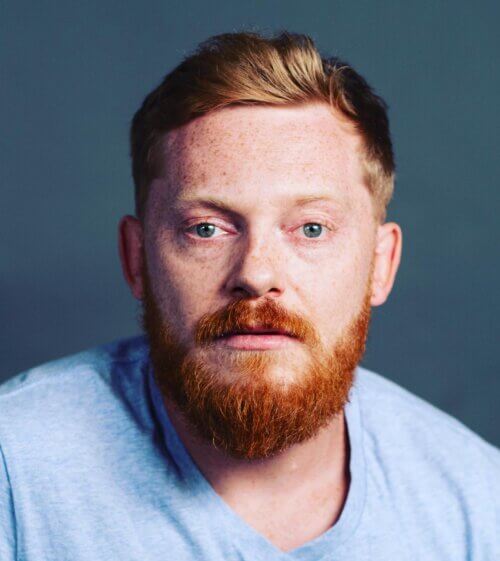 Photo courtesy of Mathew Waters.
That's a really important distinction. On auditions, what's the best way for unrepresented actors to contact you?
For me, email is probably the best way to do it because I do read every email, and I do make time to try and be as responsive as possible. But for some [casting directors], that might not work for them, so go to their casting workshops when they do them. That's a great way to meet a casting director if you've not been able to get in front of them in an audition.
But do a bit of research first. Don't just go to anyone's casting workshop because sometimes it's not worth it. Sometimes you might be one of 50 people sitting in a room, and you won't get what you're looking for.
[Also], get to know the casting director by reading up on them a little bit, or having a look at some of their work, or getting a bit of word-of-mouth insight into who they are. Then you can approach them from that angle. [For instance], if you come to me and you're super chill, then I'm going to gel with you straight away.
Great advice. Finally, what's a film or series you've loved lately?
I'm a massive Vikings fan. If you're not into history or fantasy or anything Lord of the Rings-esque, then it's not for you. But I'm totally into that stuff. And I feel like because the hype for Game of Thrones was so big, I was like, "This is great, but it's also not real. [Vikings] is real. This happened. This is documented history, and they've turned it into an amazing dramatic piece." I feel like it's one of the best things I've watched. I've watched it back to back, end to end, multiple times.
Thanks to Mathew Waters for his time. As an additional resource, Mathew has shared a free self tape guide.
Join Mathew for an exclusive webinar with Casting Networks, where you'll gain invaluable insights and techniques for creating polished self tape auditions.
Date: Wednesday, June 7, 2023
Time: 1PM-2PM AEST

Register now and discover essential tips to give your self tape game an edge!
You may also like:
---
---