So you want to post the casting call for your next project. Are you sure you're ready? Simply posting a character name and age with a handful of scant details isn't likely to cut it. Before you post, run through our casting call checklist to be sure you've got everything your project needs to run a successful casting call and get your project in front of the talent you want to attract.
---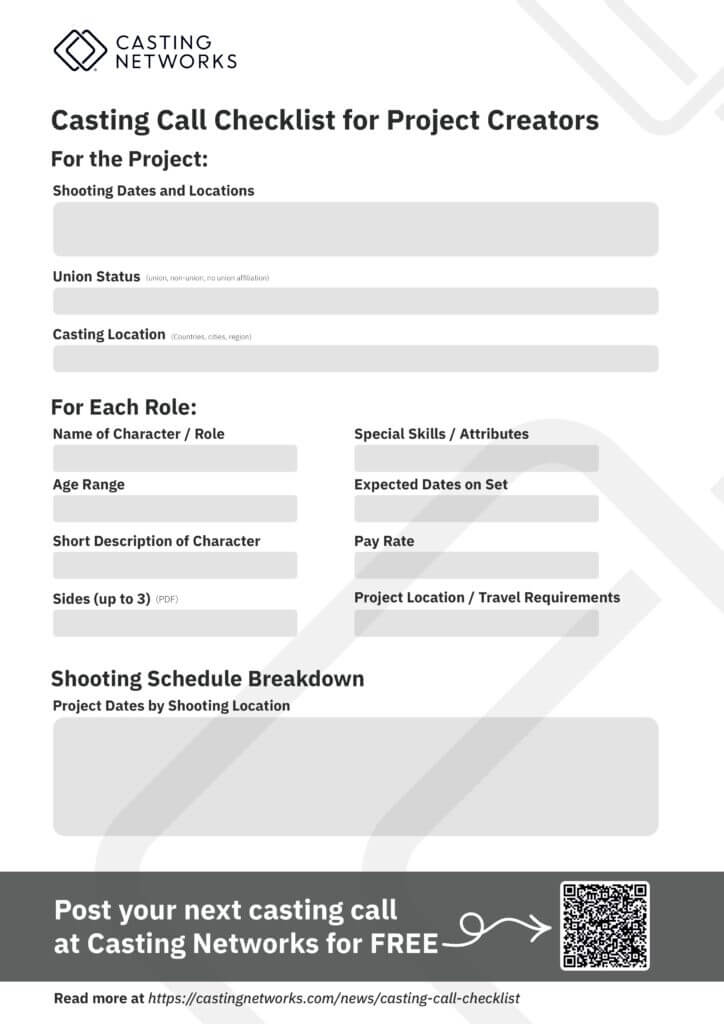 Download: Casting Call Checklist (PDF version, 197 KB)
---

Here's a little more about what you should know about your casting call before you publish your project for free on Casting Networks.
For the Project:
Shooting Dates and Locations – Sharing the dates and shooting locations in the casting call allows talent to check their schedules before submitting to a role. If their schedules align with yours, then the stars may as well!
Union Status – Talent will need to know if the project is union, non-union, or not affiliated with a union. Your project's union status can determine whether or not they are eligible for the role.
Casting Location – The casting location may be different from the shooting location if you are casting from a broader geographical region or if the project requires travel.
For Each Role:
Name of Character or Role – Give each role a title. If the role is not a named character, at least make the name of the role semi-descriptive, such as "Girl on Bike #2" or "Flamenco Dancer."
Age Range – Keep in mind that this should be the age range required for the role, not for the talent.
Short Character Description – Give some details about the role to give talent a sense of who the character is and what they will be expected to do.
Special Skills and Attributes – Does the character speak fluent Québécois French? Should they be able to ride a horse? Will you need close-ups of their hands? Think through what you need the character to be able to do and any specific shots that you need and include that list of skills and attributes in the casting call.
Expected Dates on Set – Take a close look at your production timeline. What days will talent need to be on set for this role? Unless you expect to be shooting with them every day for the duration of the project, it's a good idea to spell out the dates they will be needed – both for scheduling purposes and for calculating pay rates.
Pay Rate – Be sure to list the pay rate in the casting call. Not only is such transparency appreciated by the talent you're looking to attract, but listing the pay up front avoids disappointment, bitterness and lost time later on when you discover that expectations aren't lining up.
Project Location and Travel Requirements – For projects that will shoot in multiple locations, it's unlikely that every performer will be needed at every location. Perhaps your project shoots all over Los Angeles, but Girl on Bike #2 will only be on the call sheet for a day of shooting at the beach.
Sides – Be sure to include the sides you have selected for the character. Depending on the size of the role, we recommend including no more than three sides.
For the Shooting Schedule:
Project Dates by Shooting Location – In this section, list out where you expect to be shooting every day of the project. It doesn't need to be spectacularly detailed – a general location will suffice. Seeing a general project timeline to better understand where the role fits in with the grand scheme of the project.
A little preparation ahead of time will dramatically improve the quality of the submissions you receive and help you to find the talent who are looking for projects just like yours. Bookmark this post or download our checklist below to make sure you always have all of the details you need to succeed. Then, once you're ready, share your casting call for free on Casting Networks.

Related: How to Use Casting Networks to Find Talent That Are Perfect for Your Project
---
---