They say the best way to find out where you're going is to look where you've been. As a celebration of one of America's great art forms, the spectacular new 300,000-square-foot Academy Museum of Motion Pictures achieves lots of greatness as an L.A. cultural institution.
The museum is a highly ambitious and immersive endeavor, a cinephile heaven, filled with film treasures, modern and archaic, from original props to costumes to Oscars. Inside, you'll meet E.T., C-3PO and the shark from Jaws (aka Bruce), amongst other classic film characters. You'll even get to stare down Dorothy's ruby slippers from The Wizard of Oz (1939). On one hand, it's a love letter to all things film. Yet, on the other hand, its focus on inclusion also serves as an apology letter from an industry that has long perpetuated damaging stereotypes with regards to race, ethnicity, and gender representation that were, as they say, "wrong in the past and wrong now."
If you're an actor, there's a lot to see — and learn from — inside the sprawling, social-media-friendly gallery spaces. It's essentially a crash course in what making movies is all about. I recently got a chance to visit this shiny new entry to L.A.'s culture-scape and was reminded of many things actors — upcoming or established — should keep in mind as they aspire to inspire in their own pursuits. Thought I'd share these observations — as I wrote most of this story in between devouring different courses from this benevolent buffet of film history.
Here are seven things that caught my eye—for actors to know—based on my day at the museum.
Ignorance is Sometimes Bliss
We've all heard the saying "Rules are made to be broken." Having said that, you can't break what you don't know. It's something I was reminded of when I traipsed through the dedicated Orson Welles section inside the museum's Stories of Cinema. Welles flouted all the rules (mostly out of ignorance) when he made Citizen Kane (1941), widely considered the greatest film ever and winner of nine Academy Awards. As you walk around the sled Rosebud, which the Academy Museum has on display, you can't help but wonder how Welles made a film that defied so many rules of storytelling, cinematography, and non-linear narrative structure.
It's a great message for actors as well:  Don't get too caught up in "rules." If you always do things the way people expect them to be done, your creative choices probably won't feel as fresh.
Stay Focused on the Work Despite Opposing Forces
One of the most stunning rooms at the Academy Museum is the curvaceous gallery of Oscars in the Stories of Cinema section. One reason why it's notable is the plaque that's missing for Hattie McDaniel's Oscar win for Best Supporting Actress for her performance as Mammy in Gone With the Wind (1939). The gallery keeps an empty space dedicated to it because of how notable this moment was in film history. As the first African-American to ever win an Academy Award, McDaniel wasn't even allowed to sit at the same table as her co-stars due to the fact that the Oscars took place in a segregated "No Blacks" hotel. Did she sit it out? No, she didn't. She won.
It was 51 years before another Black actress won the award: Whoopi Goldberg for Ghost (1990).
The message: Stay focused and follow your dream, despite any barriers that stand in your way.
Sometimes the Best Way to Star in a Movie Is to Make One Yourself
Take Spike Lee, for example. The prominent Black filmmaker wrote, directed, edited, and starred in his first feature film, She's Gotta Have It (1986). In it, he played Mars Blackmon, "the motormouth sneakerhead character" who would eventually become a pop-culture sensation starring in Nike commercials alongside Michael Jordan. I was reminded of this detail walking through the Spike Lee tribute area at the Academy Museum, which is filled with photos, artifacts, letters, scripts, and speeches that he credits as inspiration on his film journey.
The message: Create something original that is your own, with a role for you, and you won't be as dependent on other people to hire you.
There's Not Only One Person Right for Each Role—There Might Be 20
After looking at an early draft of a casting notebook page from the classic Tarantino film Pulp Fiction (1994), I realized how many people were being considered for key roles in this film.
This particular relic on display at the Academy Museum is a telling snapshot into the talent search at the beginning of the casting process. As you can see, this list, compiled by Ronnie Yeskel and Gary M. Zuckerbrod for Tarantino, included everyone from Denzel Washington to Dennis Quaid for the role of Vincent Vega. And, as you'll see, Uma Thurman wasn't even on this early list to play Mia. One person who's happy his name had a star by it: John Travolta.
Before he landed Pulp, his career had been running out of juice for a decade having done not one but three Look Who's Talking films, which left few talking about him as a leading man.
The message: 1) You never know how many people are being looked at for a role and 2) If you think you're suddenly being typecast in movies starring talking babies, just be patient. If it wasn't for Tarantino, audiences would never have gotten to say welcome back to Vinny Barbarino.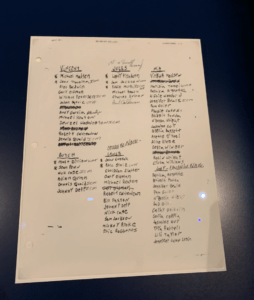 Sometimes It Pays to Go Psycho Over a Storyboard
When it comes to the most famous shower ever taken, actress Janet Leigh gets all the awards when it comes to her bathing sesh as Marion Crane in Alfred Hitchcock's Psycho (1960). But what you probably didn't know is that this scene was storyboarded down to her last breath. Just look at every frame of the terrifying scene Hitchcock storyboarded with illustrator Saul Bass. It's incredibly detailed and includes close-ups of her mouth agape and the petrified look once that shower curtain gets thrown open. You can see this storyboard—and the Olympia typewriter used by Psycho screenwriter Joseph Stefano to write the script—on display at the museum.
The message:  As an actor, every expression matters. Each eye roll, lip curl and look of pain gets recorded by the all-knowing lens. Make the most of your opportunity. Sometimes the simplest movements can be spliced into something great.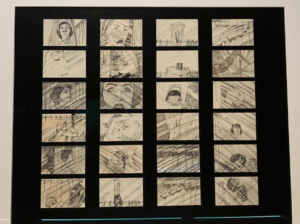 You Never Know When Meeting a Casting Director Will Pay Off
When I wandered into the room dedicated to casting, I encountered several fascinating things. The first was a big screen dedicated to incredible audition tapes from actor breakouts – namely Taraji P. Henson in John Singleton's Baby Boy (2001) and Matthew McConaughey's for Dazed and Confused (1993). But what I found equally cool was a wall of Polaroids and dedication to legendary casting director Marion Dougherty, who worked for 50 years and "completely transformed the profession by prioritizing an actor's performance over their appearance."
On the wall were photos of actors like Kyra Sedgwick, Rosie Perez and John Malkovich, with handwritten notes from Dougherty. She would meet with actors during her career, take photos/notes and keep them on file if a part came across her desk that she thought they might be right for. You can see their poses, postures and expressions for these casting photos firsthand.
The message: Make a great impression during an audition—it could pay off for a different role down the road.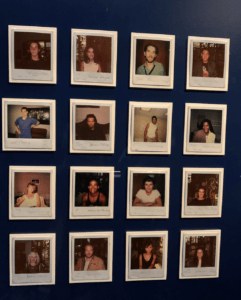 From 1937-2006, There Was This Thing Known as the Academy Players Directory
Before the internet, there was something reportedly called paper. More specifically, printed directories—and for 69 years there was one named the Academy Players Directory that would list any actors who paid to be listed. The Academy Museum has one such directory on display so you can get a snapshot of how it used to be done. Now, with online casting services like Casting Networks in full functional existence, casting directors no longer need to lug around large books that devastate rainforests. But it's good to know these relics still exist—if just for posterity.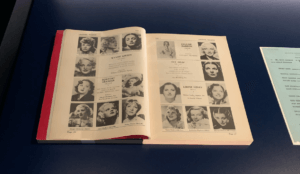 ---
Gregg Rosenzweig has been a writer, creative director and managing editor for various entertainment clients, ad agencies and digital media companies over the past 20 years. He is also a partner in the talent management/production company, The Rosenzweig Group.


---
---