Talent representatives, we've heard you and have made some big changes to Casting Networks. We've added project notification settings to help you organize your inbox and improve your workflow. Now, you'll be able to customize your project notifications to see exactly what you choose – and nothing else.
What are project notification settings?
Serving a purpose similar to default filters, project notification settings allow you to select which notifications you want to see, and bar the ones you don't. This can save time in your workday, helping you tackle your projects efficiently and quickly. When you make changes, you'll no longer get email notifications for projects that you have no use for in your inbox.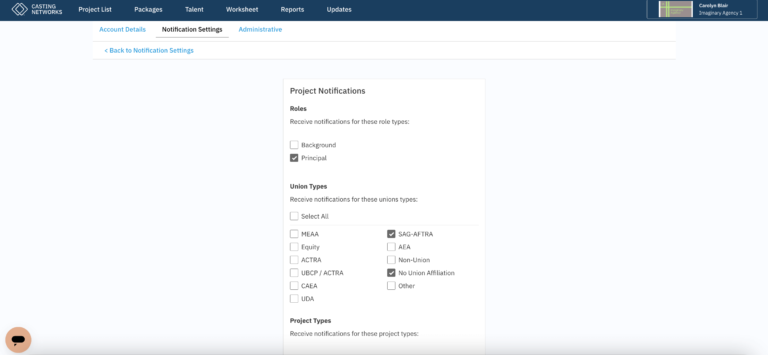 How do I filter my project notification settings?
To change your project notification settings, click your profile icon in the upper right-hand corner, click the "Account Settings" button followed by clicking the "Notification Settings" button.
Next, click the "Customize Notifications" button. Once you're in, you can choose which notifications you want to see and exclude the ones that are not relevant to your department. For example, if your focus is commercials, you can turn off theatrical and other notifications that don't apply. You will then only receive email notifications for commercials. Just make sure to scroll down to the bottom of the form and hit "save" once you've checked and unchecked the right boxes. Keep in mind that these notifications affect your account only, and do not affect any other accounts or users within your company.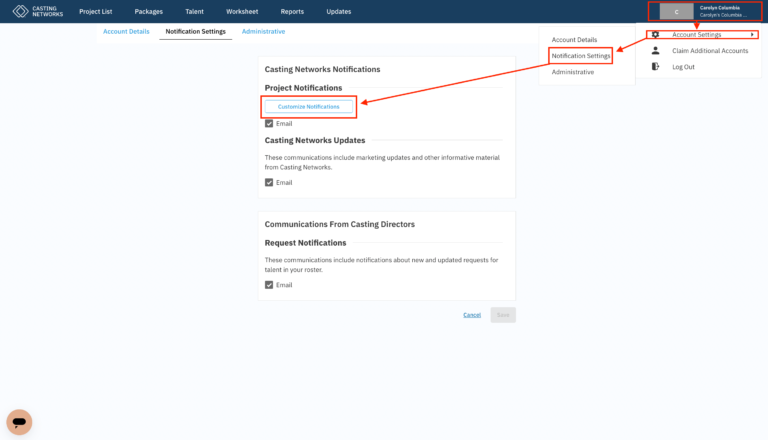 Will this affect my entire department or other departments?
When you make changes to your project notifications, they will only affect your individual account. This will not change notification settings for the rest of your division nor will it affect any others at your agency. Other users at your agency can go into their account settings and choose their own.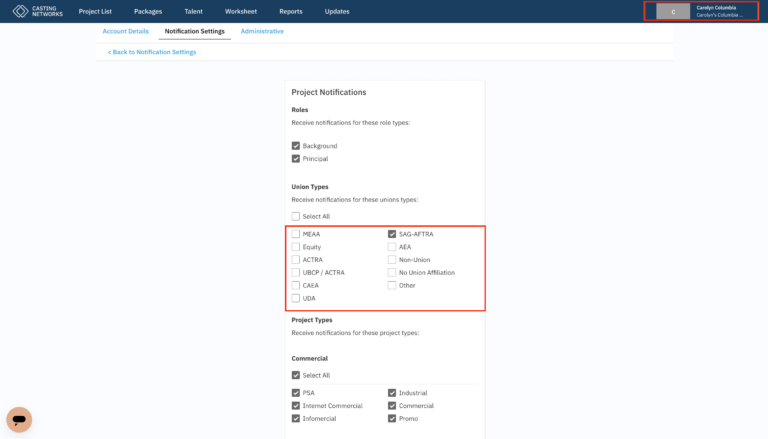 Will this affect my project lists?
Keep in mind that your project notification settings will not change your projects list. The settings and default filters you have on your projects list will stay the same. Your project notification settings also do not affect audition and media request notifications.
Now that you know how to set up your project notifications, you'll be able to breeze through your workflow and get to the projects that need the most attention in record time. Log into Casting Networks and set up your project notifications now!