With the holidays right around the corner, your workload and time crunch are only getting busier, and we've heard your requests. That's why Casting Networks has added a feature allowing talent representatives to opt-in to email notifications about chats from casting.
Talent representatives using Casting Networks' chat feature know it's not always clear when someone in casting is trying to contact them about scheduling dates or sending a media request for the actors on their roster. Consider it a thing of the past when you opt-in to this new feature.
How does it work?
To opt-in to receive email notifications about chats from casting, please log in to Casting Networks, and follow these steps:
In your dashboard, click on your profile picture in the upper left-hand corner and click on your account settings.
Next, click on the "Notification Settings" tab in the upper right of your screen.
When you're in the "Notification Settings" tab, scroll down to the "Communications From Casting Directors" section of the page.
Click the "Email" checkbox in the "Chat Notifications" section to opt in.
Be sure to click "Save" at the bottom of the page.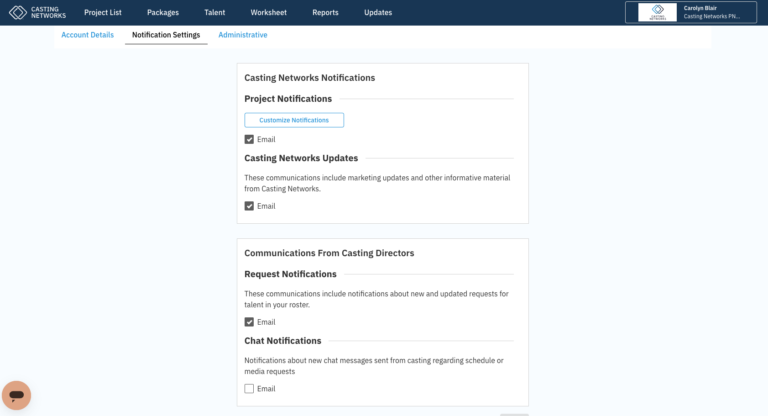 Remember, if you ever want to opt out of notifications for whatever reason, you can always uncheck the boxes in your "Notification Settings." Just make sure you save it.
After you've set it and saved your settings, you'll receive an email notification as soon as a chat message from casting regarding scheduling or media requests is sent.
Now that you know how to set your chat notifications to keep you updated with casting requests, it's time to get set up. Sign up or Log in to Casting Networks and turn on your chat notifications now!