When you're creating your project, it can be confusing knowing when and where to add your sides. Sides, which are samples of the script and notes that actors work off of when auditioning for roles, are essential to moving your project forward. And if you don't add them to your project at the right time, you might not be able to later.
When sides have not been included in a role, Casting Networks sometimes hears from performers asking where they are in the projects they want to audition for.
That's why we're going to help show you when and where to add sides to your project.
When do I provide sides for my project?
You can add sides after you've created a new project. After filling out your project information, you'll be prompted to save and can then begin adding roles.
Add your sides to the role after you've filled in the required information in the role description (section 4).
You can do this by clicking on the "Upload" button in the "Upload Sides" box. Keep in mind that your sides must be uploaded as PDF files.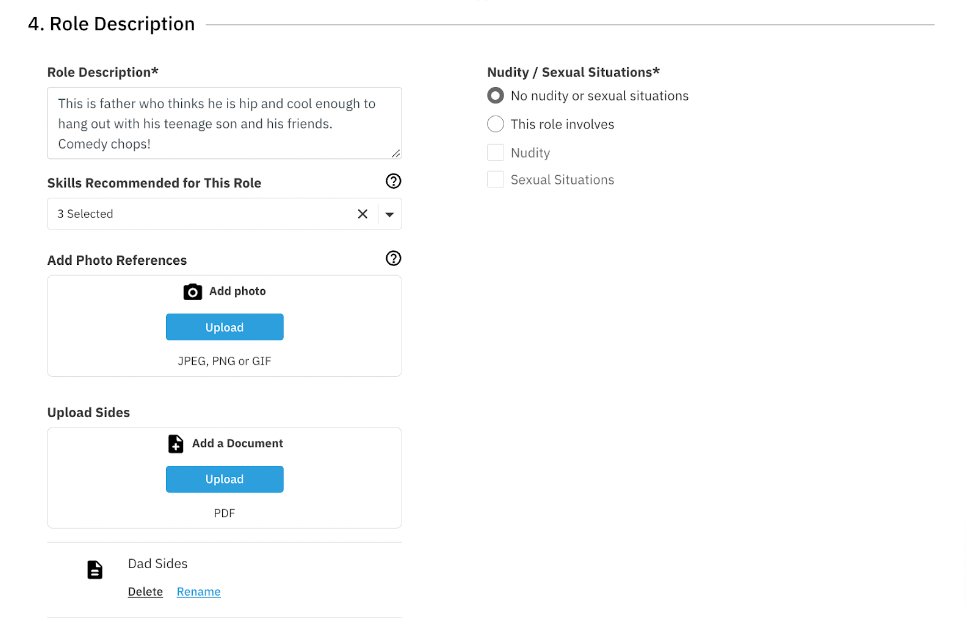 Once your files are uploaded they will appear below the "Upload Sides" box. You can then upload additional sides if you want. Once you've finished uploading sides, complete the rest of the form and submit the role. If you want to add another role, you can click the "Add Role" button and repeat the process.
Once you've finished adding all your roles and are ready to submit your project for approval, make sure you've uploaded all of your sides by clicking on the arrow in your "Current Roles" tab to see the role descriptions, and look for your sides file below the "Recommended Skills" section. That will tell you if you have uploaded your sides. You can also click the role to make sure that you've added the correct sides.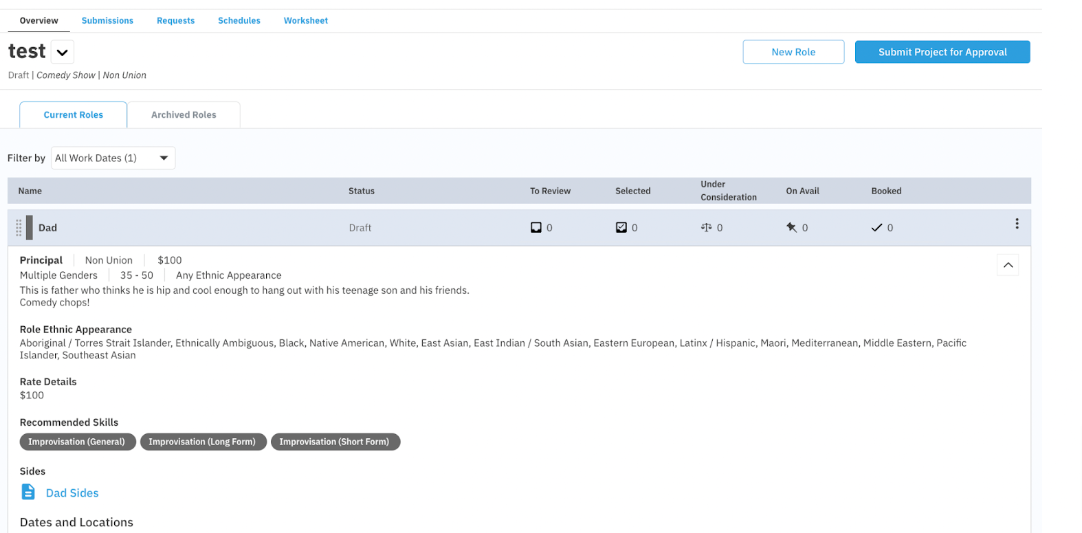 Once you're happy with your roles and sides you can then create a Media Request.
Can I attach sides to my Media Request?
There is currently no way to attach sides to a Media Request. Your sides must already be added to a role to include them in your Media Request. When creating your Media Request, check the "Include Sides" button and the sides will be pulled from the role. Always double check your roles to make sure that your sides have been uploaded correctly.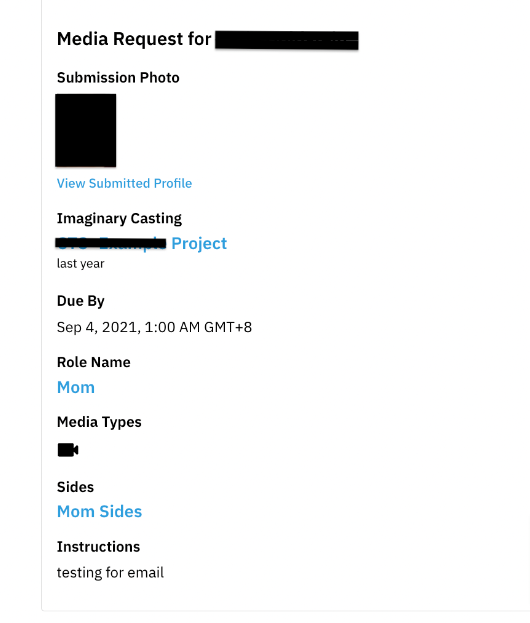 If you realize that sides were not attached to the role while creating your Media Request, the best workaround is to point actors to the "Media Instructions for Talent" section. Here you can include a note directing performers to a folder offsite, such as Google Drive or Dropbox, where the sides can be downloaded.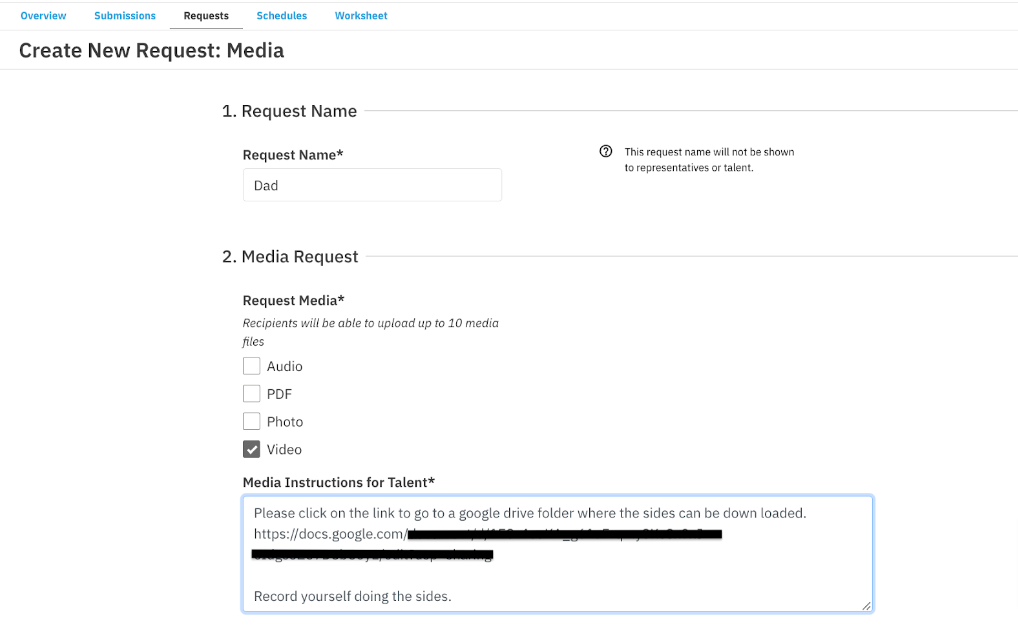 If you're happy with your Media Request, go ahead and submit it. Remember, once you submit your Media Request, you cannot go back and edit it. After you submit you will receive a confirmation notification.
Can I add sides to my role later?
The only time you can upload sides is during role creation when creating your project. Please make sure you have added sides to your roles before submitting your project for approval.
If you realize that your project is in the approval process and you have NOT added sides, please contact the Casting Networks support team and ask them to send the role back so that you can edit the role and add sides.
Remember, once your project has been approved by Casting Networks, there is no going back. Your roles will become active and you will not be able to add sides to them, nor will you be able to edit them or make changes to the specs.
Let's recap:
Add your sides when creating a role.
Be sure to add them before you have submitted a project for review.
Submit your project only after all sides have been added.
We've shown you how to navigate adding sides to your project, so why not give it a try? Sign up or log in to Casting Networks and start adding sides to your projects now!
:Related articles:
What to Ask For in a Self Tape
Project Creators: Here's How to Get Self Tapes from Actors
How to Capture Your Best Self Tape
---
---