When local movie theaters like the ArcLight and the Cinerama Dome shuttered last year, L.A. shared a collective group cry. The news was so glum that it inspired me to write a love letter to movie theaters so people would remember what made the experience so memorable. It was the most commented-on piece I've written for Casting Networks and posted about to date.
Turns out: People love watching movies in the dark with strangers—or their mom, dad, boyfriend, or girlfriend.
Now, with the 2022 Emmys having taken their final bow, it's time to refocus on movies. When people started returning to theaters this year in maskless droves, it was a good sign for the future health and survival of a timeless tradition. But theater chains aren't out of the woods yet, as evidenced by the recent news of Regal Cinemas owner Cineworld filing Chapter 11.
Then, of course, there's the ever-shorter window between theatrical and streaming release, with people waiting it out so they can see first-run films in the comforts of their own home.
It's an age-old quandary in Hollywood that keeps exhibitors and studios forever at odds. Where it's headed is anybody's guess, so let's take a moment to celebrate the great things that have happened in theaters this year so far: The moments that could never have taken place at home, in bed, surrounded by house cats, smartphones, pause buttons, and the distraction called… life.
A $3 Movie Ticket Promotion for "National Theater Day"
Some of us are old enough to remember the day when movie tickets cost something like five bucks a pop—and you didn't have to mortgage your house for a large popcorn and drink. In the realm of revisiting the old days and driving people back into movie theaters, there was a first-time, one-day promotion over Labor Day weekend coined "National Theater Day" that AMC, Regal, and other chains participated in. Movie ticket prices were set back to the dark ages to $3, and it was reportedly a wild success that boosted box office by 9 percent that weekend.
Here's to hoping there's a sequel.
Tom Cruise Flies High Once Again in Top Gun: Maverick
At this point, the story has been told. Tom Cruise and Paramount insisted on releasing the Top Gun sequel in theaters once people felt safer going, and at the expense of several theatrical delays. To say it paid off is an understatement given the film just passed $700M domestic gross to pass Black Panther as the fifth highest-grossing film in North American history.
But it wouldn't have done that if it wasn't also a great film for theaters. From the classic sound of Harold Faltermeyer and Kenny Loggins' music to the roar of the fighter jets to the clever callbacks to treasured moments from the original, the film represented a replay of a theatrical experience so many had when the original film premiered in 1986. There was just something special about seeing this film in a theater that you would never get at home with a smartphone in hand. And if we forgot, Tom Cruise showed up before the movie started to remind us of that.
Austin Butler Embodies Elvis in Baz Luhrmann's Two-Plus Hour Fever Dream
Let me just say: I never saw Elvis perform and never really liked his music that much.
But there's something about this biopic and specifically, Austin Butler's performance in it, that made seeing this film in a theater—special. In a highly cinematic, almost hallucinogenic film that modernizes Elvis' music in meaningful fashion, Baz and Butler grab you by the sequins and do a laudable job easing suspicious minds about the rock-and-roll icon's place in music history.
With the film now available on HBO Max, I doubt viewers on the smaller screen will get the same experience as the theatrical one—where Elvis' concerts feel like events fueled by screaming female fans and remind people how one man changed an art form.
Bearing Witness to Everything Everywhere All at Once
Speaking of fever dreams, seeing Ke Huy Quan (aka Short Round from Indiana Jones) re-emerge into mainstream cinema this past summer was totally awesome for an '80s kid like me. But cinema vet Michelle Yeoh's multilayered performance in the trippy cinematic spectacle that is Everything Everywhere All at Once defied gravity and categorization in all its beauty. It's one of those stories that reminds you what film should be about—unpredictable storytelling, boundless imagination, and clever new worlds never before seen.
It's one of those movie experiences you don't forget, and probably couldn't if you tried.
A Newfound Appreciation for Robert Shaw's Quint From Jaws
It's easy to argue that no film had more of an impact on American culture than Jaws (1975). Not only did the Steven Spielberg-directed film become the most successful film in box-office history when it came out, but it scared the living bejeezus out of beachgoers, ocean swimmers, and even those with pools exceeding eight-feet depth. I was one of those people who saw the film at the way-too-young age of three or four years old, but never in a theater.
Naturally, when the classic film got re-released into the wild on IMAX and in 3D on Labor Day weekend for a limited run, I made a point to see it on the big screen to experience it in its natural habitat. It did not disappoint. Along with a moviegoer who arrived in beach garb to see the film, I marveled at Robert Shaw's gripping performance as Quint, the shark-killing fisherman who is salty beyond repair. The scene at night, on the Orca with Chief Brody (Roy Schneider) and Hooper (Richard Dreyfuss), when they compare scars is still one of the most iconic scenes in movie history. More notably, it's Quint's monologue about surviving the USS Indianapolis torpedo and ensuing shark attacks that works in chilling fashion as a precursor to his eventual death when the shark engulfs Quint fully—the head, the tail, the whole darn thing.
Spoiler alert.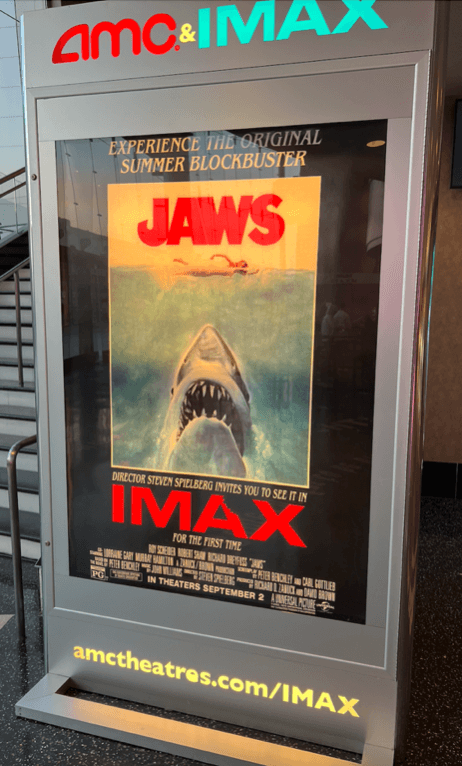 Photo by: Gregg Rosenzweig
Reciting "The Kidman Pledge of Allegiance" in an AMC Theater
Before Jaws started, there was a moment when Nicole Kidman's now-cult favorite AMC ad played, celebrating the magic of movie theaters. In a scene that could never happen in your living room, it was recited by many members of the audience when it played—as it played. Not in mocking fashion, but more like saying a prayer out loud in a temple, or something like that.
The $25 million AMC ad was originally designed to encourage people to come back to theaters, which was always a bit odd given it plays inside theaters to people who have already returned, as Kareem Abdul-Jabbar pointed out in his Substack. Regardless of how you feel about a major movie star showing up to an empty theater to watch classic films, in heels, alone, it is a slick reminder that experiencing heartbreak in a place like this is still an experience worth having.
Thanks, Nicole.
Looking to get your big break? Sign up or login to Casting Networks and land your next acting role today!
Related articles:
A Conversation With Acting Coach Noëlle Gentile From the Netflix Film 'Hustle'
9 Actors Who Broke Into Hollywood in the Most Unconventional of Ways
How Important Is an Actor's Name, Really? Here Are Seven Industry Perspectives
---
Gregg Rosenzweig has been a writer, creative director and managing editor for various entertainment clients, ad agencies and digital media companies over the past 20 years. He is also a partner in the talent management/production company, The Rosenzweig Group.


---
---