Experience is key to strengthening your skill set, no matter what kind of performer you are. And it's just as important to follow your progress and understand what works for you by keeping a log of your audition experiences.
That's why Casting Networks is introducing Your Auditions, a new feature for Premium members that puts all of your completed Media Requests right at your fingertips for easy reference.
Perhaps you'd like to review your self tapes from last month, or maybe you thought you submitted a Media Request and just want to double check. Either way, Your Auditions will allow you to see what you've submitted and will show you what's still there on your "to do" list.
How can I access the Your Auditions feature, and how does it work?
It's easy to access the Your Auditions feature on Casting Networks. Simply log in to your account and click on the Your Insights navigation. Keep in mind, you will only be able to view Your Auditions if you are a Premium member.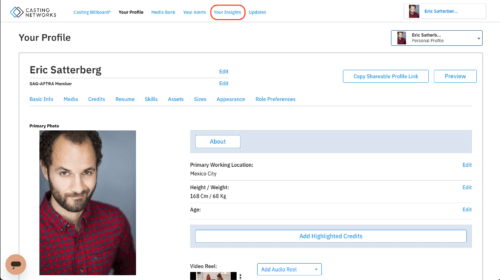 Once in the Your Auditions section, you'll have the ability to view all of the Media Requests that you've completed.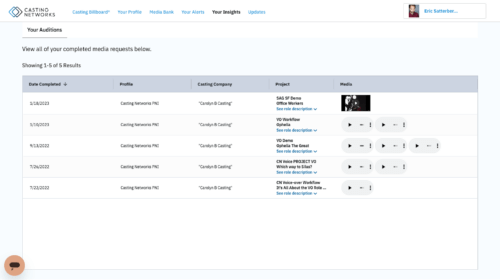 With this new feature, you can see the date and time a Media Request was completed, indication of which profile received the request, the name of the casting company, plus the project and role names and the role description. You'll also have the option to view, download and play the media you've included in the request.
Casting Networks' Your Auditions feature is not only a great way to monitor which projects and Media Requests you've completed, it's also a career management tool that can help you view your progress as an actor. Reviewing your previous Media Request submissions can help you understand what is working well for you, or can help you spot issues that may be holding you back. This can spark ideas to try in your future auditions—or can help you learn what to avoid going forward. Reflecting on how far you've come since your first self tape also can be a great confidence booster—you might even surprise yourself!
Find out how much you've grown as an actor. Sign up or log in to Casting Networks and take a look at Your Auditions today!
Related articles:
Talent Can Now Enjoy the Casting Networks Mobile App in Spanish
Casting Networks Talent Support
Enjoy All of Casting Networks' Features on Our Mobile App Today!
---
---