Last year, we launched a Spanish-localized version of the Casting Networks web platform, and we're now excited to extend this effort to the iOS app, enabling our Spanish-speaking actors to access the platform on mobile!
The iOS app, which was launched in mid-2022, has already gone through several iterations and is now at full parity with our web experience!
How do I set the Casting Networks iOS app to Spanish?
Once talent have logged into the Casting Networks app, setting it to Spanish is easy. All they have to do is go to the Settings section of the app and change the language setting from English to Spanish.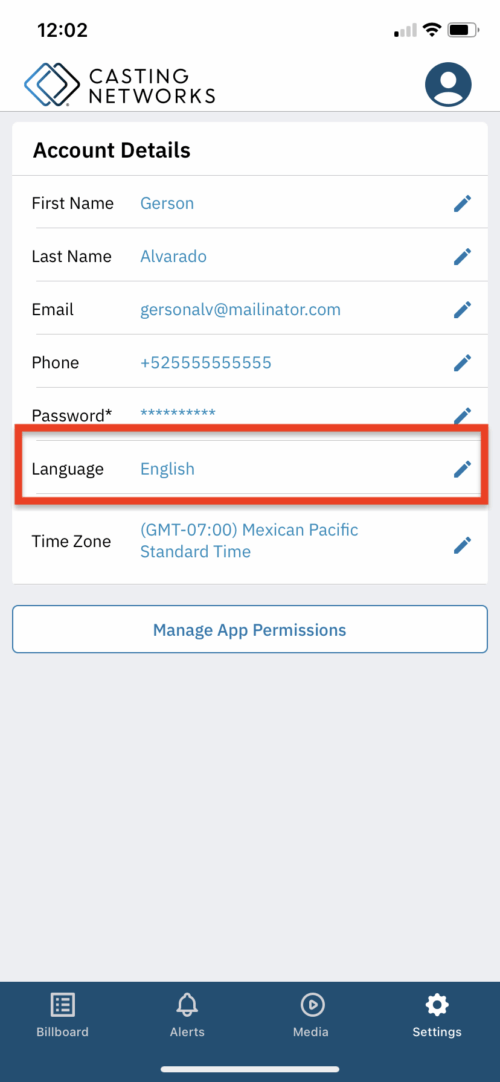 Performers must then restart the app for the changes to take effect. They can switch between English and Spanish at any time.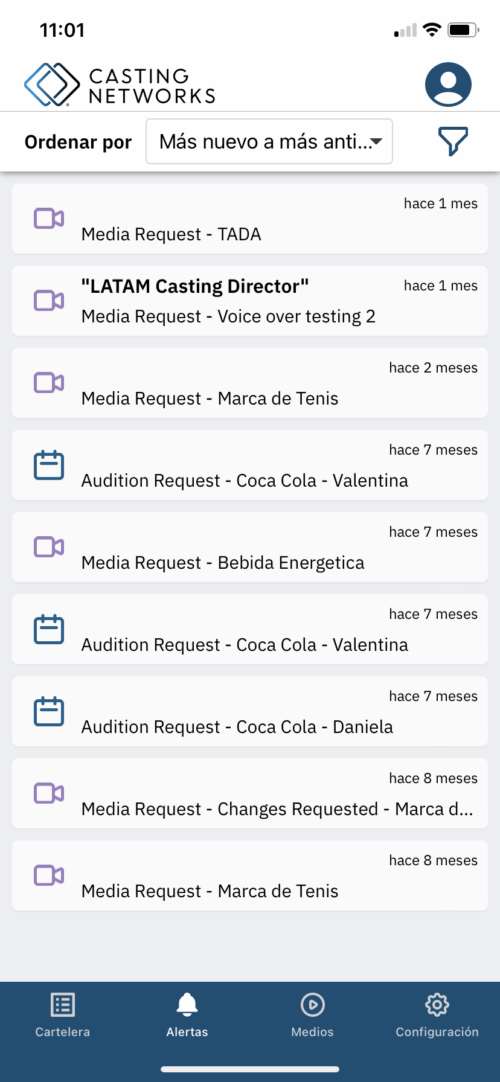 Have all features of the app been translated?
Yes! The app has been fully translated to Latin American Spanish, including the section dedicated to recording and submitting self tape auditions.
With Spanish language capabilities, the Casting Networks app continues to help more actors get their big breaks. All platform features are available on the iOS app, and talent can easily switch between English and Spanish language settings in their Account Details.
Talent can find more Spanish language support at our Soporte Español page.
Give it a try. Have your Spanish-speaking performers download the Casting Networks iOS app so they can set it to Spanish now!
__________________________________________________________________________________________________________________
Ahora puedes disfrutar de la App móvil de Casting Networks en español
El año pasado lanzamos nuestra plataforma web a una versión totalmente localizada al español. Ahora estamos muy emocionados de extenderla hacia nuestra aplicación móvil disponible para iOS, permitiendo que nuestros actores de habla hispana también puedan acceder a través de ella.
La aplicación iOS, la cual lanzamos a mediados del 2022, ha pasado por una gran cantidad de mejoras y actualizaciones logrando una total similitud con la plataforma web.
¿Cómo configuro la aplicación iOS de Casting Networks al español?
Una vez que hayas iniciado sesión en la aplicación móvil de Casting Networks, cambiar la configuración del idioma al Español es muy sencillo. Solo ingresa en la sección de configuraciones (Settings) dentro de la aplicación y cambia el idioma de Ingles a Español.
Podrás cambiar el idioma de inglés a español o viceversa en cualquier momento.
¿Se han traducido todas las funcionalidades y características de la aplicación?
¡Si! La aplicación móvil se encuentra totalmente traducida al español, incluyendo las secciones dedicadas a grabar y postular tus castings o self tapes.
Gracias a la aplicación móvil Casting Networks y que ahora se encuentra disponible en español, continúamos ayudando a más actores a obtener su gran oportunidad. Todas las funcionalidades que poseen los actores en la plataforma web están disponibles en la aplicación iOS donde podrás modificar el idioma de español a ingles accediendo a las Configuraciones de Cuenta.
Para más información puedes ingresar a nuestra página de Soporte Español.
¡Pruébala ahora mismo! Descarga la aplicación móvil Casting Networks para iOS, disponible ahora en español!