When we last caught up with Michael Solomon, the actor had just landed his breakthrough role on Netflix's Lana Condor-led limited series Boo, Bitch. Besides sharing how he won the part — and in turn, experienced a pivotal career moment — Solomon also teased his next big project. "I can't talk about that one yet, but it should be coming out somewhere down the line," he told us at the time. "What's really fun, though, is that I picture-wrapped that project on the same day that Boo came out on Netflix." Upon the recent release of Netflix's On My Block spinoff series Freeridge — and seeing a familiar face in it — we put the pieces together. Solomon took time out to share the casting story of how he came to play Rusty on the new mystery dramedy as momentum in the rising actor's career continues to grow. Keep reading for a window into the process, and you can also check out the video version of our interview below.
Michael, it's great to see you. And before we dive into your casting story, I'd love to hear how you'd sum up your character of Rusty on Freeridge.
Rusty is a year older than the rest of the gang so he's a little bit more seasoned and mature. He likes to just be there and be a listening ear, yet he's not as morally sound as everyone suspects.
That's a great teaser for our readers, and it sounds like a really fun character to play. What can you tell us about the process of booking the role?
So, the creators of Boo, Bitch are the same creators of On My Block, who created the spin-off Freeridge. While we were at lunch [on the set of Boo, Bitch] one day, [creator] Lauren [Iungerich], who I am so grateful for, stopped me. She said, "Hey, I think you could be a good fit for a role — just keep your ear out because I'm writing something." After we wrap Boo, I get an email a little bit later, and it's [an audition] for Freeridge for the character of Rusty. They said, "We're really excited to see your tape. Just shoot it on over." I like how they did the tape because it gave you power as an actor. Usually, you get the sides that you're assigned. For this one, they gave me five different scenes, and they told me to choose two. You want to show the widest range — you know, [choose] which scenes give the widest range of the character. I felt a lot of power and control in my audition because I could show them my methodical thought process as an actor.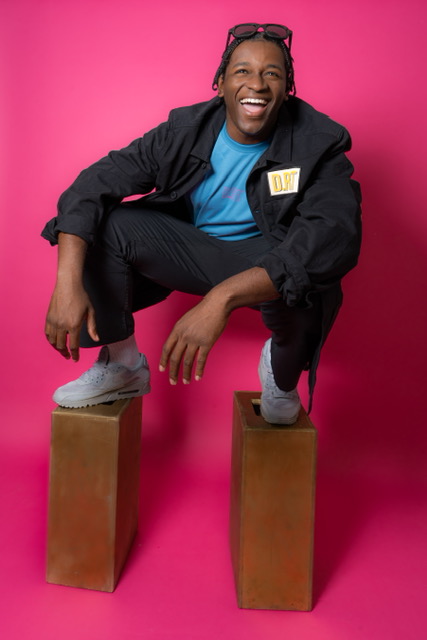 Photo by Rob Echanique, courtesy of Michael Solomon.
Nice.
That's where me feeling empowered as an actor stopped. [Laughs] The funny thing about having the same creators and casting [from Boo, Bitch] was that in my head, I went manic. I was like, "They know all of my tricks. They've seen me on set for months — I can't surprise them." I kid you not — I would argue that it was one of my worst self-tapes that I've ever done. My character Jake M [in Boo, Bitch] is so different from Rusty — it was fun to just kind of be loud and go for it in Boo. But then in Freeridge, my character is more seasoned — he's seen more life. So, I'm playing a very different tone than all my other [Freeridge] castmates. But, I was so nervous that my performance was seeming dead. It messed with my brain — the entire casting process did. I could not get out of my head whatsoever. I was like, "I just need to stop [worrying] and trust the process." Fast forward, and I get a call for the chemistry read. The producers told me, "You're going to be reading against [the actor that plays] Gloria, who's already been cast." And this is where I did really well. Because, after we would do a scene during the chem read, she would go off script. The improv that we were able to do just to show our chemistry — we knew that they weren't going to use it. But she didn't stop, and I didn't hear "cut," so I kept going. That's the rule. It's what some of the greats do, and I've always taken that to heart. So, I'm forever indebted to Keyla [Monterroso Mejia], who plays Gloria, because I genuinely think she is why I got cast. The chemistry was so palpable when we went off script.
Thanks for sharing that. And then, I'd love to hear how landing this role on the Netflix series has impacted your career so far.
It's been great — I'm not going to lie. I'm so grateful for the stepping stone that Boo was for me because now I'm starting to get more and more into the Netflix family. The main thing it's done is give me more of the Netflix umbrella, and I've just started meeting all these actors. We're all happy because we're embracing our careers and our youth. The amount of doors it's opened has just made me so grateful for my current surroundings. Because, it was not long ago that I was hoping for that one role to start getting the ball rolling. I can't help but look back and just be so thankful and not take any of this for granted.
Before the interview wrapped, Solomon expanded on the idea of keeping an attitude of gratitude, which included a message for other actors. "The moral of the story is to be happy because it's a fun career," he noted. "And don't take it for granted because it could go just like that. [Snaps]" Those interested in keeping up with the actor's career journey can find him on Instagram, where he frequently posts about his work.
—
This interview has been edited and condensed.
Looking to get your big break? Sign up or login to Casting Networks and land your next acting role today!
Related articles:
How to Become an Actor in New Orleans
Oscars 2023: 'Everything Everywhere All at Once' Wins Big at the 95th Academy Awards
3 Things Actors Can Take Away from This Year's Artios Awards
---
---