Following the recent release of its season one finale, fans of Fox's new comedy series Pivoting are eagerly awaiting news of a second season renewal. In the meantime, we wanted to hear from one of its breakout stars regarding the journey that led to his series regular role on the show. JT Neal virtually sat down with Casting Networks to share how he landed the part, as well as bonded with his co-star Ginnifer Goodwin once on set over a shared passion for knitting. During our Zoom interview, Neal even produced a "niffler" — a la Fantastic Beasts — that he'd created since taking up the hobby, so we can report the actor's skill with yarn and needles is just as real as his on-camera talent. Off that hook, keep reading for a window into the serendipitous series of events that weave in and out of Neal's casting story. 
Thanks for taking the time, JT, and before we dive into things, I'd love to hear how you'd sum up your character on Pivoting.
I play Matt, the personal trainer for Ginnifer Goodwin's character, Jodie. It's a lot of fun to see how his arc progresses from the very first episode — when he's focused on the job at hand — to the season finale. Matt's connection to Jodie continues to grow, and they both give each other confidence in different ways. The character is really interesting to play, in general, and unlike any I've done before.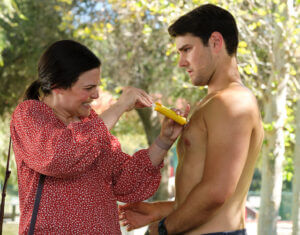 PIVOTING: L-R: Ginnifer Goodwin and JT Neal in the "My Friend is Dead" episode of PIVOTING airing Thursday, Jan. 13 (9:30-10:00 PM ET/PT) on FOX. © 2022 FOX Media LLC. CR: Michael Becker / FOX.
What can you tell us about the process of booking the role? 
The initial casting process for the series started back in 2019, and my manager was approached about having me audition for the role. But I was still on the show Bless This Mess at the time, so I wasn't available to do it. I remember thinking that it was a bummer because the script for Pivoting was so great. Then the pandemic happened, and I got the phone call from Lake Bell and Liz Meriwether that Bless This Mess wouldn't be continuing. It was the first project on which I landed a series regular role, and I'd built such a beautiful relationship with the cast and crew, so the news was pretty devastating. And Covid was putting productions on pause across the board, which meant there weren't other opportunities to pursue. There was definitely a period of time where I just wasn't sure what I was going to do. Then when productions did start back up, the first audition I got right out of the gate was for Pivoting.
That sounds like some serendipitous timing. 
Right! I got a second chance at reading for it since I was available at that point, but I happened to be visiting my family in Texas when the audition came in. I was lucky enough that everything was still being done remotely, but the Zoom chemistry read with Ginnifer was a little tricky to pull off from my parents' house. [Laughs] My dad is a photographer and had a backdrop ready to go, which was great, but his lights buzz pretty loudly. So, we were trying to figure out the best time of day to use natural lighting and make everything work — it was a whole production. Ginnifer couldn't have been sweeter or more generous during the read, though, and I was also approaching the character in a different way than how he'd originally been described in the breakdown.
How so? 
The character was supposed to be sexy — they were looking for a Brad Pitt in Thelma & Louise type. As a person, I tend to be goofier and have never really seen myself that way. I was struggling with it until I decided to go for a more earnest approach with the character. When I did the chemistry read with Ginnifer, that really gelled with her Jodie, and the energy between the characters worked well. It turned out that was exactly what our showrunner Liz Astrof and director Tristam Shapeero wanted. So, I ended up going in for a screen test, and after that, it was several months of things kind of being up in the air with if I'd land the part or not. Finally, I got the call. Liz and Tristam told me I'd been their top choice from the beginning, which was really cool to hear.
I bet! And what about your experience actually filming the series? How was it working opposite Goodwin? 
Ginny's sweetness and generosity that I mentioned earlier carried over to filming. She was top of the call sheet but could not have been more collaborative. Ginny would check in on what I wanted to bring to the scene and then would match it. You don't always get that with actors who are so well-established. Sometimes they're like, "I'm going to be leading this dance, so just hold on." It could not have been more opposite with Ginny, though. She wanted to get the best possible scene we could by working together.
Goodwin sounds like a dream scene partner to have. 
She was, which was especially nice since we shot the whole first season of Pivoting in 2021, and production was doing everything it could to keep people separated because of Covid rules at the time. So, I didn't hang out with [series leads] Eliza [Coupe] or Maggie [Q] during filming because all my scenes were with Ginny. We were all kind of sequestered between takes and only able to really interact with our scene partners, but Ginny made it so fun. We'd just sit and chat or knit together. I had picked up the hobby right before we started shooting, and she's an avid knitter. That's where all these blankets in back of me came from.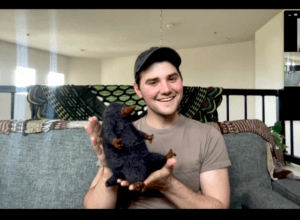 You knit those?
[Laughs] I guess my knitting is just always next to me now — I was working on a sock while waiting for this Zoom call to start and also recently made a little "niffler." But I'd be remiss not to mention Liz and Tristam one more time in regard to my overall experience filming Pivoting. They were there every day, putting in so much work and just making us feel at home. Both Liz and Tristam reinforced that I was meant to be there, which was nice because it's easy to struggle with a sense of imposter syndrome as an actor. You know? There can be this fear that one day they'll realize they cast the wrong person and then you'll lose your job. But Liz and Tristam could not have been more encouraging every single day I was on set.
That's great to hear, and before we wrap, I'd love to know how playing Matt on Pivoting has impacted your career so far.
Right after we shot the Pivoting pilot, I booked three guest star roles on some well-established shows. There was the finale of Shameless and then an episode of the iCarly reboot, which was personally a big one for me since I grew up watching the original. Animal Kingdom was after that, and the episode I was on should be coming out soon. Working on those projects was exciting because the characters I played in them felt like a step toward the kind of roles I'm going to be playing in the next phase of my career. I've been working in the high school age range for a long time, and now it feels like I'm stepping into more grownup roles. Actors can sometimes get pigeonholed into only playing younger characters, which doesn't allow for room to grow, so I'm grateful the roles are aging with me. It really feels like Pivoting represents that hinge point in my career — I'm no longer playing a high school kid but am not quite a leading man yet. There's this feeling of being in between, which is exciting because the trajectory is still moving upward and forward.
Those interested in keeping up with the actor's journey as it continues to progress can find him on Instagram as @jt_neal, where he shares content from his film and TV work.
—
This interview has been edited and condensed. 
---
---