When the third and final installment of the Bruce Willis-led Detective Knight action trilogy, Independence, was released on January 20, 2023, viewers noticed another famous last name co-starring alongside the action star: Jack Kilmer, the 27-year-old son of Val Kilmer.
But the younger Kilmer wasn't just someone with a famous last name. The actor, whose mother is actress Joanne Whaley, spent the last ten years honing his craft in films like The Stanford Prison Experience, the James Franco-directed Pretenders and the Apple+ streaming movie Hala, among numerous other projects. He most recently appeared in a three-episode arc on Law & Order: Organized Crime.
In an interview with Casting Networks, Kilmer said getting to play an unbalanced EMT worker posing as a cop to rob a bank opposite Bruce Willis was "a dream situation" for him.
"It was a total surprise," Kilmer said of the role. "It was one of those things where you get a call saying, 'We want you to do a Bruce Willis movie. It shoots tomorrow. Get on the plane.' I was like, 'Okay, I can do that.'"
Kilmer said he spoke with director Edward Drake ahead of time, and the filmmaker was interested in what the actor wanted to bring to the role, asking him various questions about how Kilmer viewed his character.
"From an actor's perspective, those are great questions because it gets the wheels turning," said Kilmer. "We didn't have much time to prepare. But I already had a lot of experience with guns and gun safety because I grew up on a ranch, so (handling guns) comes with the territory. It was very important to get that stuff right on the movie. Bruce Willis is an action star legend, so when you're on that set with him, you want the gunfight scene to look good."
Kilmer said he enjoyed delving into the world of EMTs — Emergency Medical Technicians — who provide care to patients at the scene of an incident and drive them to a hospital by ambulance. An EMT consultant was on the set of Detective Knight: Independence, and Kilmer would turn to him for any help or guidance.
"The EMT stuff was really fascinating to research," Kilmer said.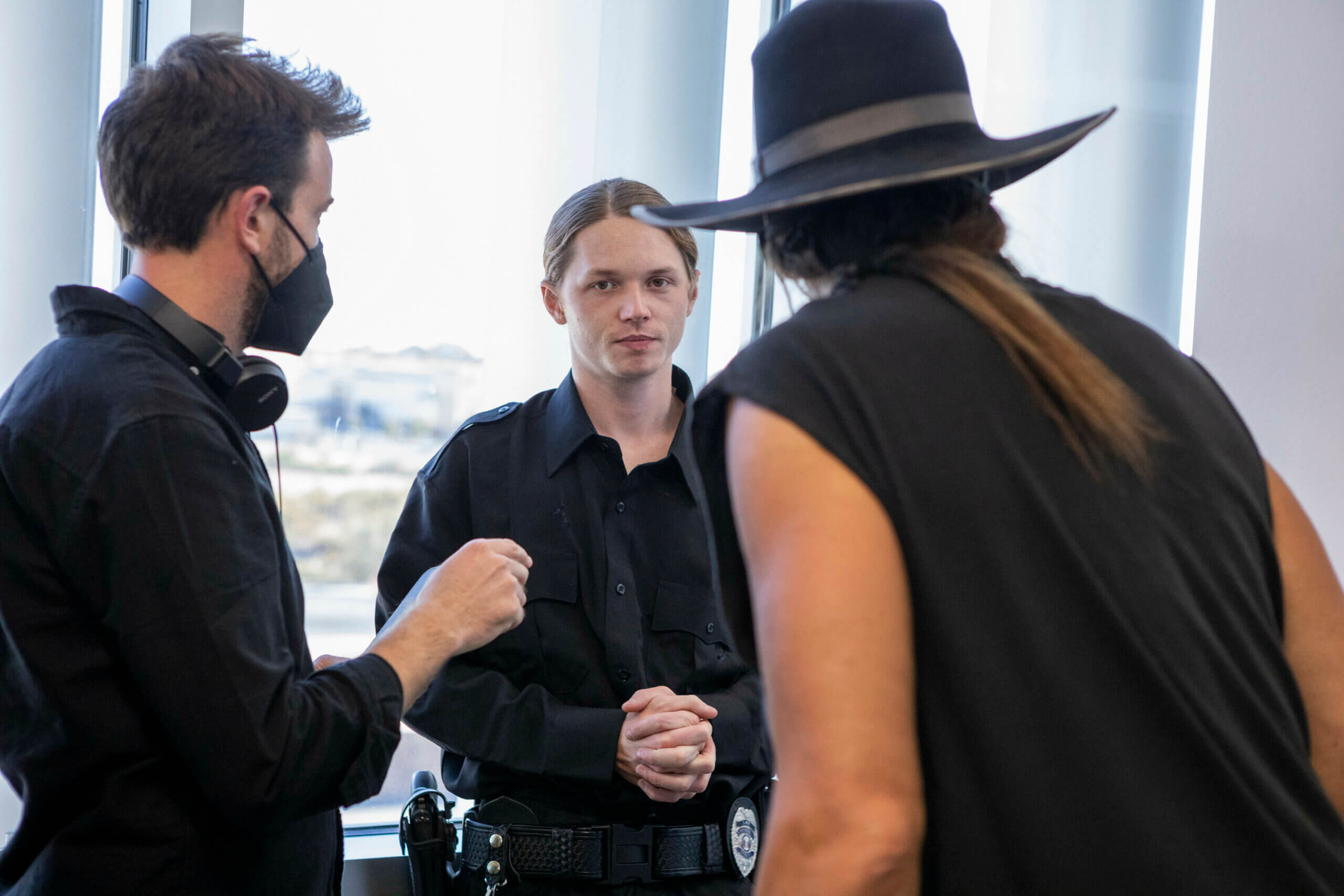 Photo Credit: Eric Williams
While it's natural to think since Kilmer grew up with famous parents, getting star-struck is something that does not happen often in his orbit. That wasn't the case when Kilmer found himself working opposite Willis.
"Bruce Willis was a big part of my childhood (in movies), and you feel that bigness when you're on set with him. You feel that he's all-time, he's mega."
In fact, Kilmer understands that aspect in his own father as well.
"I'm reflecting on legacy these days," observes Kilmer. "When you're on set with someone who is 'the man,' like Bruce, or when I'm hanging out with my dad – these guys have an energy to them. They will always be 'those guys.'"
Kilmer recalls narrating and producing the 2021 Amazon Prime Video documentary, Val, about his father, where he had a similar experience of feeling that larger-than-life energy emanating from someone. "There is all this footage in the documentary of my dad from Top Gun. He was fully charged up and activated as a young man; to me, he's still that man."
Naturally, the younger Kilmer has some thoughts about nepotism in Hollywood, specifically around the latest buzzword, "Nepo Babies," meaning children of industry insiders who likely benefited from their parents' connections to launch their own careers.
"I mean, of course, nepotism is true in this world," said Kilmer laughing. "But I have a lot of gratitude for any opportunities I have in the film industry or in my life. I get to meet a lot of creative and interesting people. Yes, sometimes I'm able to be in projects because of that, and I'm very grateful for those opportunities.
"I'm in a bubble called Hollywood," he continues. "It's a unique place. A lot of movies and other entertainment come out of here. A lot is happening right at our doorstep. Stuff is going on all around. I'm very grateful to be surrounded by all these people. Hopefully, I can be involved in some of the projects, add something to the table and bring a unique perspective."
Detective Knight: Independence is currently playing in theaters, On Demand and Digital.
Looking to get your big break? Sign up or login to Casting Networks and land your next acting role today!
Related articles:
On The Verge: Micheal Ward
Filmmaker Sam Mendes on Casting 'Empire of Light'
Casting 'Causeway,' Working with a Bunch of Wise Guys and Audition Pet Peeves: Ellen Chenoweth Spills the Tea
---
---