It's never been easier for talent representatives to invite a large roster of talent to build profiles on Casting Networks!
Now, you can perform a bulk upload of your roster to save time and enhance your workflow.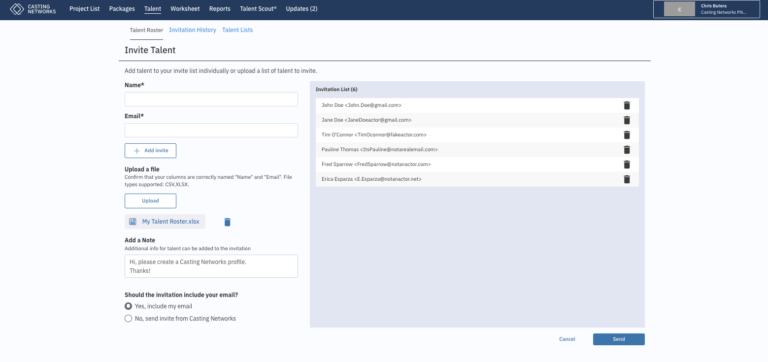 Performing a Bulk Upload is easy! Simply enter your talent's information, including names and email addresses, into separate columns on an Excel or .csv spreadsheet, upload it to Casting Networks, and you're ready to go!
You can add and invite talent to create a profile before and after importing your list. Once you send your list off to talent, your roster's profiles will appear as they join so you can submit them to projects.
Whether your talent roster is large or small, Bulk uploads save you lots of time to focus on getting the right talent to submit for your projects. It can also make things easier for your clients as they may now get your submits faster than before.
For detailed instructions on how to use our Bulk Uploads feature, click here. If you have any questions, please contact support@castingnetworks.com.
Log in to Casting Networks and upload your talent roster in bulk today!