The Emmy's are coming up September 12th in case you missed the 8 million "For Your Consideration" ads donning everything from newspapers to outdoor boards to the trades.
Hollywood has a way of acting like the group of popular kids voting on their favorite high-school yearbook superlatives, which means trendy picks can often overwhelm the most deserving.
Still, it's a pleasure just to be nominated, amirite? Sure, right, if you say so.
Still, nothing beats an Emmy win in terms of how it can change an actor's career, their casting appeal and earning potential. So, here are four performers that could feasibly lose out on the hardware this year if I'm reading the pre-Emmy buzz correctly, but maybe they shouldn't because their performances were top-notch and stuck with me long past their binge-by date.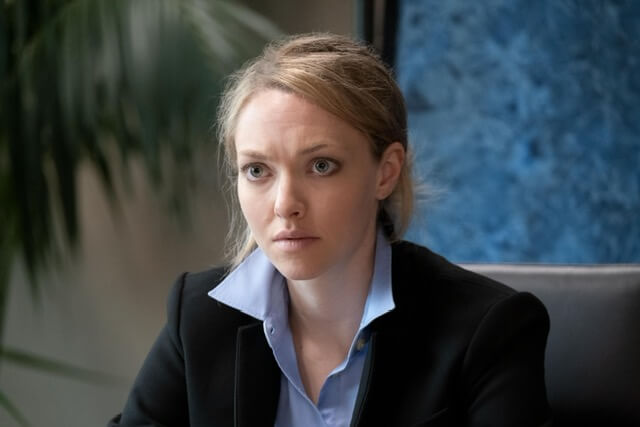 Category: Lead Actress in a Limited Series or Movie
Actor: Amanda Seyfried, The Dropout (Hulu)
If you ever watched the HBO documentary about the shitshow that was Theranos, starring the real Elizabeth Holmes, you know just how strangely weird and spot-on Amanda Seyfried's performance was as the enigmatic visionary who drove a $10B valuation into the ground through lies, deception, and mismanaged hopes and dreams. From her intentionally deep-throated voice (intended to be more masculine) to her cringeworthy dance moves, Seyfried nailed this performance in a way that begs for Emmy to come calling her way for the first time.
It would seem it's Seyfried's to lose, however there has also been a lot of Lily James talk for her work transforming Pamela Anderson into a sympathetic figure in Pam & Tommy – and a decent amount of Margaret Qualley Maid buzz too (she actually received more first-place votes in this L.A. Times critics poll even though they still have Seyfried on top by a hair). I'm not sure either gave quite as much blood, sweat and crocodile tears as Seyfried in her performance as one of America's most hated women. Then, of course, there's Julia Garner who brought Anna Delvey's story to life. But if Garner wins anything, it will be another win for Ruth Langmore for the last season of Ozark where she was better than ever. Doubt she can do it? The fuck she won't.
Category: Lead Actress in a Drama Series
Actor: Laura Linney, Ozark (Netflix)
Speaking of Ozark, Laura Linney has never won an Emmy for her role as Wendy Byrde. Maybe it's because she brought to life one of the most disgraceful TV moms ever to grace the small screen. Or perhaps that too many people have been watching the other great Ozark performances ahead of hers – including Jason Bateman, a fellow nominee, and Garner's more lovable Ruth.
But here's the thing: this is the television academy's last opportunity to celebrate Wendy Byrde's diabolical rise from cheating wife and supportive spouse of a money launderer – to arguable queen-pin of a drug cartel. And as good as Zendaya was in Euphoria as a young Rue-full woman dealing with addiction and all its ugly faces, Zendaya already won the award in 2020 for the first season of Euphoria so this year should be Wendy's… I mean, Laura Linney's.
I say it mostly because I don't want her fictional character to find me and kill me.
Category: Lead Actress in a Comedy Series
Actor: Quinta Brunson, Abbott Elementary (ABC)
Let me say this: I love Hacks. It's a top three comedy for me on TV or streaming, and it was just as good (if not better) in season two. And Emmy-winner Jean Smart is incredible in it as a washed-up Vegas comic trying to make her comeback alongside her millennial sidekick writer.
However, the fact she won this category last year is enough of a good reason to celebrate the new kid on the block: Quinta Brunson and her comedy series Abbott Elementary. The understated excellence to Brunson's quirky, comical performance as a teacher at one of America's worst elementary schools is worthy of recognition, even if it's only been one season.
Category: Supporting Actor in a Drama Series
Actor: Kieran Culkin, Succession (HBO)
I'm seeing a lot of predictions that Matthew Macfadyen's going to come away with the win this year, and I suppose that makes sense given where the Tom Wambsgans' character ended up when the curtain closed on Succession season three.
However, Kieran Culkin still hasn't won an Emmy for what is arguably the funniest, most cringe and perverse character on television or streaming. It's Ari Gold-caliber comedy and Jeremy Piven won three Prime Time Emmy's for that role back in the day. The digs, self-deprecation and depths to which his Roman Roy will shrink to advance his agenda and win the affection of dad is some real Shakespearean shit. Then there's his psychosexual relationship with Gerri…
There were great performances in Squid Game, too, that are being recognized in this category including O Yeong-su, who could easily become a sentimental favorite to win as he did when he survived Red Light Green Light. But I don't think that role was big enough, so maybe it's time Romulus got his due. The guy accidentally sent a dick pic to his dad – clearly, he deserves it.
Finally, a quick word about one category…
Category: Lead Actor in a Limited Series or Movie
Actor: Michael Keaton, Dopesick (Hulu)
Michael Keaton is a virtual lock to win this category and should. It will be his first Emmy win and will be highly well-deserved given his portrayal as Dr. Samuel Finnix: the OxyContin-prescribing doctor who he himself gets addicted to the opioid and watches his life spiral out of control.
However, the idea that Ben Foster didn't get nominated for the HBO movie, The Survivor (which itself did), is some sort of Hollywood hate crime. More likely, it's because this category is strange and probably shouldn't include "Movie" in the title. But it does and since it does, it's wrong to exclude Foster given his portrayal of Harry Haft, a Jew trapped in Auschwitz during WWII who's forced to box other Jews to the death at the hands of his Nazi captors. Foster deserved a nod in this category (since this was the place for it), as I think he would've gotten Oscar consideration had the film been released theatrically. Now, thanks to the snub, Foster is 1000% not going to win and probably never would have since it's tough to compete with a limited series. But it would've been interesting to watch him duke it out with Keaton regardless.
Finally, just a quick note to wish all the nominees the best of luck this year. You're all winners at the end of the day, except you know, the people who don't actually win. Those are just people.
Looking to get your big break? Sign up or login to Casting Networks and land your next acting role today!
Related articles:
And Now, Looking Ahead to the 2023 Emmys: 'The Old Man' on FX
Roundup of Emmy Contenders: Lead Actress in a Drama Series
Roundup of Emmy Contenders: Lead Actor in a Drama Series
---
Gregg Rosenzweig has been a writer, creative director and managing editor for various entertainment clients, ad agencies and digital media companies over the past 20 years. He is also a partner in the talent management/production company, The Rosenzweig Group.


---
---