To some, Amy Jo Johnson will always be the Pink Power Ranger from the Mighty Morphin Power Rangers, and to others, she will forever be Felicity's best friend on Felicity. But these days, Johnson is focused solely on directing.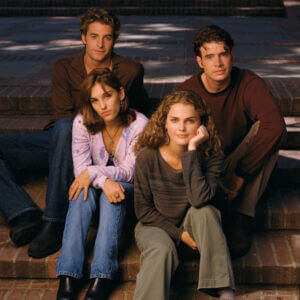 After moving to Canada in 2005, she became a dual US/Canadian citizen, eventually landing a role on the Canadian procedural crime series Flashpoint. When the show ended in 2012, the actress transitioned to directing, studying filmmaking at the Canadian Film Centre, and making her directorial debut with the microbudget feature The Space Between, which she also wrote and co-starred in.
For her sophomore debut, Johnson collaborated with her Canadian Film Centre colleague, screenwriter Joanne Sarazen, on the drama Tammy's Always Dying. The film centers around a 35-year-old bartender (Anastasia Phillips) in a small town who spent her whole life taking care of her self-destructive, alcoholic mother (Felicity Huffman). When the mother becomes terminally ill, both must come to terms with how their codependent relationship has devolved into the current state.
Tammy made its debut at the 2019 Toronto International Film Festival, where Johnson earned a nomination for Best Canadian Feature Film. She spoke to Casting Networks about putting together the film, and how the current pandemic has altered the film's release.
How did you manage to convince an Oscar nominee like Felicity Huffman to star in a Canadian indie feature with only a $2 million budget?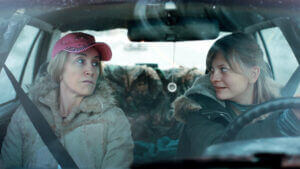 My former manager in Los Angeles, Joanie Burstein, got it into her hands, which was everything. Felicity loved the script. I flew to New York and met with her, and she signed on. That was so generous of her, considering I had only done one other feature. She truly believed in the material. She came up to Toronto for the shoot and brought her A-game. She gave 150 percent. With the tone she set, everybody else had to rise to the occasion and give 150 percent as well.
How did you find Anastasia Phillips, the female lead opposite Huffman?
I worked with Stephanie Gorin, a casting director here in Toronto. For the part of Cathy, the 35-year-old daughter, I saw probably 50 tapes of actresses. It was fascinating going through them. There's something that happens to a woman at 35 where they start to do Botox and fillers. I knew I didn't want that look in the movie because it just wouldn't fit with the character. When I saw Anastasia's tape, I was blown away. I knew at that moment she was our Cathy. We did have her come in to audition as well, and she nailed it. 
As a rising director, what did you learn by working with a veteran like Felicity?
Felicity suggested we have a "no sides on set rule" so actors would have to show up off-book. It was such a gift for her to give me that. I think I will always do that as a director because it just frees up the actors to be able to play.
Do you find that with all your acting experience, you tend to be an actor's director?
I don't think I'm an actor's director, but more a creative and technical director. That comes from being on a set for 25 years and watching how it all worked. I get very into the shots and collaborating with my DP and my production designer to create the look of the movie. With the casting process, I like hiring actors who truly fit the role and then letting them bring what they have to the table, because that's why I cast them.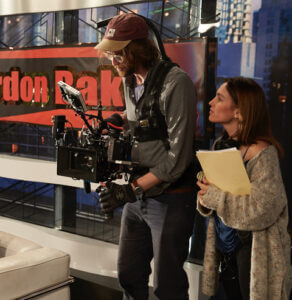 How significant was it for you to have Tammy premiere at the Toronto International Film Festival?
It was the most amazing thing for my career, and I am so grateful. It felt like a coming-out party for me as a filmmaker. Having it premiere in the city I live in was pretty special.
The film comes out on VOD May 1st, which is the original release date. The only thing that's not happening is the simultaneous theatrical release due to the pandemic that's keeping theaters closed. Any plans to do anything special for the release date?
We're going to do a Zoom premiere, get dressed up, have a contest. Greg Grunberg (who co-starred with Johnson on Felicity) will host the premiere party on Friday with me; Joanne Sarazen, the writer; and Anastasia Phillips, who played Cathy. He's such a good friend and great guy.
When you look back at your acting career, what do you think of it?
I look back at my acting career and I think I was the laziest actor in the world! [laughs] I had an ability to come off very natural, which meant I didn't always put a ton of work into it. Now, as a director — and it sounds awful — I don't have the patience for those kinds of actors [laughs]. But I think my laziness was also because of my lack of passion for what I was doing.
Have you found your passion with filmmaking?
Filmmaking is all I want to do! I love it so much. Canada is such an incredible place to be an emerging filmmaker, with all the government grants. There is so much support for filmmakers here.
With actors quarantined at home, what do you suggest for them to do to keep honing their craft?
When I was acting, I loved having friends over to read scripts and do improv. Why not join friends on Zoom and keep exercising those muscles?
Follow us on Facebook, Twitter, and Instagram for breaking industry news and exclusive offers!
Related: Find the latest Toronto Casting Calls on Casting Networks 
---
---