For a guy whose main focus isn't acting, Kelly Blatz is doing pretty well for himself in front of the camera. The 36-year-old Burbank native always wanted to be a filmmaker, writing and directing his own projects, but sort of fell into acting in high school. He hasn't looked back, and over the course of a career that's now 17 years in and counting, he has appeared in dozens of movies and TV shows, and has even written and directed a couple of films of his own.
His latest acting entry is the small drama Loren & Rose, a two-hander also starring screen legend Jacqueline Bisset. Blatz plays a young filmmaker — who over the course of three conversations in a small Southern California cafe — establishes and nurtures a friendship with an aging movie star. These conversations start with him wooing her for his project and end with a post-mortem on their work together, their lives and what comes next.
Blatz was in his home in Sierra Madre when he sat down to chat with us.
You've done a lot of work on screen, but this feels like the biggest role you've had so far.
It depends on what you consider big. I think this is definitely the most meaningful film I've ever done personally, for sure.
How did you get into acting in the first place?
I wanted to be a writer/director since I was young. I was gonna go to film school, but I had a friend who said, 'Hey, if you can work as an actor, and study as an actor, you can both learn how to work with actors. And if you can work, you can make money and learn how to make films while working as an actor.' So I thought, that's a great idea. So that's essentially what I did. And it taught me so much, it was essentially my college in a lot of ways.
How did you follow through with that?
In my mid-20s, I started making short films. Now I'm making feature films, and I'm sort of moving more in that direction. So this particular film really stuck with me when I read it, because I had just made my first feature film as a director [2019's Senior Love Triangle], and I understood a lot of what was going on with his character.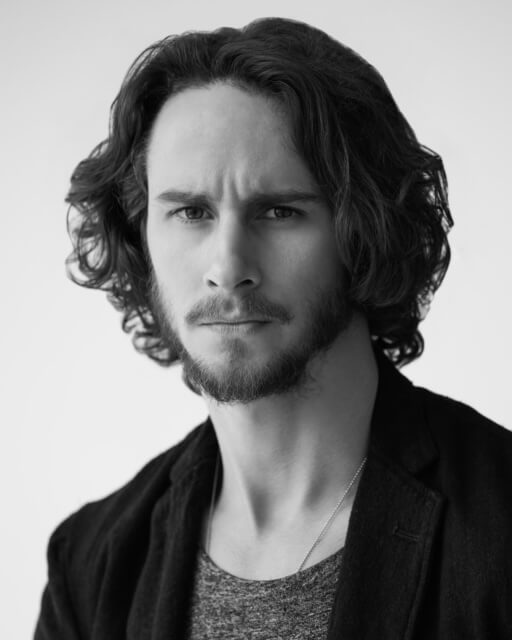 Photo courtesy of Kelly Blatz.
One of the things that's so interesting about Loren & Rose is the relationship between the two characters and the chemistry you have with Jacqueline.
We became very close friends throughout the shoot. I think we really just let that happen on screen as well. We spent a lot of time together before we made the film, just hanging out at [Loren & Rose director Russell Brown's] house and drinking tea and reading over the text and just speaking about our lives. I think with Jacqueline, she's so open about her life and her experiences. Obviously, I was intimidated at first, but she put me at ease very quickly. She's worked with some of the greatest actors and directors in history, so, throughout the shoot, when Russell said cut, I was essentially still in character, asking her questions about her own life. It was this strange blend of reality and fiction that was going on.
How much did you gossip about some of the people she's worked with? Are there any good stories?
(Laughs) I tried to draw it out of her, you know, what was Steve McQueen like? She was like, he was very quiet and not very open. And then she says something like, Oh, I was having dinner at my house with Francois Truffaut. I would say, Tell me more, but she wouldn't gossip too much. I mean, it's fascinating. She is obviously a legend in her own right. She's just had such a wealth of experience in the film industry that I tried to learn from and appreciate.
What did you learn? What are the best lessons you got from her?
Interestingly enough, similar to Loren, where she said, Look, you have to do what is true to you. She said [that], a lot of her life and career, she felt that she was sort of doing things because other people were telling her she had to do them. She said that she was seen as this bombshell character, and she decided she was going to stop doing that. Now, she's doing a lot of the most interesting work in her career. So I would say, be true to yourself. You know, perseverance. Also, she's so interested in life outside of films. She just said, stay interested. Fulfill yourself in life and travel outside of the film industry, because who you are will be exuded through your work. So yeah, I'll take that with me.
You just directed your second feature [the motorcycle racing drama One Fast Move], so is that where your interest lies moving forward are you going to continue to act? I mean, this is a pretty big showcase for your acting.
Right now my interest is solely on writing and directing, but it's strange. It's been a few years since we shot it, because of COVID, and watching it for the first time in a while, I was able to take even more than I did the first time I saw it. If it does lead to other things on the acting front, then I would be absolutely excited and open to it. What the film did teach me as I'm moving forward as a filmmaker is when you do something that really you connect to, and if you're lucky enough to do that, that's where your path is.
Looking to get your big break? Sign up or login to Casting Networks and land your next acting role today!
You may also like:
---
---