Happy Anderson is a member in good standing of the "That Guy" club. You know that club, the one where you see an actor in a movie or TV show and you might know his name, but you know his face, and when you see him, you say, "Oh, I know that guy! I love that guy." The High Falls, New York native has been a working actor for the last 16 years, but only recently has he become a full member of that esteemed group.
It started with The Knick, the 2014 Cinemax series directed and executive produced by Steven Soderbergh, and for the most part, he hasn't stopped working since. Happy Anderson has appeared in shows like Mindhunter, The Blacklist and Snowpiercer, and films like Bird Box and Bad Boys for Life. He shows up in the Jon Hamm-Tina Fey comedic thriller Maggie Moore(s), now available on VOD, as a hitman who is not quite what he seems.
This month, Happy has a major role in another Soderbergh show, the Max miniseries Full Circle, and later this year he stars opposite Tom Hardy, Jodie Comer and Michael Shannon in the crime drama, The Bikeriders. He talked to us from his Los Angeles home.
You're having a busy summer. First Maggie Moore(s), in which you mix extreme menace with extreme comedy, and now Full Circle. This is the second time you're working with Soderbergh. Can you tell me about that and the part you're playing?
Well, I was thrilled to work with Steven again. You know, I hadn't seen him since The Knick. You know, he likes to work with a lot of the same people again, so when the call came and they sent me the scripts, and they said, "Steven wants to know if you're interested," I wanted to say "I don't even have to read a word. I'm interested. I'm in." But I did read it and I'm glad I did. I loved it. It's very intense, and the payoff is fantastic. Also, on a personal note, I was excited because I finally wasn't playing a heavy. I was finally playing a sweet, good-natured person.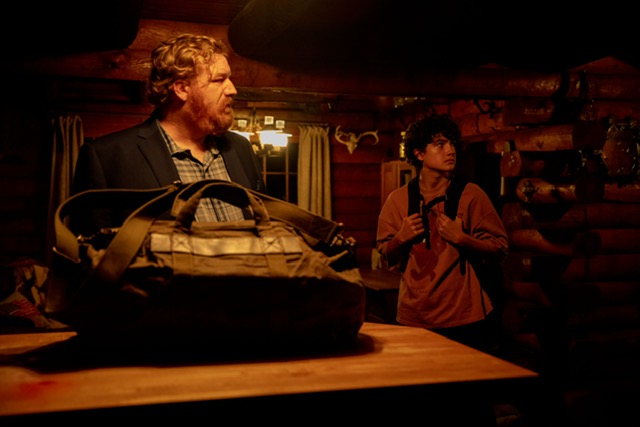 Photo courtesy of Happy Anderson.
Let's back up a bit. How did you get started as an actor in the first place?
Oh, gosh, I started doing it when I was a teenager in upstate New York. I did community theater, and then there were a few smaller equity rep houses in the area. Then I got my BFA in acting at Ithaca and my MFA at Indiana University then came to New York and it was slow going. It's really only the last eight or nine years I've been I've been a full-time actor. My professors in college warned me of that, actually. They said, "You're too young to play what you are." I was 22 or 23, and that's proven to be true. From about my mid-30s on, it seems to be much less resistance to me.
What do you do when you hear something like that? How do you react? And what does it do to you? Do you say, "Well, I guess I'm gonna have to spend the next 10 years figuring it out"?
That's a great question. Because when you're 22 and you hear that, you're like, "Well, what am I supposed to do with that?" But I was able to be pretty clear-headed and sort of sober about it. I started thinking about grad school, and it was true there, too. I was a 24-year-old Willy Loman for my MFA thesis. (Laughs) So this sort of did prepare me for what my career turned out to be. But it's hard to hear that when you're that young. I was able to recalibrate, and after grad school, I bounced around doing some really low-paying theater-playing parts that were older than me. In my first movie, actually, I was 29, and I believe the character was 43.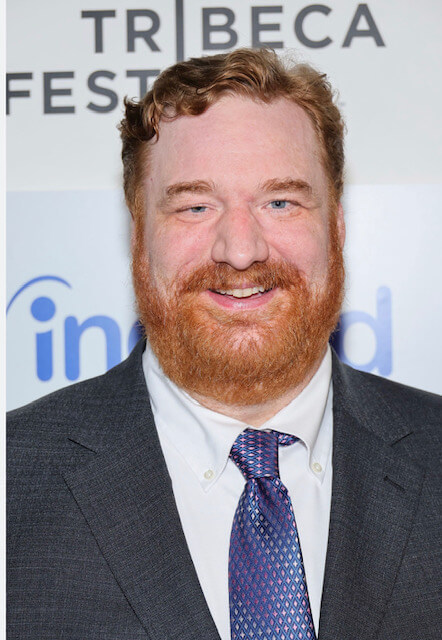 Photo courtesy of Happy Anderson.
How did you get through that time? So many actors have that dry period, working side jobs, doing whatever they have to do while they chase the proverbial dragon. Your experience was a bit different, though, and I'm curious how you did it.
You're right, man, it can be so deflating and disheartening, and you're like, "What am I doing? I can barely afford my illegal sublet in Washington Heights." But, growing up, one of my mentors was Mandy Patinkin. I wanted to be an actor pretty much from birth, and he told me early on, "You have to love it more than anything, and everything. And if you don't, do something else, because there's a lot of easier jobs to get that you can be just fine with." So I'd ask myself that question all the time.
The answer was clearly yes if you were able to stick it out and end up here.
I made myself a promise. I would say, "Okay, I can quit, but not today." And I'd say that every day for years. You know, "Let me just try today, and we'll see how I feel tomorrow. But don't quit right now." I strung together a bunch of those, and here I am.
Editor's Note: This interview was conducted prior to the SAG-AFTRA strike.
Looking to get your big break? Sign up or log in to Casting Networks and land your next acting role today!
You may also like:
---
---