As the American version of Ghosts continues to deliver a strong second season for CBS, we wanted to chat with one of the stars from its stacked ensemble. And when we virtually sat down with casting director Tannis Vallely to hear how she helped assemble the Ghosts cast, she highlighted one audition in particular. "We'd hired Rebecca Wisocky for projects before, and when she came in to audition for [the role of] Hetty, it was like she'd walked straight out of an oil painting," Vallely recalled. "She was so precise in having the character fit her respective time period while still finding the humor in her scenes." We wanted to hear more, and Wisocky took time out to provide us a window into the casting story that started it all for her character on Ghosts.
It's great to virtually meet you, Rebecca, and before we dive into your casting story, I'd love to hear how you'd sum up your character on Ghosts.
Hetty Woodstone is a ghost who was the wife of a robber baron during the Gilded Age and died under mysterious circumstances in 1890. She and her husband built the house in which the show takes place. Hetty is also a distant relative of Rose McIver's character, Samantha, who now lives there. Samantha can see the ghosts of some of the people who have died on the property over the past thousand years.
I'm impressed by how you fully encapsulated the show with that summary!
Thank you. I'll add that Hetty has had a big journey of self-discovery, female empowerment and even sexual awakening during the first two seasons of the show. She quite possibly has had the largest character development over the life of the series so far. But, I would argue that she probably had the farthest to go, as well. Hetty is a deeply flawed character, and it's fun to watch her grow while also getting a lot of things wrong. That's delicious to play as an actor, and I know how lucky I am. The role is just so juicy and well-suited to my strengths and to the things that bring me joy. I come from a dance and movement background, which definitely comes in handy since our characters tend to be packed like sardines in a small room together for the show. Having some understanding of how my proximity to another actor can tell an emotional story — a type of choreography — is very fun and useful. The role, overall, is a great pleasure and a gift to play.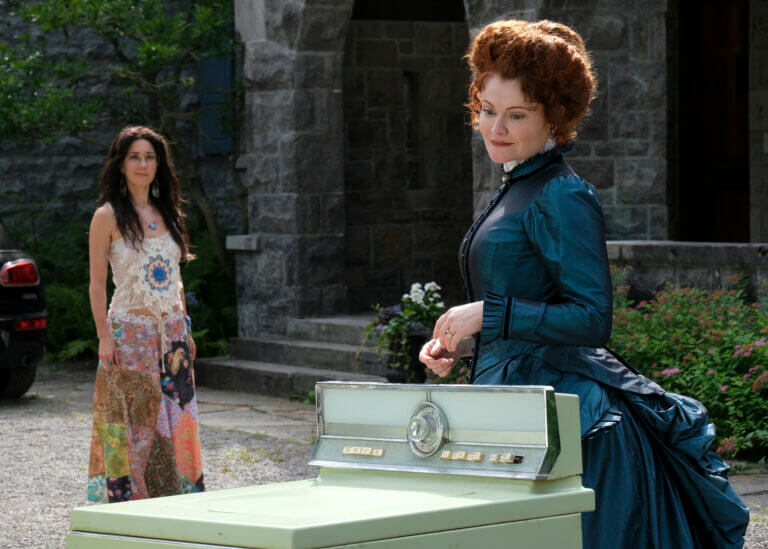 Pictured (L-R): Sheila Carrasco as Flower and Rebecca Wisocky as Hetty. Photo by Bertrand Calmeau. Courtesy of CBS.
It sounds like a dream! Now, take us back to the beginning. What can you tell us about the process of booking the role for the series' first season?
My casting process for Ghosts was notable in that it happened right before the world shut down for the pandemic. The show wasn't even fully cast yet, and we did our first network table read on Friday the 13th in March of 2020. Then the very next day, the production got shut down, and the cast members who were from the East Coast were flown home. We had no idea what was going to happen, but there was this chemistry that existed with the initial core group of Ghosts actors that felt special and unique. And this show is so much about those relationships and the liveliness of everyone in the room together. Thank goodness we got to that first read because I think it's the little lifeline that kept our show alive during the shutdown. And throughout it, the cast had Zoom parties and text threads that went on and on. We developed this very tight-knit family and had nine months of relationship under our belts before actually filming the Ghosts pilot. So, one saving grace of the pandemic is that I do think it indirectly made our show better.
I love that something good came out of such a hard time.
Yes. And the talent and generosity of the casting office behind Ghosts must be mentioned, as well. I'm lucky enough to have been a working character actor for many years now, and I've previously been through the office of Elizabeth Barnes Casting and been cast by that team over the years. They're consistently so kind and generous while creating an environment in which you really feel like you can do your best work. Tannis Vallely is a former actor, which makes her a wonderful reader and scene partner. That adds so much to the audition process and is something you don't always get. I'm so grateful to the office, in general, and their work on Ghosts is unmatched. I mean, our show lives or dies based on the ensemble, and they've just done a wonderful job of putting it together.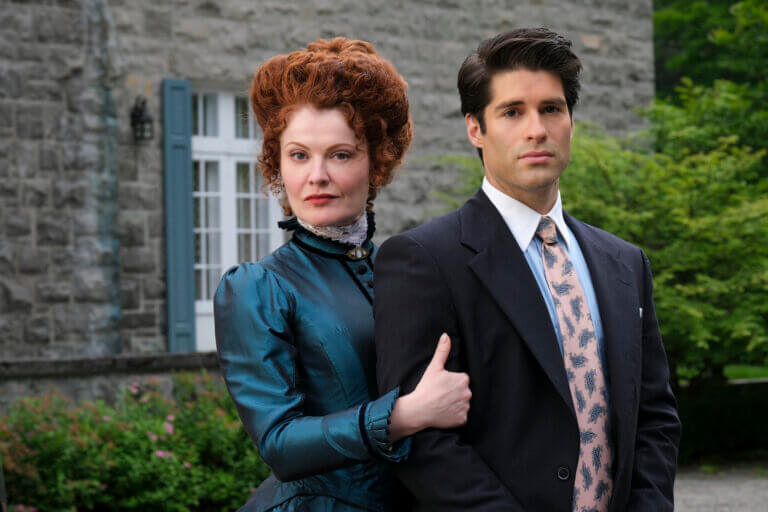 From L-R, Rebecca Wisocky as Hetty and Asher Grodman as Trevor in 'Ghosts.' Photo by Bertrand Calmeau. Courtesy of CBS.
I can add that both Tannis Vallely and Elizabeth Barnes were a delight to interview. And before we wrap, I'd love to hear how landing this role on the popular CBS series has impacted your career so far.
I'm going to be really honest with you. I've always felt simply lucky to have a job — period. You know, you take whatever opportunity you're lucky enough to be offered. I think the luxury this moment has afforded me is that I can take a little step back. Moving forward, I can choose not to do things for a second. I've been having a lovely time during our filming hiatus on Ghosts, getting to spend time with family and support my husband, Lap Chi Chu, who's a lighting designer for the theater and has one of his shows running on Broadway right now. It's felt like I've been able to take a moment to just remember that I'm also a living person in the world and don't need to be voraciously ambitious at every moment.
Before the interview ended, Wisocky shared that landing her role on Ghosts also led to booking some larger films and that she'd be keen to do more feature work in the future. Those interested in keeping up with the actor's career journey can find her on IMDb, as well as on Instagram, where she posts about her work.
—
This interview has been edited and condensed.
Looking to get your big break? Sign up or login to Casting Networks and land your next acting role today!
You may also like:
---
---