Commercials have remained a non-struck area of work for SAG-AFTRA actors throughout all the twists and turns of the strikes. So, for this installment of My Casting Story, we're featuring an actor who recently booked a big spot, one that took her to a whole other continent.
Ashlei Hazell is known for her work on film/TV projects that range from Lifetime's Breaking Girl Code to Hulu's Your Attention Please, but when she virtually sat down with Casting Networks, it was her recent LG Global commercial that was on the table.
The actor described in her own words the LG WashTower™ spot and her role in it. Then she pulled back the curtain on the audition process behind it, which technically started in March of 2022, according to Hazell. You'll have to watch the above interview to find out how an audition last year connected to her 2023 booking, but we can tell you that the actor's casting story comes with an emphasis on the importance of preparedness.
Upon booking the LG Global commercial, Hazell only had six days before she left the country to shoot it in South Korea. But, the actor had previously put in the work to assemble a travel kit that had everything she needed. Hazell detailed some of the items it contains, including self-tape equipment for any auditions that pop up, a dual-voltage hair dryer with a diffuser, and a speaker.
Hazell recognized how preparing for the big opportunity ahead of time positioned her well. "I will forever be grateful for the amount of success it set me up for," she noted. Her casting story may just encourage other actors to stay ready so they don't have to get ready for their big breaks.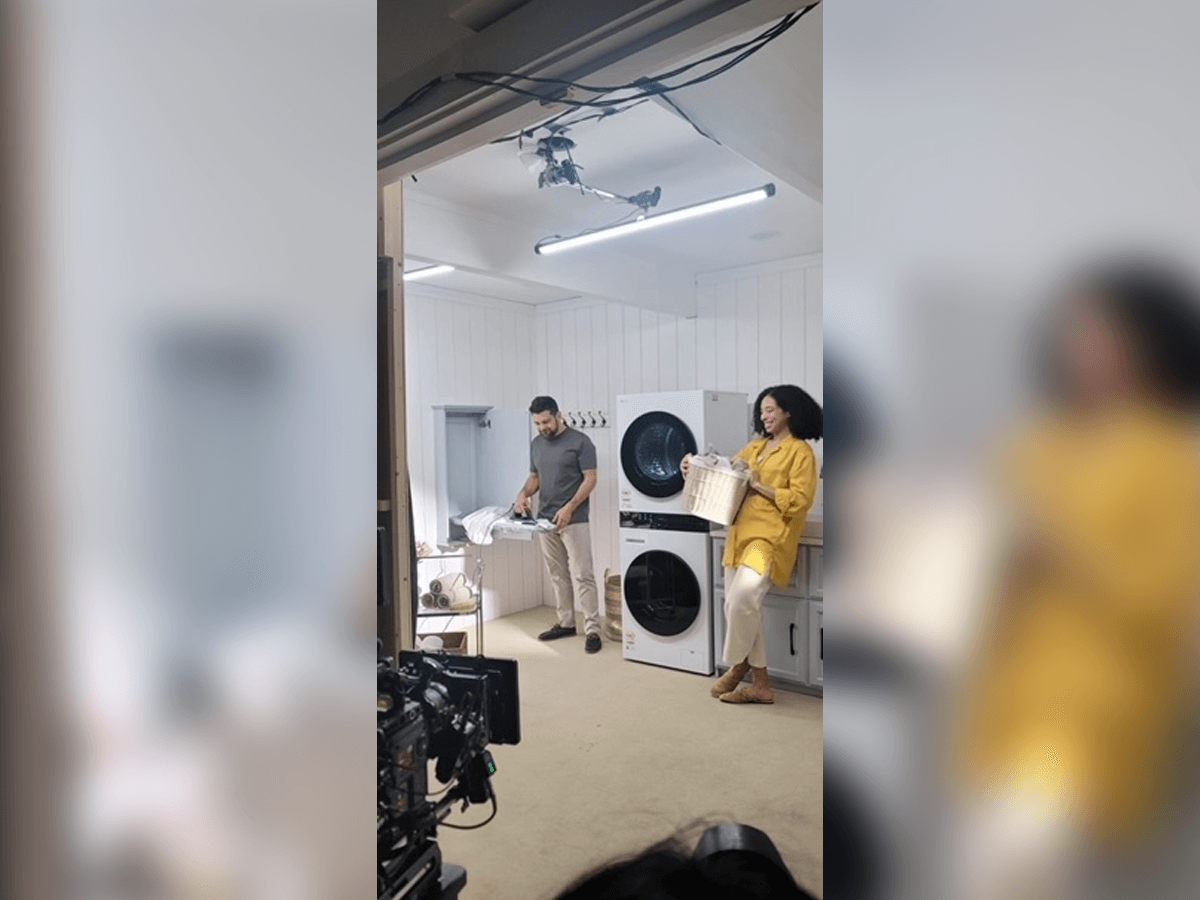 Hazell (right) on set of the LG WashTower™ commercial shoot. Courtesy of Ashlei Hazell.
The thespian also spoke to a feeling that can come with self-taping — when it seems like your audition videos are just being sent off into space. "Sometimes you don't hear anything, and it's like, 'Did it even get to the person?'" she added. "There's that missing link of communication between your performance and whoever is viewing the performance."
Hazell spoke about how that dynamic of self-taping can happen when actors are filming auditions from home. But when she got to set in South Korea for the LG Global shoot, the actor was able to fully feel the result of all her auditioning and preparation as it came to fruition. "I'm definitely supposed to be here — there's no question," she recalled thinking to herself. "Sometimes you forget [that] when you're just making auditions in your bedroom."
You can catch all these insights and more in this on-camera installment of My Casting Story. And those interested in seeing the LG Global spot that resulted from Hazell's casting story can check out her performance in the commercial here.
—
This video interview has been edited and condensed.
There are plenty of strike-compliant roles available on Casting Networks. Sign up or login and see what's casting near you today!
You may also like:
---
---