Veteran actor Martin Donovan rose to prominence in the '90s with his on-screen roles in arthouse filmmaker Hal Hartley's films, beginning with 1990's Trust through 1998's The Book of Life. His career has included working with such esteemed filmmakers as Jane Campion (Portrait of a Lady), Christopher Nolan (Insomnia, Tenet), Paul Thomas Anderson (Inherent Vice) and on popular TV shows such as Weeds and Big Little Lies. 
Next up, Donovan appears in the action feature Redemption Day, where he plays an American ambassador stationed in Morocco who helps a marine veteran (Gary Dourdan) rescue his captured wife (Serinda Swan) from Algerian terrorists. The film releases in theaters January 8th and on VOD/Digital January 12th. 
Donovan spoke with Casting Networks® from Pittsburg, PA, where he is currently shooting a new Netflix mystery horror series, Archive 81.

You've had such a varied career in your forty-some years as an actor. At this point, do you even have to audition for roles anymore?
Redemption Day was a straight offer. There wasn't the agony of the casting process on this one. The bulk of my jobs these last 25 years or so have been offers, but I've had to audition here and there. I don't mind putting myself on tape if it's something I want to go for. I prefer that to auditioning at a casting office. I was never good at that. In fact, I'm terrible at it.

Really? Considering your terrific work on screen, you don't strike me as someone who wouldn't be good in the audition room.
It's a very strange thing. There is something intimidating about trying to be brilliant in the one shot you have when you're in the room. Like, "Boom. Be here; be brilliant." It's not how the work is done. When you have an acting job, there is a process involved. There is a discovery with the director. You make choices as you're moving along and evolving. To deliver a final product in a room, like, "Okay now go," was always very difficult for me and a great source of frustration. 

Are there any situations where you feel the in-person audition process works for you?
When it's just with the casting director and director, and particularly a director I respect, I rise to the occasion. I become kind of fearless in a way that I'm not in these other situations. 

Why do you think that is?
When I'm working one-on-one with another creator-artist, I feel like we're going to work it out based on the creative process, not on whether or not I'm six foot one, or five foot nine, or whether I have blue eyes, or whether I look the character who is going to play the father. I'm going to be cast based on whether we click creatively and that frees me up [during the audition]. In those situations, I feel like I've done my best.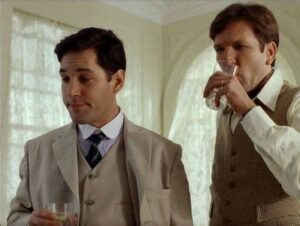 You auditioned for Jane Campion when she was casting for Portrait of a Lady. She cast you as one of Nicole Kidman's suitors, Caspar Goodwood. Then she switched you to playing her cousin Ralph Touchett. How did that happen?
After she cast me as Caspar, she called me and said, "Martin, do you mind coming in and reading Ralph just as a reader for this female part we are casting?" I said sure, and came in to read for these other actresses auditioning. To make a long story short, afterward, she called me and said, "I think you'd be a really good Ralph." I think she had that in the back of her mind the whole time. She just didn't tell me [laughs].

The role of Ralph earned you critical acclaim, including a best supporting actor win from the National Society of Film Critics. Clearly, it ended up being a great decision for her to make that change.
It took a while before the offer actually came because Ralph was a bigger part, and I wasn't a well-known commodity back then. But it ended up being one of the best collaborations of my career.

You've worked twice with Christopher Nolan. First in 2002's Insomnia, playing Al Pacino's partner, and most recently in Tenet, as John David Washington's CIA boss. The first film was an audition; the second was an offer. Let's start with Insomnia first. What was that audition like? 
I had seen [Nolan's previous film] Memento and had a lot of respect for him. He's a serious director and artist. The audition was pretty quick. I read, maybe, two scenes. He said, thanks, and that was it. Then I was offered the part. I don't remember him giving me notes and asking me to do it again. I must have been on the money! [laughs] 

And with Tenet?
The film's casting director, John Papsidera, called my agent to check my availability, saying Chris Nolan was interested in me for his next film. I was like, "You're kidding! Eighteen years later?" [laughs] It was quite a shock. There was no script, no sides. Just, "Chris wants to talk to you." I said okay. So Chris called me up and it was like 18 years had not passed. We talked about family a little bit. The last time I saw him, he and his wife were having a baby. Now that kid is graduating high school! Then he told me the story [of Tenet], and what the scene was about. I said, great, fantastic.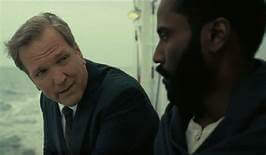 What do you consider your big break? Is it your collaboration with Hal Hartley?
It would be Hal for sure. There's no question Hal's movies got me going. Jane Campion saw Trust, which was the first Hal Hartley movie I did, and that's why she wanted to meet me for Portrait. Things followed from there.

What kind of impact has your work with Hal had on the rest of your career?
Hal's movies — and I did six or seven of them — are very niche, indie films. The people who know my work from Hal's films are a very narrow demographic. But, there are people [in hiring positions in Hollywood] who were teenagers or in college or film school when Hal's movies started coming out, and those films had a huge impact on them. They'll tell me, "Hal's the reason I got into film." To this day, I'm still getting work from Hal's films.

On what occasion do you turn down work?
I hate to make this sound so run-of-the-mill, but it has to be a really compelling reason, like I'm not available, or it's just not a script or a production I want to be involved with. Generally speaking, I want to work. 

Are high-profile, blockbuster franchises like Marvel movies important for you to be a part of?
I'm happy to be in these massively commercial films because those help you make a little money and give you a higher profile. That frees you up to do other stuff that's maybe more challenging. In the case of Ant-Man, I already knew Paul Rudd. We worked on The Great Gatsby for TNT back in 1999. I adore Paul, so to work with him again was an easy decision to say yes to. He's a sweetheart. Paul mentioned that he encouraged them to cast me, although I don't know how much credit he would take for that. But working on that film checked off a lot of boxes as far as I was concerned.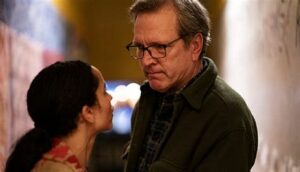 You wrote, directed, and starred in the 2011 feature film Collaborator. You also directed a couple of episodes of a television show called Rogue (in 2014 and 2015). Any plans to direct again? 
I'm in the process of acquiring the rights to a novel, which I hope will be my next directing project.

Did you enjoy your experience as a triple threat on Collaborator?
I found that I was so much in my head as a writer-director and then with the editing process, taking the film around the world to film festivals and doing press….a year or two later I realized I had somehow forgotten what it was to be an actor. 

How so? 
It hit me that being an actor is not about just showing up and doing the job or preparing for a role. It's a way of being in the world, if that makes sense. I had lost touch with that. I had been in my head so much — the worst thing for an actor to be is in their head. When you're a writer-director, you have to have a bird's-eye view of the project. You have to watch over all the moving parts. That can be fatal for an actor. 

Has the pandemic halted or canceled any projects for you in 2020? 
There were two or three things that were going to go in television — recurring roles and things. Then everything shut down. They said, oh, it's gonna go in the summer. Then it was, oh, it's gonna be in the fall. Then this Netflix series offer came in for Archive 81, and now I'm in Pittsburg through March. I play an interesting part — a very mysterious guy. We've shot almost two episodes so far, and I'm having a lot of fun with it.

You have done so many genres of film and television projects and played such a wide range of characters. Is there something you haven't yet done that you'd love to do?
I haven't done a Western [laughs]. But it's not so much a genre or a type of role. It's more about always feeling like I can do better. Like, just give me another opportunity to be better. 
Follow us on Facebook, Twitter, and Instagram for breaking industry news and exclusive offers! 
---
---