Casting Networks is pleased to announce a new casting platform feature to make creating and managing media requests a little easier. Allow Additional Media is a setting available on Media Requests which provides casting directors the flexibility to decide if talent and representatives should be able to add additional media files after completing their request. Request recipients are still limited to 10 media files total, and media previously sent cannot be removed by talent or representatives regardless of this setting. 
How to use Allow Additional Media
When creating a media request as a casting director or project creator, select "Allow Additional Media" within the Request Settings as shown:

Then, simply finish the request creation and send.
What happens when "Allow Additional Media" is selected on a request?
When creating a media request, a user can indicate if they'd like to allow additional media to be added by talent or representatives on that request. Once the request is created, this setting cannot be changed.
If this feature is selected on your media request, talent and representatives will be able to add media after their request has been completed, capped at a limit of 10 media files in total. For example, if talent sends 5 clips, they can add 5 more later. However, if they sent 10 clips with their original response, they will not have the ability to add more. 
Talent, representatives and casting directors can see which requests allow additional media in their accounts. Specifically for casting directors, media requests that have new additional media will be flagged in their request and worksheet. The additional media is added to the original session and group for the relevant talent.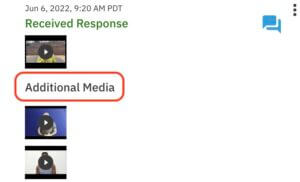 If "Allow Additional Media" is not selected on a media request:
Once talent and representatives complete a media request with media sent to casting, no additional media can be added. The upload media option will not be present. 
Allow Additional Media cannot be enabled on existing media requests for which additional media is not currently allowed. 
The Case For and Against Allowing Additional Media
When to use it:
If talent or their representative sends the wrong clip to casting or forgets to add their best take, then Allow Additional Media gives them the opportunity to simply add the new or correct file. Casting no longer needs to create an additional media request!
When NOT to use it:
Once Allow Additional Media is enabled, it cannot be disabled or paused. Casting should keep this in mind if they need to conduct live presentations and would prefer that no additional media be added after they are shared with the client. 
For more information about managing media requests, check out these guides from our Help Center: 
Ready to give it a try? Start casting your project now.