As Casting Networks continues to grow its presence in Latin America and beyond, the ability to offer our platform in local languages is critically important. Today, we are pleased to announce the Casting Networks platform is now available in Spanish. 
How to change your language settings to Spanish
To change your language preferences from English to Spanish, log into your account and go to Account Settings from the menu in the upper right hand corner of your screen. Find the language setting at the bottom of the list, and select Spanish as shown in the screenshots below.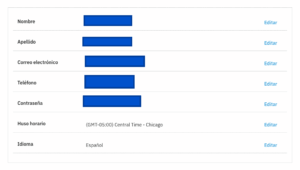 For new users, language settings are detected and automatically applied to your account settings. You can switch between English and Spanish at any time. 
What you'll see
en español
The entire Casting Networks platform is now available in Latin-American Spanish. However, some areas of the application, such as artist skills, are not yet localized. We expect to offer Spanish translations for these sections of the application in the coming months.
Likewise, any content created by users of the application will not be translated, including role descriptions and other experience listed on talent profiles. News and blog articles are also not translated at this time. 
You can find more Spanish language support at our Soporte Español page.
Go to your Account Settings now to make the switch and see the new Spanish language features in action.
---
Casting Networks ya está disponible en español
A medida que Casting Networks continúa aumentando su presencia en América Latina y más allá, la capacidad de ofrecer nuestra plataforma en los idiomas locales es de vital importancia. Hoy, nos complace anunciar que la plataforma de Casting Networks ya está disponible en español. 
Cómo cambiar la configuración de idioma a español
Para cambiar tus preferencias de idioma de inglés a español, inicia sesión en tu cuenta y ve a Configuración de la cuenta desde el menú en la esquina superior derecha de tu pantalla. Busca la configuración de idioma en la parte inferior de la lista y selecciona español como se muestra en las capturas de pantalla a continuación. 
Para los nuevos usuarios, la configuración de idioma se detecta y se aplica automáticamente a la configuración de tu cuenta. Puedes cambiar entre inglés y español en cualquier momento. 
Lo que verás en español
Toda la plataforma de Casting Networks ya está disponible en español latino. Sin embargo, algunas áreas de la aplicación, como las habilidades de los artistas, aún no están localizadas. Esperamos ofrecer traducciones al español para estas secciones de la aplicación en los próximos meses.
Del mismo modo, no se traducirá ningún contenido creado por los usuarios de la aplicación, incluidas las descripciones de roles y otras experiencias enumeradas en los perfiles de talento. Las noticias y los artículos de blog tampoco se traducen en este momento. 
Puedes encontrar más ayuda en español en nuestra página de Soporte Español.
Ve a la configuración de tu cuenta ahora para hacer el cambio y ver las nuevas funciones en español en acción.